News > Features
This 'date' just 'Idol' gossip
Sat., March 7, 2009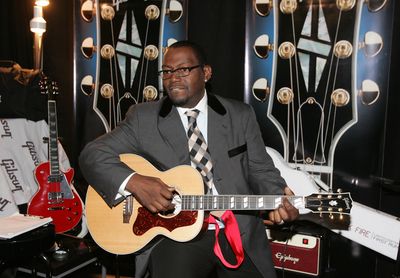 Turns out there's a new controversy plaguing "American Idol," and – whoa! – it doesn't involve Paula Abdul.
The Web site GossipSauce says that "Idol" judge Randy Jackson violated ethics – even by the loose standards of network television – by taking contestant Adam Lambert out for dinner at an L.A. eatery last week.
Their alleged "date" occurred, coincindentally enough, the night before Lambert competed to snare a slot in the Top 12.
Jackson gushed over Lambert's performance, labeling it "like a combination of Steven Tyler meets Fall Out Boy meets Robert Pattinson from 'Twilight' meets My Chemical Romance."
Lambert, no surprise, did make the top 12.
Wait up, though. Entertainment Weekly offers the opposite point of view.
"Randy did not have dinner with Adam Lambert," Jackson's publicist told the magazine. "He ran into him as he was leaving the restaurant."
Will the beat go on?
Rumors are that Rihanna has reconciled with Chris Brown, the guy who allegedly beat her up before last month's Grammy Awards broadcast. People magazine says, though, that Rihanna's friends and family are disturbed by the news.
"Everyone wants them to take a break, to cool off," a relative told People anonymously. "No one wants them back together."
Britney beats the band
Los Angeles Times critic Ann Powers felt so-so about Britney Spears' Tuesday-night opening show of her "Circus" tour:
"Powering through a 90-minute show that integrated her impetuous teenhits with the more perverse material from the albums she released after a very public breakdown that made her a constant in the tabloids, the Louisiana native flashed her famous good ol' girl smile at fans, mostly female, who still find her a worthy patron saint of the erotic arts."
He's now a hot ticket
Rainn Wilson joined a crowd honored on Monday with Cosmopolitan magazine's Fun Fearless Awards. Others listed include Aaron Eckhart, Blair Underwood, Ali Larter, Mario Lopez and Bradley Cooper.
"It's great to be honored for anything at all," Wilson said. "I mean, a few years ago, I was driving a moving van."
Their amps go to 11
Stars of Rob Reiner's 1984 film "This Is Spinal Tap" are planning a reunion. Michael McKean, Christopher Guest and Harry Shearer told the Philadelphia Inquirer that they're holding an "Unwigged and Unplugged" tour.
Quotable quote
"Doesn't she realize she is 60 years old? When she is 80, what is she going to date – a guy who is 10 years old?" That's Jose Canseco, ex-baseball star, admitted steroid-user and obvious math whiz, opining about Madonna, 50, and boyfriend Jesus Luz, 22.
The birthday bunch
TV personality Willard Scott is 75. Actor Daniel J. Travanti is 69. Singer Peter Wolf of The J. Geils Band is 63. Actor John Heard is 63. Keyboardist Matthew Fisher of Procol Harum is 63. Actor Bill Brochtrup is 46. Comedian Wanda Sykes is 45. Singer Taylor Dayne is 44. Actress Rachel Weisz is 38. Actress Jenna Fischer is 35. Actress Laura Prepon is 29.
Local journalism is essential.
Give directly to The Spokesman-Review's Northwest Passages community forums series -- which helps to offset the costs of several reporter and editor positions at the newspaper -- by using the easy options below. Gifts processed in this system are not tax deductible, but are predominately used to help meet the local financial requirements needed to receive national matching-grant funds.
Subscribe to the Coronavirus newsletter
Get the day's latest Coronavirus news delivered to your inbox by subscribing to our newsletter.
---