News > Features
Hunter's life a 'Saving Grace'
Mon., March 9, 2009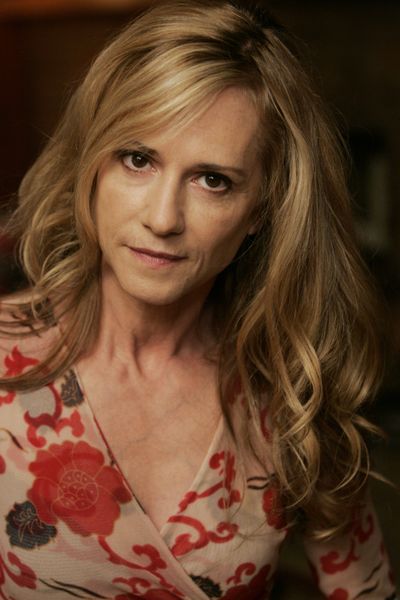 Truth be told, Holly Hunter isn't convinced her character in "Saving Grace" needs saving. At least not right away.
Back in 2007, when the first episode of TNT's hit drama series aired, Grace Hanadarko was visited by a "last-chance angel" who warned her to change her ways. But Grace, a brilliant Oklahoma City police detective whose personal life is a train wreck, is more interesting, and more fun for Hunter to play, as a randy, rebellious, unrepentant hell-raiser.
"I want to explore who she is," the Oscar-winning actress says. "I don't want her to become a saint."
At most, Hunter promises, there will be "incremental changes." "Saving Grace" now in its second season on TNT. Grace still drinks too much, still sleeps with the wrong men, still has spirit and still has a tortured soul that often makes Earl, her angelic adviser, cringe.
Question: Is there a lot of you in Grace and a lot of Grace in you?
Answer: "Grace is all me. Grace is my imagination, my experience, kind of a combination of all of it. It's great to have the life experience that I've had to be able to put into Grace. But one of the things that I love about Grace is her impetuousness. And as I've gotten older, being impetuous is something that I really kind of have to think about, which means I'm not impetuous anymore. You collect responsibilities."
Q.: Given that there are fantasy elements to the show, do you work extra hard to make the police procedural aspects ring true?
A.: "Well, there has got to be something that's authentic, regardless of whether it's fantasy or fiction. And 'Saving Grace' is not totally real. It has an angel in it, for God's sake! So it has to have some authenticity to who these people are, the humanity in them."
Q.: Speaking of that angel, is it possible that, instead of being persuaded to change her ways, Grace ultimately might change Earl?
A.: "It's so interesting that you bring that up, because in this season, one of the things that we really wanted to explore between Grace and Earl was Earl's admiration of who she is: her humanity, her frailties, but also her heat and her passion for living. … I think you see a little bit how an angel might want to be a human."
Q.: Are you and your co-stars treated like royalty when you visit Oklahoma?
A.: "The love that (series creator) Nancy Miller has for Oklahoma is very apparent. And the people have given us total carte blanche. Every time we come to Oklahoma, I can call them any time, day or night, with any questions. They've been fantastic."
Q.: Is it fun – therapeutic, even – to play so flawed a human being?
A.: "I have a lot of fun being Grace. It's dark, but it's also kind of thrilling. I think that's one of the reasons why so many people want to watch. Because it's a bit of a thrill ride, a ride that you're probably not taking in your own life but that you might fantasize about taking."
The birthday bunch
Actor-comedian Marty Ingels is 73. Country singer Mickey Gilley is 73. Actress Trish Van Devere is 68. Singer Mark Lindsay of Paul Revere and the Raiders is 67. "Good Morning America" host Charles Gibson is 66. Guitarist Robin Trower is 64. Actress Linda Fiorentino is 49. Actress Juliette Binoche is 45. Actor Emmanuel Lewis is 38. Actor Kerr Smith is 37. Rapper Bow Wow is 22.
Local journalism is essential.
Give directly to The Spokesman-Review's Northwest Passages community forums series -- which helps to offset the costs of several reporter and editor positions at the newspaper -- by using the easy options below. Gifts processed in this system are not tax deductible, but are predominately used to help meet the local financial requirements needed to receive national matching-grant funds.
Subscribe to the Coronavirus newsletter
Get the day's latest Coronavirus news delivered to your inbox by subscribing to our newsletter.
---