Sports
Bennett shows emotional side
Evolution of Cougars brings out passion
Tue., March 17, 2009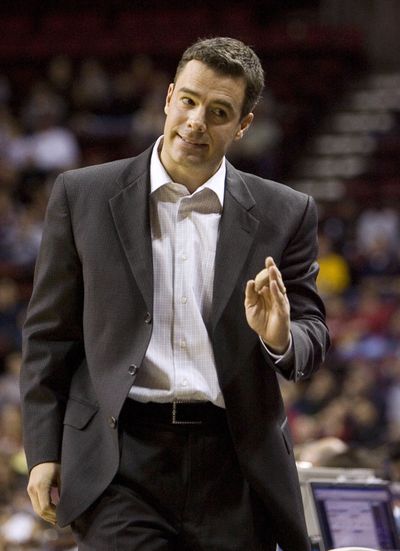 PULLMAN – The whistle blew. Play stopped. Official Bill Kennedy walked toward the scorer's table. He held up one finger, indicating the foul was on Washington State freshman scorer Klay Thompson, his fourth.
And WSU coach Tony Bennett reacted. Aggressively. Or, as he called it, like a "raving lunatic."
Later Bennett, who prides himself on his poise, would sheepishly explain his vivid reaction late in a recent loss at the University of Washington.
"Maybe I'll look like an idiot when I look at the film," said Bennett after the game, "but I thought it was on (Nik) Koprivica. That's why I reacted the way I did, because I knew what (the call) meant."
If you think you're seeing more passion out of Bennett, you would be right. With many games in this 17-15 season coming down to a play or two, the grind has sharpened Bennett's edges. And put in motion changes.
In his third year as WSU's head basketball coach, Bennett has evolved. He's had to. After two seasons with a mostly veteran group that cut its teeth under Bennett's father, Dick, the cast changed significantly. Though three seniors have played an integral role in the team's success, so have three freshmen. And with change comes uncertainty.
"I tell coaches all the time, until you have to try to win with talent that isn't up to the level of your competition, you never get stretched," Dick Bennett said. "This year he had to stretch."
Welcome to Tony Bennett, version 2.0.
• • •
As Washington State opens National Invitation Tournament play tonight at Saint Mary's, Bennett has been stretched into a different coach.
"The last two years I've had predominantly upperclassmen," Bennett said recently. "Our system was pretty well established. It was fine-tuning and it was pushing hard.
"This year, we had such a mix with our well-documented freshman-senior mix and there had to be more teaching and more adjusting as the season wore on."
Some of the adjustments were on court, with the Cougars attacking opponents differently as the season wore on. But most of it has been behind the scenes, with an eye on this season and beyond.
For a variety of reasons, assistant coaches Ben Johnson and Ron Sanchez are spending more time on the road recruiting. Another assistant, Matt Woodley, has taken over more of the game preparation chores. And Bennett, when he can, is taking more time to evaluate recruits in person.
• • •
Whatever the staff is doing, it's admired by people in a position to understand.
Former Cougars coach George Raveling is enamored with the three freshmen playing extended minutes – Thompson, Marcus Capers and DeAngelo Casto.
"They all have the potential to be All-Pac-10 players," Raveling said. "When you're bringing in that level of talent, it says a lot about the stability of the program and the coaching staff's ability to evaluate talent."
And to get that talent ready.
"Everybody in the (Pac-10) has tremendous respect for (Bennett) and what he's done," said current Stanford assistant and long-time Santa Clara coach Dick Davey. "He's creative, his kids play hard. We take a lot of things from their films, things we like to use."
"Tony has the Good Housekeeping seal on the program now," Raveling added. "The fact he stayed is more important to the program than people realize."
Bennett had offers to coach elsewhere after last season, but decided Pullman is where he – and his family – wants to be. He's reiterated many times this season how comfortable he is coaching at WSU, where he has an opportunity to hone his craft.
"At Washington State, you've got to maximize the talent you have in your program and you have to work smartly and efficiently," Bennett said. "It's not an excuse. It's just the way it's always been."
• • •
Washington State was only a few plays from finishing in the Pac-10's upper division, but a midseason slump relegated the Cougars to the bottom half – and then to the NIT. But despite three two-point losses at home, only one defeat still sticks in Bennett's craw.
"Oregon State is the one that really frustrated me, because we broke down in areas we practice every day," he said of the 54-52 home defeat. "I thought we did some foolish things and lost our composure. And after a really strong first half, we had a false sense of security. Maybe we thought we didn't have to do the little things that make us successful."
It's those little things Bennett has faith in.
"We sometimes say 'the hay's in the barn,' before we play," Bennett said. "It's a preparation game, our system, our style, our soundness. We try to eliminate losing."
• • •
Though much of the work is done before the tip, Bennett's most visible moments are after. And this season he's been more, well, visible.
"I've noticed that," said senior Daven Harmeling, who also played for Dick Bennett, known for his fiery on-court demeanor. "It's been very fun to watch. For most of it I've been on the bench and been able to hear everything he says.
"He's let the officials get to him more than normal this year and maybe that's because of the dynamics of the team."
And it's more than his interaction with the officials.
"There have been more blowups," Harmeling admitted, grudgingly. "This season has been a real test for him because there have been times when he definitely got frustrated."
"This year we've eaten our share of humble pie," Bennett said. "Look, that adjusts you for life more than anything. Let's be real. We've had to fight. We go into every game knowing you're probably not going to outtalent your opponent, but you can compete. It's healthy.
"Next year, quite honestly, it will be a starting-over period," Bennett said. "I'll make no qualms about that. It will be a starting over, but in an exciting way, because you'll be a freshman and sophomore team, for the most part.
"It will certainly be challenging. We'll miss these (seniors). That will be hard. But there's a foundation that's going to be laid for a couple years down the road."
Local journalism is essential.
Give directly to The Spokesman-Review's Northwest Passages community forums series -- which helps to offset the costs of several reporter and editor positions at the newspaper -- by using the easy options below. Gifts processed in this system are not tax deductible, but are predominately used to help meet the local financial requirements needed to receive national matching-grant funds.
Subscribe to the sports newsletter
Get the day's top sports headlines and breaking news delivered to your inbox by subscribing here.
---
Subscribe and log in to the Spokesman-Review to read and comment on this story