News > Features
PERSONALIZING POVERTY
Photography exhibit unveils the sobering reality of the poor
Sat., March 21, 2009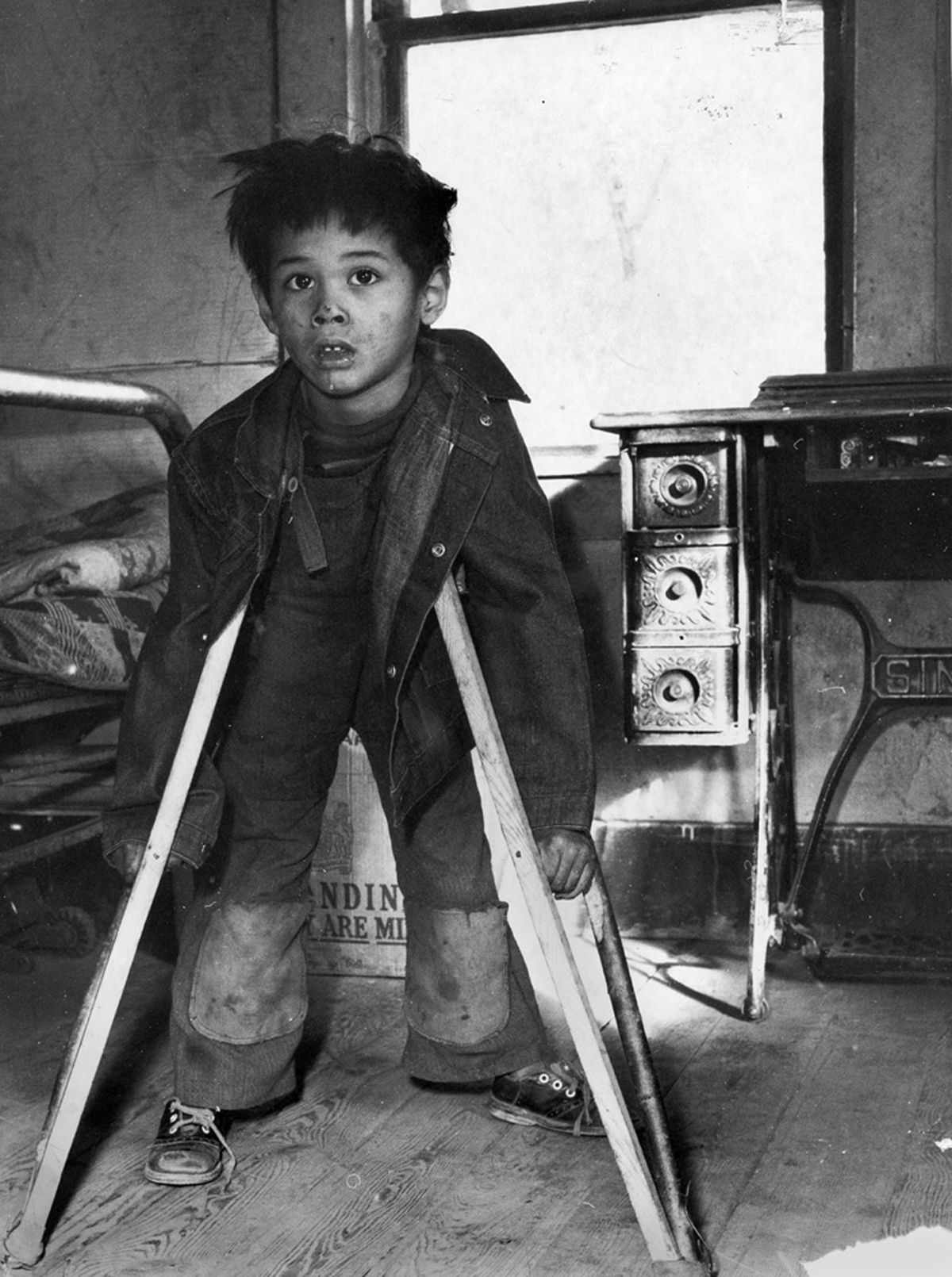 "Boy on crutches" is from the Jesuit Oregon Province Archives. Photographer unknown (Photographer unknown / The Spokesman-Review)
The images evoke both sorrow and compassion. Some perplex and tug at the heart. Others are so disturbing they compel the viewer to turn away. A skinny little boy lying in the dirt, wearing nothing but a tattered shirt and clutching what could be his only possession – a rusty, old nail.
A girl with haunting dark eyes holding a toddler who stares blankly at the camera.
An older man – a leper who has lost his fingers — attempting to play a harmonica.
These images and 49 others on display in the Rare Books Room at Gonzaga University's Foley Center Library depict the poor, the suffering, the marginalized. They are the work of several photographers who have spent time among people in poverty – not just in faraway places like India, Uganda and the Philippines, but also on the streets of downtown Spokane.
The exhibit "Faces of Poverty" invites people to reflect on the meaning of these images while questioning their own concepts of poverty, said organizer Jerri Shepard, an associate professor in Gonzaga's School of Education and School of Professional Studies. The presentations will help viewers personalize their understanding of poverty – both locally and globally – by prompting them to ask themselves what it means to be poor and what their responsibility is to those who suffer from hunger, homelessness and destitution, she said.
"You can talk about poverty from an academic perspective, but it doesn't really hit you until you get a sense of the people – the individuals who suffer from poverty," said Shepard. "Photographs can do that."
The exhibit includes old photographs from the Jesuit Oregon Province Archives as well as the work of several photographers: the Rev. Brad Reynolds, a photojournalist and Jesuit priest who shares his pictures from Colombia; Seattle photographer Kelly Hammer; Bethany Mahan, a Spokane photographer who spends time with people on the streets of downtown Spokane; and Gerard Thomas Straub, a documentary filmmaker, author and founder of the San Damiano Foundation – a nonprofit that strives to "put the power of film at the service of the poor."
In his book of photo essays, "When Did I See You Hungry?" Straub wrote briefly about his transformation from a Hollywood television producer to a photographer committed to sharing the stories of people in India, Mexico, Brazil, Jamaica and other developing nations.
"Oddly enough, it was a long-dead saint from medieval Italy who drew me to the horrific slums where countless people live in cruel, painful poverty," he wrote.
Although he was an atheist when he traveled to Italy in 1995, he found himself profoundly touched by the example of Saint Francis of Assisi, who lived simply and devoted his life to serving the poor. Straub started studying and researching the life of Saint Francis and was inspired to follow his example.
"Among other spiritual lessons, Saint Francis had shown me how to see the face of Christ in the poor," wrote Straub, who spent months living among the poor in cities that include Los Angeles and Detroit as well as Kingston, Jamaica; Manila, Philippines; and Wang'uru, Kenya. "I listened to their stories, and to the stories of the men and women who have dedicated their lives to offering the poor some relief, some ray of hope. Armed with only a pen and a 35-mm camera, I entered the bleak world of unimaginable poverty in order to help shed some light on this dark corner of humanity."
His experiences are documented in several photographs that are part of the "Faces of Poverty" exhibit. They're found in images of people scrambling to find food in the old Payatas garbage dump, a site in the Philippines that was closed in 2000 after an avalanche of garbage killed more than 200 people; in photographs of smiling children standing outside ramshackle homes; in pictures of men and women standing on street corners, eating a meal or engaged in the minutiae of everyday life.
Like Straub, Mahan of Spokane also uses the power of the lens to document the people who have been marginalized in her own city. Before taking photographs, she hangs out and gets to know the people she meets on the streets.
"I love anything beautiful found in the ugly and mundane, forgotten, sneered at, turned away from or typically missed," Mahan wrote in her artist's statement.
The exhibit also includes about half a dozen black-and-white photographs shot in 1958 of several families struggling to survive on the Rocky Boy Indian Reservation in north-central Montana. The pictures were taken from the Jesuit Oregon Province Archives, which serves as the depository for the history of the Oregon Province of the Society of Jesus and the personal files and contributions of its individual members.
Photographs and other artwork created by the women of the Women's Hearth, a drop-in center in downtown Spokane, also have been included in the show.
Shepard came up with the idea for "Faces of Poverty" about five years ago after viewing a photo exhibit in Chicago on social justice. "It was so powerful," she said, recalling the images that depicted the country's civil rights movement and other historic events.
Unlike lectures, photographs can make issues more personal, she said. So with the help of several people in Spokane – including photographers Bill and Kathy Kostelec, who installed the exhibit – Shepard sought photographers whose work revolved around the poor and social justice.
"How would you know that these people are in poverty?" asked Bill Kostelec, as he pointed to a black-and-white photograph of a woman's face whose eyes are closed and to another of a smiling, bearded man wearing a leather jacket. "It creates this question: What does the face of poverty look like?"
Since the exhibit opened earlier this month, people from throughout Spokane, including students from St. Mary's Catholic School in Spokane Valley, have come to the Rare Books Room to view the images.
Although the photographs don't have captions, they still enable the viewer to learn more about the people in the frames, Shepard said. In some ways, the pictures force people to confront their own prejudices. Perhaps the next time they see a homeless woman or man on the street, they will no longer look away, she said.
"It's a sobering experience," she said. "It makes me think about how important it is for us to see the people behind the label. It also makes me ask, 'Why am I here? Am I called to do more? How can I make a difference in the world?' "
Local journalism is essential.
Give directly to The Spokesman-Review's Northwest Passages community forums series -- which helps to offset the costs of several reporter and editor positions at the newspaper -- by using the easy options below. Gifts processed in this system are not tax deductible, but are predominately used to help meet the local financial requirements needed to receive national matching-grant funds.
Subscribe now to get breaking news alerts in your email inbox
Get breaking news delivered to your inbox as it happens.
---