News > Features
LiLo wants to pose for a change
Wed., March 25, 2009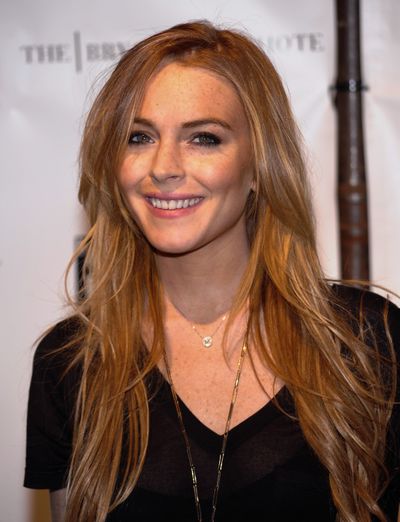 It's been a while since we've heard from Lindsay Lohan – or, as the tabs have alliteratively labeled her – LiLo.
But the actress/singer has been busy. She told Nylon magazine that she's mulling a Joaquin Phoenix-like change from actress to model.
"I love doing photo shoots," LiLo said. "I mean, if I could just sign with IMG and do ad campaigns and model more, I'd do that … because that's fun for me. That's not work."
You don't have to learn or lines or anything. Just have to … uh, pose.
And guess what? The industry is listening.
"She's a beautiful girl and obviously knows a lot about fashion," Ivan Bart, senior VP of IMG Models, told the New York Post. "Providing that she was contractually free, we would take a meeting."
Phoenix, you'll recall, has said he's quitting acting to become a rapper. LiLo, though, would rather just purse her lips.
Put movie profits in the Cage
Movie audiences opted for Nicolas Cage and the apocalypse over the weekend. "Knowing," which stars Cage as an astrophysics professor who figures out how to predict monumental catastrophes, opened at No. 1 with $24.8 million in ticket sales. It was followed by the Paul Rudd-Jason Segel comedy "I Love You, Man" ($18 million) and the romantic suspense film "Duplicity" ($14.4 million) that stars Julia Roberts and Clive Owen.
'Die Hard' star living easy
Bruce Willis, 54, has married for the second time. He and model/actress Emma Heming, 30, hooked up in a small, private ceremony at his home in Parrot Cay in the Turks & Caicos Islands. Guests included Willis' three daughters from his first marriage to actress Demi Moore, 46: Rumer, 20, Scout, 17, and Tallulah Belle, 14, as well as Moore, and her husband, actor Ashton Kutcher, 29.
Agility, thy name isn't Lauer
Wonder why Lester Holt and not Matt Lauer was cohosting the "Today" show post on Monday? Lauer, 51, was riding his bicycle this weekend when a deer jumped into his path. He flipped over the bike's handlebars and separated his shoulder.
"He's doing well, and we hope to have him back on 'Today' later this week," "Today" show publicist Megan Kopf said.
Scaling a stairway to heaven
The Rock and Roll Hall of Fame is boasting a fairly impressive lineup for its April 4 induction ceremony: Run-DMC will be inducted by Eminem; Jeff Beck by Jimmy Page; Bobby Womack by Ron Wood; and Metallica by Flea of the Red Hot Chili Peppers.
Quotable quote
"I'm freaking out right now." That's Ellen Degeneres, responding to Oprah Winfrey's videophone invitation to be on the cover of Winfrey's O magazine.
The birthday bunch
Singer Anita Bryant is 69. Singer Aretha Franklin is 67. Actor/director Paul Michael Glaser is 66. Musician Elton John is 62. Actress Bonnie Bedelia is 61. Actress-comedian Mary Gross is 56. Actor James McDaniel is 51. Actress Marcia Cross is 47. Actress Lisa Gay Hamilton is 45. Actress Sarah Jessica Parker is 44. Actor Lee Pace is 30.
Local journalism is essential.
Give directly to The Spokesman-Review's Northwest Passages community forums series -- which helps to offset the costs of several reporter and editor positions at the newspaper -- by using the easy options below. Gifts processed in this system are not tax deductible, but are predominately used to help meet the local financial requirements needed to receive national matching-grant funds.
Subscribe to the Coronavirus newsletter
Get the day's latest Coronavirus news delivered to your inbox by subscribing to our newsletter.
---