News > Features
Variety show gets Osbourne touch
Mon., March 30, 2009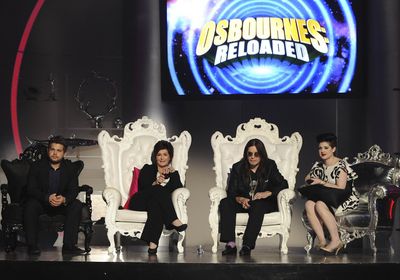 The Osbourne family has a six-episode shot at remaking the TV variety show in its image – and Sharon Osbourne says they're more than ready for the challenge.
"Osbournes Reloaded," which brings Osbourne, her heavy-metal husband Ozzy and offspring Kelly and Jack back together on TV, debuts on Fox this week in a cushy Tuesday time slot after "American Idol."
"We can do this differently because, firstly, we're a family," Sharon says. "Secondly, we're a family that's a little bit irreverent and edgy. That kind of makes it more spontaneous … because you never know what any of us is going to do."
And she slyly observes in a masterful bit of understatement, "We don't take well to structure."
Neither does Fox: "Osbournes Reloaded" is debuting at 9:20 p.m., offbeat timing intended to keep viewers of top-rated "Idol" onboard.
The Osbournes pulled back the curtain on their messily entertaining family life on MTV's "The Osbournes," the genre-making reality series that inspired others with various levels of fame to shed their privacy.
Too many, Sharon Osbourne contends during an interview. As far as she's concerned, her clan did it first and did it best.
She believes that the variety format will benefit equally from the Osbourne touch, although she carefully notes that what they've created is for families with older children – viewing by tender young things is not advised.
From her description and a preview of the show, there's a fair amount of bleeped expletives and raunchy humor. The format's mix includes comedy sketches, pranks on unsuspecting studio audience members and music.
One ongoing bit, "Littlest Osbournes," dresses up two British child actors as Sharon and Ozzy and puts them in adult situations with language to match – although Sharon vows that the children are uttering milder versions of what they appear to be spewing.
Each Osbourne family member contributes something unique, says the proud matriarch who is also a producer and manager, and has appeared on "America's Got Talent" and "Rock of Love Charm School."
She has no qualms acknowledging that the family rode to fame on Ozzy's rocker coattails but is adamant that her children deserve the spotlight. (They've faced difficulties along the way: Kelly and Jack have battled substance abuse, as has father Ozzy.)
"I'm really proud of the way my kids have turned out," Sharon says. "It's very hard coming from a show business family where the mom and dad are established and so much is expected of your kids.
"My kids are very talented," she adds, flashing a determined smile. "My daughter's not there because she's got big boobs and done a sex tape. My son's not there because he's a freeloader.
"They're there because they deserve to have their own show. They can hold it up."
Local journalism is essential.
Give directly to The Spokesman-Review's Northwest Passages community forums series -- which helps to offset the costs of several reporter and editor positions at the newspaper -- by using the easy options below. Gifts processed in this system are not tax deductible, but are predominately used to help meet the local financial requirements needed to receive national matching-grant funds.
Subscribe to the Coronavirus newsletter
Get the day's latest Coronavirus news delivered to your inbox by subscribing to our newsletter.
---