News > Washington Voices
Local quality by the barrel
Weekend tasting gives chance to sample offerings from highly regarded wineries
Thu., May 7, 2009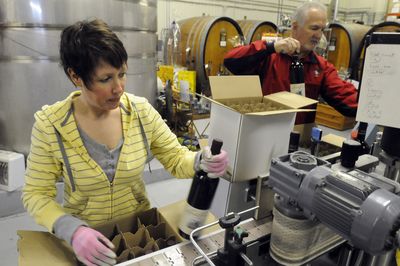 Wine lovers headed out this weekend to sample what the Spokane area has to offer are likely to taste wines that rank well against some of the best wines in the country, especially in terms of price.
Spokane's Spring Barrel Tasting weekend starts Friday and continues through Sunday. Hours are 11 a.m. to 5 p.m. all three days.
"We are very fortunate because we have great value and great wine," said Jim van Loben Sels, general manager of Arbor Crest Wine Cellars, which is among the oldest of the 18 wineries currently operating in the Spokane and North Idaho areas.
As a group, the local wineries consistently produce highly regarded wines taken from grapes grown in some of the choicest locations in Washington.
Arbor Crest has won praise from national wine magazines, including a 92-point rating from Wine Enthusiast for its top-of-the-line 2005 Dionysus red blend and a 90-point rating from Wine Spectator for its 2005 cabernet sauvignon. The ratings are on a 100-point scale.
But its lesser-priced white wines are getting notice too, including its 2006 and 2007 sauvignon blanc, which won "best buy" recognition from Wine Enthusiast.
The sauvignon blanc has a lemon-citrus flavor with a hint of stone fruit and a "little bit of toasty character," said winemaker Kristina Mielke van Loben Sels.
She and her husband work as a team, with Jim managing their wine grapes during the growing season to coax the most out of them. He has been involved in the addition of drip irrigation at two of the vineyards for their top wines.
Kristina Mielke van Loben Sels said she is especially fond of her 2006 chardonnay from Conner Lee Vineyard near Othello, a wine that works well with creamy dishes, lobster chowder or other shellfish. It received a 90 rating from Wine Enthusiast.
She said that wine lovers in Spokane know about the quality of Spokane-area wines and have become loyal customers, which has helped local wineries during the recession.
"We are not trying to introduce people to our wines; they know it," she said.
At Robert Karl Cellars, wines regularly sell out, especially the Bordeaux-style red blend known as Claret. The winery normally produces 1,500 cases of claret each year, said Rebecca Gunselman, who assists her winemaker husband, Joe Gunselman, who is also a physician.
Robert Karl is fresh off two important accolades in the wine press. The winery's 2005 syrah was rated as the 49th-best wine for 2008 in Wine Enthusiast magazine's top-100 wines for last year.
In addition, Wine & Spirits magazine last fall named Robert Karl as one of the top-20 wineries to open in the U.S. in the past decade.
"I tell people to drink local all the time," Rebecca Gunselman said. "I think we have some fabulous wines right here in Spokane."
At Lone Canary winery in East Spokane, two of winemaker Mike Scott's top red wines recently won gold medals from the Beverage Testing Institute. They are the 2005 DuBrul Vineyard Reserve blend and the 2005 merlot. Also, the 2007 sauvignon blanc received an 88-point rating from Wine Enthusiast.
At Grande Ronde Cellars in Spokane, a spinoff winemaking effort known as BridgePress Cellars recently received its license from the state as the 600th winery in Washington. The BridgePress label began under Grande Ronde.
Grande Ronde has had its share of top-rated wines in recent years, including an 89-point rating for its 2003 merlot from Wine Spectator.
The parade of wine accolades continues at Barrister Winery, where the 2005 Red Mountain merlot, the 2006 Dwelly Vineyard merlot and the 2006 cabernet franc all received 90-point ratings from Wine Enthusiast.
Last week, Latah Creek Winery bottled new blended red wine that combines the fullness of cabernet sauvignon with the spiciness of syrah. It is called Vinosity.
Across the state line, Sandpoint-based Pend Oreille Winery is now offering to refill bottles under a program called "Think Green, Drink Red." They are open this weekend.
Kimber Gates, winemaker at Coeur d'Alene Cellars, is basking in the glow of two gold-medal ratings from the San Francisco Chronicle wine competition for her 2006 Opulence syrah and her 2007 viognier wines.
The Idaho wineries are not part of the Spokane Winery Association.
But like Spokane wineries, Gates has worked to build a local following. There are 450 members in her winery wine club, and members are eligible for discounts and can attend special events.
"I love the personal connection," she said.
Local journalism is essential.
Give directly to The Spokesman-Review's Northwest Passages community forums series -- which helps to offset the costs of several reporter and editor positions at the newspaper -- by using the easy options below. Gifts processed in this system are not tax deductible, but are predominately used to help meet the local financial requirements needed to receive national matching-grant funds.
Subscribe now to get breaking news alerts in your email inbox
Get breaking news delivered to your inbox as it happens.
---