News > Spokane
Dispute in bar turns deadly
Post Falls man arrested in shooting
Sun., May 10, 2009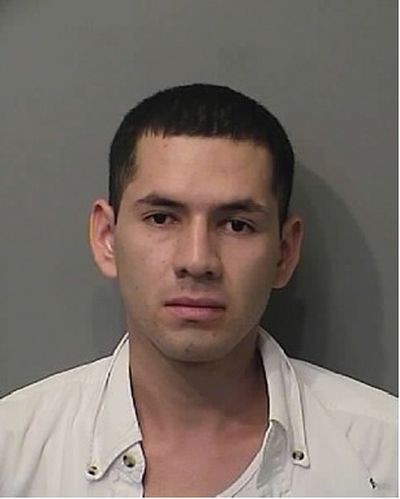 An apparent barroom altercation turned deadly early Saturday morning in Coeur d'Alene.
Timothy I. Williams, who went by the name Timothy Wolfe, of Worley, Idaho, was shot in the head about 2:15 a.m. Saturday as he and a group friends were walking near Third Street and Indiana in downtown Coeur d'Alene.
Wolfe, 21, a member of the Coeur d'Alene Tribe, was taken to Kootenai Medical Center, where he later was declared clinically dead. Juan C. Aldana Villanueva, 22, of Post Falls, was arrested later Saturday on charges of first-degree murder.
"The whole Coeur d'Alene Tribe is mourning (Wolfe's) loss," said Chairman Chief Allan. "He was a great young man. He had a lot of potential. A great smile, a great personality. He was loved by everybody."
Witnesses told police that Wolfe and Villanueva argued late Friday night at Mik-n-Mac's, a bar at 406 N. Fourth St., Coeur d'Alene police Sgt. Christie Wood said in a news release. Villanueva was told to leave by bar management, the news release said.
After the bar closed, Wolfe and his friends were walking in the area when Villanueva allegedly pulled up in his car and fired one shot, which hit Wolfe in the head. Villanueva then fled the scene, police said.
With help from the Kootenai County Sheriff's Department and the Post Falls Police Department, Coeur d'Alene police arrested Villanueva at Rancho Viejo Mexican restaurant, 2526 E. Seltice Way, in Post Falls, at about 11:20 a.m. There were no patrons in the restaurant at the time, and the four employees there told police they didn't know where Villanueva was hiding. After a room-by-room search by members of the Post Falls SWAT team, he was found inside a locked restroom, police said.
Wolfe was a talented basketball player, Allan said. The three-year starter for Lakeside High School in Plummer, Idaho, was named to the 1A All-Idaho first team as a senior point guard in 2005. The Knights finished fourth in state in 2004, and advanced to the semifinals the following season, when he led his team with an average of 19 points, according to The Spokesman-Review's archives.
He also participated in track and played football. In July 2005, he was selected to play on the eight-man North Team in the Calam Shrine North/South All-Star Football Classic at the University of Idaho's Kibbie Dome.
He was a student at Salish Kootenai College in Pablo, Mont., where this past March he scored 14 points in helping the Salish Kootenai College Bison win the American Indian Higher Education Consortium national championship. In recent summers, he played Coeur d'Alene summer league softball.
His parents, Charlotte Nilson and Tim Williams, live in Worley, as does his toddler daughter and a large extended family, Allan said.
"It's hard," Allan said. "The community is saddened today."
Services are pending, Allan said.
Local journalism is essential.
Give directly to The Spokesman-Review's Northwest Passages community forums series -- which helps to offset the costs of several reporter and editor positions at the newspaper -- by using the easy options below. Gifts processed in this system are not tax deductible, but are predominately used to help meet the local financial requirements needed to receive national matching-grant funds.
Subscribe to the Coronavirus newsletter
Get the day's latest Coronavirus news delivered to your inbox by subscribing to our newsletter.
---