News > Idaho
Kroc dazzles on debut day
Residents put CdA center, long awaited, to sweat test
Tue., May 12, 2009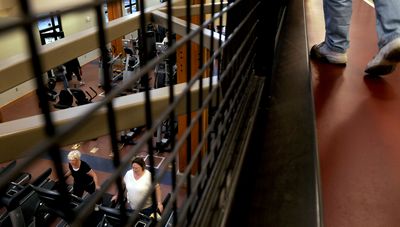 Judging by its first full day of operation Monday, Coeur d'Alene's new Salvation Army Kroc Corps Community Center will be a smashing success.
The parking lot was packed. Lines snaked around the membership counter. Squeals of delight emanated from the tunnels in the children's play area. Swimmers did laps in a competition pool designed by the same company enlisted for the Beijing Olympics. Power walkers pumped around the second-floor track. Tour groups explored every nook and cranny, expressing awe at the acoustics in the performing arts center, the architecture of the lobby and the spring-loaded floors in the three full-size basketball courts.
"It's just fantastically planned and executed," said Linda Wright, of Coeur d'Alene, who came to check out the walking track and described it with one word: "Wow."
That opinion appeared to be shared by many as the long-awaited, 123,000-square-foot center opened to an eager public. Joan Kroc, widow of McDonald's founder Ray Kroc, left $1.6 billion to the Salvation Army to build and run world-class community centers nationwide. The local center was built with $34 million from Kroc and $4 million in local donations after a fierce national competition to land one. The announcement that Coeur d'Alene was selected was made May 1, 2006.
The center is the third of six to open in the Salvation Army's western region. Another $34 million from Kroc and $2.5 million in fundraising goes into an endowment to help operate the center and subsidize membership rates. Monthly rates range from $8 for a youth to $28 for a single adult to $55 for a family. Day passes cost from $4 to $8.
"It's pretty sweet," said 18-year-old Dustin Selle, of Post Falls, as he shot baskets with four friends during a break from classes at the Coeur d'Alene Charter Academy. "I like that it's a good place for kids to come and hang out. That way kids don't get caught up in as much bad stuff."
Gazing down at the basketball courts from the second-floor group fitness studio, Austin Bishop, of Coeur d'Alene, said he was most excited about the sound studio. He and his wife also will enjoy the swimming pool, exercise equipment and drop-in child care for Ethan, 3, and Jaevyn, 1.
But the pristine studio amazed him. The 27-year-old video producer said it's the nicest he's seen in this region, with its high-end editing equipment, sophisticated control room and green screen for special effects work. Bishop said he was encouraged to learn about video production as a youth, and he wants to volunteer to pass along his skills to the next generation.
"Whatever I can do, whatever they'll let me do," said Bishop, pausing to chase his daughter down the hall. "I know the potential in this area for kids who have an interest in that."
Local journalism is essential.
Give directly to The Spokesman-Review's Northwest Passages community forums series -- which helps to offset the costs of several reporter and editor positions at the newspaper -- by using the easy options below. Gifts processed in this system are not tax deductible, but are predominately used to help meet the local financial requirements needed to receive national matching-grant funds.
Subscribe to the Coronavirus newsletter
Get the day's latest Coronavirus news delivered to your inbox by subscribing to our newsletter.
---
Subscribe and log in to the Spokesman-Review to read and comment on this story