News > Business
Law extends time limit for Spokane River cleanup
Dischargers must meet limits within 20 years, not 10
Tue., May 12, 2009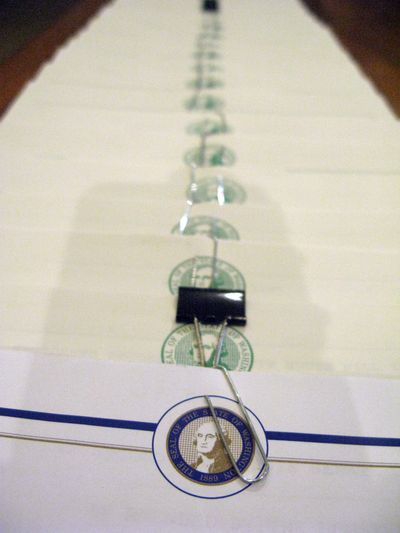 OLYMPIA – A new law will relax the deadline for cleaning up the Spokane River and other waterways, allowing more time for some measures to take effect.
Without the change, wastewater dischargers would have to meet stringent new limits on pollutants within a decade. The change, signed into law Monday by Gov. Chris Gregoire, says the standards must be met "as soon as possible" and within 20 years at most.
"We want to see this thing move forward as soon as it possibly can," said Doug Krapas, environmental manager for the Inland Empire Paper Co., which requested the change.
The company discharges treated wastewater into the river from its Millwood newsprint plant. The plant is owned by the Cowles Co., which also owns The Spokesman-Review.
Krapas said the company has no objection to getting its treatment technology in place within the original 10-year time frame. The concern, he said, was that it might take longer to deal with other "non-point-source" pollution, such as leaking septic systems or sediment runoff.
Bruce Wishart, policy director of People for Puget Sound, said his early concerns about the bill have been addressed.
"We feel fairly confident that federal law will ensure that these cleanups are done expeditiously," he said.
And water-quality improvements can take time, Wishart said. For example, it's one thing to plant trees along water's edge to provide shade and keep water cool, he said, but it can take years for those trees to grow. The law allows the state Department of Ecology to consider such factors, he said.
But Rachael Paschal Osborn, of the Spokane-based Center for Environmental Law and Policy, says she's concerned about any potential delay in cleaning up the river. Regulators have been trying to put together a cleanup plan since 1998, she said.
"What I fear, in looking at this, is that it will be more opportunity for delay in getting to the final cleanup," she said. "Let's get to it here. We've had years and years to think about how to clean up our river."
Inland Empire Paper has spent $5 million on new technology to reduce the phosphorus pouring into the river from the plant, Krapas said. Despite that, the company has had problems meeting the phosphorus limits expected early next year under its new permit. Krapas said the new law would also benefit other dischargers, including municipal sewage treatment plants.
Phosphorus contributes to algae and low oxygen levels, which harm fish, in the reservoir behind Long Lake Dam.
Osborn, an attorney, said she's also concerned that key parts of the law – words such as "appropriate" or "as soon as possible" – are vague.
"We'd just like to see the dischargers do the right thing and get it done," she said.
Local journalism is essential.
Give directly to The Spokesman-Review's Northwest Passages community forums series -- which helps to offset the costs of several reporter and editor positions at the newspaper -- by using the easy options below. Gifts processed in this system are not tax deductible, but are predominately used to help meet the local financial requirements needed to receive national matching-grant funds.
Subscribe to the Coronavirus newsletter
Get the day's latest Coronavirus news delivered to your inbox by subscribing to our newsletter.
---
Subscribe and log in to the Spokesman-Review to read and comment on this story