Sports
Going the distance pays off
Switch to steeplechase, longer stay in Pullman worked well for Trané
Wed., May 13, 2009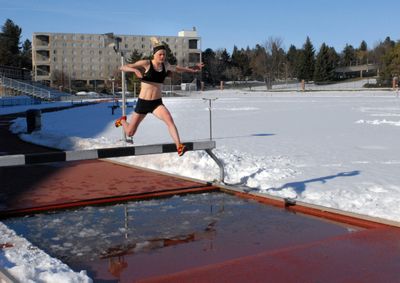 When is the counterintuitive simply crazy?
Jason Drake and Mark Macdonald, assistants to Washington State track coach Rick Sloan, spent a semester or so kicking around the notion in 2006. That year was a forgettable low point for the Cougars, who had managed less than 80 points from the men's and women's teams combined at the Pacific-10 Conference championships – and here were Drake and Macdonald, toying with taking hurdler Sara Trané, the women's top returning placer on the track, and turning her into … a distance runner?
"We wore ourselves out talking about it," Macdonald said. "We wondered if we were insane even presenting it to Coach Sloan."
Two Pac-10 steeplechase titles later, Trané has validated the lunacy – if that's indeed what it was.
"We laugh now," said Drake, the Cougars' distance coach. "She might have made the decision on her own, just based on how willing she was to change."
Well, she does have a freshly inked degree in psychology, a grade-point average in the high 3.9s that suggests she may be smarter than any coaching staff and a Scandinavian deliberation that can move an inquisitor to withdraw his question as it hangs awkwardly in the space before her answer.
But Machiavellian she is not.
Fact is, Trané didn't see herself being here this long. When she left her Swedish home in Pixbo in 2005, she did so with the idea that she'd be in Pullman only a year.
"Four years is a long time," she said, breaking into a laugh. "It's a big commitment to say I'm coming to America for four years, so I didn't even think about it."
And when she arrived in Pullman?
"The airport was really small," she said. "Not a good sign."
But in college she found a self-contained existence she didn't know as a club athlete in Sweden. There was no hour bus ride to school, nor one in another direction to get an injury treated, and no practices late into the evening. And there was the embrace of 90 teammates to make workouts on even the hardest days go easier.
"I really liked it," Trané said, "and I got so much better at track, too."
Just not in the event she envisioned.
Trané had finished fourth in the Pac-10 400-meter hurdles as a freshman, her time of 1 minute, 1.39 seconds a sign that the event was not particularly strong that year. When she returned to Pullman the following fall, Macdonald remembered her being extremely fit – to the point that she thrashed even the male sprinters and hurdlers in a 3- to 4-mile training run. Eventually she joined Drake's distance runners on Sunday 10-milers and he began entering her in cross country meets, and ran her first mile at a Cougar indoor meet. That March, she entered her first steeplechase and ran 10:50.56 over the 3,000-meter race, nearly qualifying for the NCAA regional meet. Two weeks later, she ran 17 seconds faster.
"And then I couldn't go back," Trané said. "I was already better at the steeple than I was at the hurdles."
Runners move up in distance all the time – short sprinters to the 400, half-milers to the 1,500. This was something a little more dramatic.
"Speed kills, in every sport," Drake said. "Sara has good wheels for a distance runner, but for the 400 hurdles she's nowhere near someone like (teammate) Lorraine King, who can split a 53-second lap where Sara might be a 57."
But not only did Trané find she enjoyed distance training better, but her hurdle background gave her an advantage in the steeple. That showed in the Pac-10 final her sophomore year when the leader fell over the last water jump and Trané surged to victory in a race "I don't think anyone thought I would win," she said. She repeated a year ago when USC freshman Zsofia Erdelyi, who had beaten Trané in an earlier race, faded in the last lap.
With the Pac-10s returning to Eugene, Ore., this weekend, Trané's in the position of being an underdog again in a race she's won twice. Both Erdelyi and Washington's Mel Lawrence have run under 10:10 – more than 11 seconds faster than Trané's season best, which is fifth in the conference.
"I see every race as a new race and it doesn't really matter what you've done before," she said.
She ought to know.
Local journalism is essential.
Give directly to The Spokesman-Review's Northwest Passages community forums series -- which helps to offset the costs of several reporter and editor positions at the newspaper -- by using the easy options below. Gifts processed in this system are not tax deductible, but are predominately used to help meet the local financial requirements needed to receive national matching-grant funds.
Subscribe to the sports newsletter
Get the day's top sports headlines and breaking news delivered to your inbox by subscribing here.
---