News > Spokane
Road work revving up
Construction projects hold up drivers, divert customers; I-90 fixes begin Monday
Wed., May 13, 2009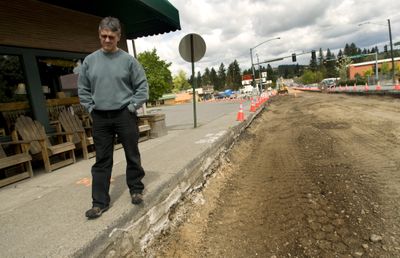 Road construction in the Spokane area is still ramping up for the season, but drivers and business owners are already frustrated by delays and detours.
The state will up the ante Monday when it begins rut repair on Interstate 90 through east Spokane, a route that carries 100,000 vehicles a day. The work will be at night, so officials said they don't expect major slowdowns. All travel lanes will be open from 6 a.m. to 7 p.m.
But grinding of old pavement could leave portions of the roadway in rough shape. The speed limit on I-90 will be reduced to 50 mph at all times in the construction zone, from Division Street to the newer Spokane Valley pavement east of Havana Street. The project includes ramp repairs along I-90 through the Spokane area as well as some adjoining city street work.
Al Gilson, public information officer for the state Department of Transportation, said the ruts, which are caused by abrasion from studded tires, have become a safety hazard during wet or icy conditions. "People have been frustrated by the ruts for a long time," Gilson said.
The work involves pavement poured in 1957, when the freeway was built, he said.
Elsewhere, major projects are under way on U.S. Highway 2 in the Mead area, Argonne Road in Millwood, Sprague Avenue at Pines Road, and Alberta Street in northwest Spokane.
On Argonne, vehicles are lining up single file to pass through the commercial area of Millwood during reconstruction of the four-lane arterial, causing motorists to seek shortcuts through residential areas or parking lots.
"People are getting pretty fed up with things," said Jeff Postlewait, owner of the Rocket Bakery and Bottles wine and beer shop in Millwood.
He said his Argonne store sales are down 15 percent to 20 percent since construction started last week because of limited access to his businesses.
A similar slump is being felt at the Shadle Center, where workers have converged on two sides of the shopping area. Will Johnson, manager of Bill Johnson's Auto Service at Alberta and Wellesley Avenue, said gasoline sales have fallen 20 percent since construction began.
"It's taking a big hit on our business," he said.
Drivers cut through his parking lot to get around construction, creating a hazard for customers and others, he added.
Resident Dave Collins has been fighting his way through congestion in northwest Spokane. "I'm not real happy," he said.
He said he has been forced to use the Shadle Center parking lot to take one of his children to school, and his wife's commute to and from downtown is 10 to 15 minutes longer than normal.
The city decided to close Alberta and Cochran streets north of Northwest Boulevard for a four-month reconstruction project at the same time it closed nearby Belt Street at Wellesley for construction of a new intersection and traffic light improvements. That effectively cut off three north-south routes for commuters – Driscoll Boulevard, Alberta and Belt.
As a result, traffic delays and backups are being reported by commuters along Francis Avenue, Northwest, Assembly Avenue and Fort George Wright Drive. It's an area of the city that saw detours over the past two years with the reconstruction of Ash and Maple streets.
Collins said he wanted to know why the city didn't plan to do one project at a time this year.
Ann Deasy, a spokeswoman for the city, said federal money was available for the Belt intersection repair, which officials wanted to finish this season before reconstruction of Wellesley from Division to Milton streets next year.
Much of the work in northwest Spokane is coming under a city bond issue approved by voters in 2004.
At Sprague and Pines, intersection work began Monday as part of a project along the Sprague corridor in Spokane Valley. The initial portion of the project involves expanding concrete pavement on the Sprague lanes on the east and west sides of the intersection, forcing lane restrictions during the work.
Once that work is complete, the city will move to the east to install concrete intersections at McDonald and then Evergreen. Work at McDonald should start in early July and at Evergreen in early August.
Sprague will be stripped of its deteriorated pavement, which will be replaced with an asphalt overlay. The asphalt work will be done in three segments starting with the stretch from University to Pines, followed by Pines to McDonald and then McDonald to Evergreen.
The work will last through the summer.
As part of the North Spokane Corridor project, the state is lowering U.S. 2 where the freeway will pass over it and building a new arched culvert over Peone Creek. The speed limit is being reduced to 45 mph and only one southbound lane remains open. That traffic configuration should be in place at least one year.
Elsewhere, Southeast Boulevard from 29th Avenue to Rockwood Boulevard is closed for reconstruction of Southeast; Nevada at Francis is closed for intersection improvements; and Five Mile Road from Austin Road to Cochran is closed as is the intersection of Lincoln and Five Mile roads.
Local journalism is essential.
Give directly to The Spokesman-Review's Northwest Passages community forums series -- which helps to offset the costs of several reporter and editor positions at the newspaper -- by using the easy options below. Gifts processed in this system are not tax deductible, but are predominately used to help meet the local financial requirements needed to receive national matching-grant funds.
Subscribe to the Coronavirus newsletter
Get the day's latest Coronavirus news delivered to your inbox by subscribing to our newsletter.
---