Sports
Without peer
Baseball star Rogers' dominant athlete during his stay
Thu., May 14, 2009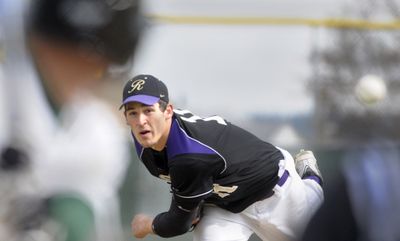 Jake Partridge is an athletic Jack of All Trades, and master of one.
A three-sport contributor at Rogers, Partridge helped end a long Pirates football losing streak as a quarterback and All-Greater Spokane League wide receiver, defensive back and punter. He started this year in basketball, which made its first state appearance in 30 years.
But it is baseball that defines the 6-foot-2 talent, a formidable pitcher and hitter. On Tuesday his arm and bat helped the Pirates into Friday's semifinals of the 3A regional tournament at Shadle Park.
Already signed to continue playing baseball at Gonzaga University, major league teams have shown interest. If called early enough in the draft, he could follow recent locals into the professional ranks.
"I've talked with Bryan Peterson (ex-West Valley, Boston organization) and Trevor Shull (CV, Tampa Bay)," Partridge said. "They came to a couple of Spokane Dodgers practices and said they really like it."
Partridge has been clocked at 90-plus as a left-handed pitcher, this year striking out 82 batters in 34 innings while walking 16. In one game he fanned 19 in a 2-1 seventh-inning loss. In another he whiffed 15 during a five-inning win.
Nominally a first baseman when not pitching, he's played center field during his four-year career for the Pirates. His coach, Jim Wasem, marvels at Partridge's ability.
"Why waste him at first base?" asked Wasem, who would have started him at shortstop if not for the fact he's a lefty. "The next best position is in center field. He covers a lot of ground."
An example came against Mead when Partridge raced to his right and dove to make a catch between the left fielder and shortstop.
"I didn't play (outfield) until my freshman year," Partridge said. "It was fun running around and catching balls and stuff. I have good speed, but not excellent. I just get good jumps."
At the plate he's a two-time GSL batting champion. His junior year he hit .569 with eight doubles and five triples. At one point this year he was batting .800 (16 for 20), but tapered to .609.
"I think he ended up with a .913 slugging percentage and .703 on-base average, and he walked 14 times," Wasem said. "Leading the league two years in a row is pretty good."
The four-year baseball starter was selected as an All-GSL outfielder in 2007 and pitcher last year.
What Partridge could lack is the power of some past area draftees, Wasem said. But Tuesday at Shadle he homered and tripled (teammate Jacob Campbell hit back-to-back monster shots out of Al K. Jackson Field). And during an hour-long workout for Tampa Bay scouts at Rogers, Partridge hit several balls out using a wooden bat.
"They were asking where I got my power from," Partridge said. "I like wood bats for some reason. They are truer. There are no fake hits."
Partridge began playing tee-ball at age 4. Even then, he could hit. Not too many years later he joined a traveling team and has been playing with such squads since. He committed to Gonzaga last year and signed with the Bulldogs during the winter, although he said he has to increase his SAT score, a test he recently retook.
Numerous pro teams have talked with his parents, although Tampa Bay was the only one to give a tryout. He believes his future is on the mound.
"Because a lefty is always good for pitching – but I'm not sure," he said.
He also started three years in football, making All-GSL first team in 2007 at wide receiver. This year he broke a 30-year school record for career receiving yardage and was a first-team all-league defensive back and second-team punter. The Pirates won twice, ending a 40-game losing streak when Partridge rushed 16 times for 135 yards and two touchdowns Oct. 17 against North Central.
A measure of his versatility was the fact he ran 100 times for 540 yards, threw for 323 and caught seven passes for 80 during the season.
"He is the best athlete I've coached by far in 10 years," football coach Matt Miethe said. "This year he was our quarterback by necessity. We'd have loved him at receiver. But, gosh dang, he's such a competitor losing tore him up and he took the bull by the horns."
Partridge played one year of AAU basketball and with the Pirates freshmen and junior varsity, but not his junior year. He returned this season playing all 28 games for the state qualifiers and averaging nearly 5.0 per game, with a season-best 17 against Lewis and Clark.
"My senior year I didn't want to be left out of the loop," he said. "I didn't want to miss anything my senior year."
Coach Tim Wood said he brought size, toughness and athleticism to the floor, particularly on defense. Wood said Partridge could play inside or out, was a solid rebounder and provided timely 3-point shooting in his lone varsity season.
"I don't know how we'll replace him," he said.
Basketball necessitated a late start in baseball this spring and Wasem decided not to use him as much on the mound to keep him healthy for postseason. The Pirates (5-16) began 0-13 before upsetting Ferris, and have won their last four to join GSL top seed Mt. Spokane in the region semifinals.
"We had a rough season, but it ended with a little bit of a silver lining," Wasem said.
Partridge has done his part.
"He's the best I've had at Rogers, and my first Division I kid," Wasem said. "I'd say this year he's really grown up a lot. He's taken on the captain's role and has done a great job as a leader."
Local journalism is essential.
Give directly to The Spokesman-Review's Northwest Passages community forums series -- which helps to offset the costs of several reporter and editor positions at the newspaper -- by using the easy options below. Gifts processed in this system are not tax deductible, but are predominately used to help meet the local financial requirements needed to receive national matching-grant funds.
Subscribe to the sports newsletter
Get the day's top sports headlines and breaking news delivered to your inbox by subscribing here.
---