News > Features
Hanson's career hits a high note
Singer draws raves overseas on strength of third album
Fri., May 15, 2009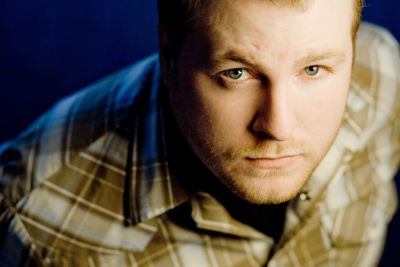 In choir while growing up, Jeff Hanson would often sing the female lead parts in performances.
"The younger girls couldn't hit the high notes that I could hit. And the reviews mistook me for a female singer," the Minnesota-based musician said during a telephone interview while visiting his parents in Wisconsin.
Several years later, Hanson is still mistaken for a woman when he employs his astonishingly high register over his acoustic folk songs.
"When I was younger I took even less crap than I do now (for my voice)," he said.
But once critics get over the novelty of Hanson's voice, they begin to take notice of his equally delicate songwriting and masterful arrangements.
After releasing his third album for respected Northwest indie label Kill Rock Stars (The Decemberists, The Melvins, early Nirvana), the 30-year-old singer – who comes to the Empyrean Coffee House on Monday – has been getting big props overseas and is starting to draw more attention at home as well.
Of Hanson's third release, last year's "Madam Owl," National Public Radio said: "From the opening of the record, this is clearly a different breed of singer-songwriter."
Paste magazine called his voice an angelic cross between Alison Krauss and Art Garfunkel.
His international following finds Hanson playing to large venues in Australia, Asia and Europe. He recently finished a tour in Scandinavia with a full band.
"Why do I do so well in places like Japan? I don't know," he said. "The overseas touring is going really well, but I'm still relatively unknown in the U.S. I put some of that on me because I haven't done as much U.S. touring."
Hanson believed early on that he had all that was necessary to make it as a musician. So he wasn't surprised after leaving the emo-rock band he started at age 13 to go solo that Kill Rock Stars wanted to sign him on the strength of an unsolicited demo tape.
"I wasn't surprised at all that Kill Rock Stars picked it up. I always had a feeling I was going to sing somewhere," said Hanson, whose self-assuredness borders on arrogance. "If you heard my demo wouldn't you want to sign me?"
"Madam Owl" moves between moments of Americana, with lap-steel and banjo supporting Hanson's quiet strums on acoustic guitar. But there is also a thread of the orchestral with dramatic string arrangements – performed by the Portland Symphony – supported by upright bass and drums.
On Hanson's previous outings he has always played all of the instruments. For "Madam Owl" he decided to enlist some help.
"I wanted to take a more classical approach for this album," he said. "It's no so poppish, not that I'm trying to get away from pop, but my process this time around involved working with other musicians.
"Everything starts with the acoustic guitar, but I was really interested in strings. Some of it still feels like pop music, but when you add strings it becomes less melodic and more … classical."
Local journalism is essential.
Give directly to The Spokesman-Review's Northwest Passages community forums series -- which helps to offset the costs of several reporter and editor positions at the newspaper -- by using the easy options below. Gifts processed in this system are not tax deductible, but are predominately used to help meet the local financial requirements needed to receive national matching-grant funds.
Subscribe to the Coronavirus newsletter
Get the day's latest Coronavirus news delivered to your inbox by subscribing to our newsletter.
---