News > Idaho
Butch Otter: Evolution of a Libertarian
Over the years, governor's stance has softened
Sat., May 16, 2009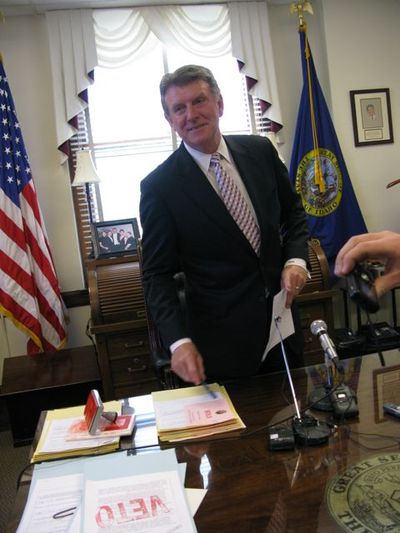 BOISE – When Idaho Gov. Butch Otter was a legislator back in the '70s, he was precisely the sort of outspoken, no-new-taxes, shrink-government conservative as those in the House who stymied his transportation initiative this year. Now he can't understand why the young lawmakers don't get his point in pushing for a gas tax increase – that transportation is a proper role of government and it's pay now or pay more later. "I believe we have made the case so the need cannot be denied," Otter said. "If I weren't absolutely convinced that we needed the money … I wouldn't be asking." Not that he would've gotten the point back then. He ran for governor in 1978 calling for returning the state to budget levels of 1964. Otter, clearly, has evolved. "Over the stretch of three decades, a few things change," said Idaho political historian Randy Stapilus. "For one thing, Butch is not in a position now to declaim an ideology or a stance and leave it at that – he actually has to govern." Otter served two terms in the Idaho House of Representatives starting in 1973, after which he went on to serve 14 years as lieutenant governor and three terms in Congress before being elected governor in 2006. He came into public office as a fire-breathing libertarian, an opponent of taxes, regulation and government spending. He opposed kindergarten, public school budgets, libraries and the landmark 1975 legislation to establish land-use planning in Idaho. In a House debate on an anti-pornography bill, he declared, "Not only do I vote no, but hell no." As a young legislator, he tried to slice into state oversight by deregulating veterinarians, a move that went nowhere. Learning pragmatism Otter says he learned a lesson after his first term in the Legislature. "After my freshman year, I said, y'know, the only distinction that I have in the House is that I had probably more 'no' votes than anybody else, and I had the crow hanging from my microphone longer than anybody else." The "crow" is a longstanding, tongue-in-cheek House tradition, a trophy for the representative who gets the least support on a motion or bill. That member is saddled with the crow until another representative fails more spectacularly and takes it away. Otter said, "I asked myself the question, 'You want to serve another term – how effective have you been the last one? What are you going to tell people?' And fortunately," he said, laughing, "nobody ran against me." Otter said he learned another important lesson from "an old cowboy by the name of Bill Lanting," speaker of the House at the time, who told him, "Butch, there is absolutely nothing wrong with setting your goals ideologically, but you're gonna have to someday come to the realization that in order to get to those goals, you're gonna have to act pragmatically." It's a lesson Otter learned slowly, over many years. "He was totally ideological when he arrived," recalled Perry Swisher, a longtime state representative and senator who served opposite Otter. Swisher served as both a Republican and a Democrat; in the '70s, he was a Democrat. "We were pretty much opposites," Swisher said. "Back then, just his doctrinaire set of mind kept him from thinking things through.… He wasn't very pragmatic, to put it mildly." Political scientist Jim Weatherby, now retired from Boise State University, recalled, "He was a back-bencher from Canyon County, part of that libertarian delegation, who voted 'no' with relish.… That's my recollection of him, as being that fun-loving bomb-thrower." But that position was a fringe one in the House at the time, Weatherby said. "What there was in the House then that doesn't exist today was a workable majority in the center of moderate Republicans and Democrats who could work together to pass major pieces of legislation – for example, in 1975, the local planning act. That was a major achievement, and it was a House bill, and it came out of the House with strong, bipartisan support." A hard sell Today, the Idaho House is 75 percent Republican. Democrats in the House this year initially held out against a gas tax increase, saying it was wrong to raise the tax while cutting education and state agencies. Later, most of the minority switched after education cuts were softened, but by that time the House GOP leadership was rallying the entire Republican caucus against the GOP governor's proposal. "Butch is our buddy, and that's the hard part," said House Majority Leader Mike Moyle, R-Star, in the midst of the political battle. "We have to separate this issue from our friendship." He added, "Listen, I understand that he is right – there is a need to fix our roads – we all do. It's just the timing." Raising taxes in a recession was a hard sell from the beginning, but Otter framed his gas tax proposal as a user fee, and many more moderate lawmakers agreed. Rep. Frank Henderson, R-Post Falls, said, "There's been acceptance, although reluctant, that the (transportation) department needs more revenue, and the preference up north, at the meetings I've been at, has been for a fuel tax, because it's a user fee." Sen. Mike Jorgenson, R-Hayden Lake, noted that gas taxes are paid by visiting tourists, too – not just by Idahoans. That means they can help pay for road maintenance that's needed, in part, because of tourist traffic on the roads. House conservatives like Rep. Steve Kren, R-Nampa, however, question why government can't just shrink, allowing the state's general fund to shift and cover transportation needs. "If there's a certain amount of growth, why is education entitled to that growth?" Kren asked. "Why can't it be split?" In a year when lawmakers were struggling to balance the state's budget amid recession-dented tax revenues, Otter vetoed dozens of hard-fought, successful budget bills to make his point to lawmakers that he wanted action on his transportation proposal. Many lawmakers were offended; the move kept them in session to redo the budget bills. "I know of no other tool that the executive has," Otter said. "This is not fun – I've got major disagreements with some of my closest friends and political allies." The great campaigner The road that led Otter to his current dilemma had plenty of bumps. After his unsuccessful run for governor in 1978, in which he came in third in a contentious, six-way GOP primary, he was out of office for eight years before being elected lieutenant governor in 1986. That's a largely ceremonial, part-time office, but its duties do include presiding over the state Senate and serving as acting governor when the governor's out of state. Otter made waves by vetoing a bill to raise Idaho's drinking age from 19 to 21, saying he wouldn't give in to federal blackmail; the state stood to lose its federal highway funding if it didn't make the change. Then-Gov. Cecil Andrus returned to the state and signed a new bill. Otter also presided over a 21-21 split between Democrats and Republicans in the state Senate in 1991, and broke several ties. Among them: He killed a bill to impose a 30-day driver's license suspension on first-time DUI offenders, and another to allow local governments to restrict smoking in public places. His full-time job was as an executive at the J.R. Simplot Corp.; Otter also was married to company founder J.R. Simplot's daughter, Gaye. That all came crashing down, however, in 1992, when Otter was convicted of drunken driving. His conviction and his divorce, after more than 28 years of marriage, came on the same day, as did the announcement of his departure from the company. Otter's defense against the charge included a claim that he swerved his Jeep because he was reaching for his cowboy hat after it flew off, and that after his arrest, while in custody at the sheriff's department, he took some chewing tobacco soaked with Jack Daniels whiskey from a can in his boot and chewed it, affecting his subsequent blood-alcohol test. The court didn't buy it. Few thought Otter would be re-elected as lieutenant governor after that, but he was. "This is a guy whose gifts as a campaigner certainly are as great as anyone I've seen in Idaho," Stapilus said. Otter went on to serve three terms in Congress. "He reinvigorated his libertarian credentials with his opposition to the Patriot Act, one of three House Republicans to oppose it, and got a lot of attention and notoriety," Weatherby said. "But he also voted for one of the largest expansions in federal government in recent history by voting for the Medicare prescription drug legislation." Now, some are predicting political doom for Otter, with an election next year that could see him challenged from both the left and the right. Said Weatherby, "I think of Butch Otter's career and think about how many times his political obituary has been written, and how wrong people have been about his ability to survive and overcome setbacks. So I'm not willing to rule him out at all at this point, even though with this massive assault of vetoes, which is kind of the last resort of a governor, he is in a very weakened position."
Betsy Z. Russell can be reached toll-free at (866) 336-2854 or bzrussell@gmail.com. For more news from Boise go to www.spokesman.com/boise.
Local journalism is essential.
Give directly to The Spokesman-Review's Northwest Passages community forums series -- which helps to offset the costs of several reporter and editor positions at the newspaper -- by using the easy options below. Gifts processed in this system are not tax deductible, but are predominately used to help meet the local financial requirements needed to receive national matching-grant funds.
Subscribe now to get breaking news alerts in your email inbox
Get breaking news delivered to your inbox as it happens.
---