Sports
Ferris, NC overwhelm boys cross country field
Sun., Nov. 8, 2009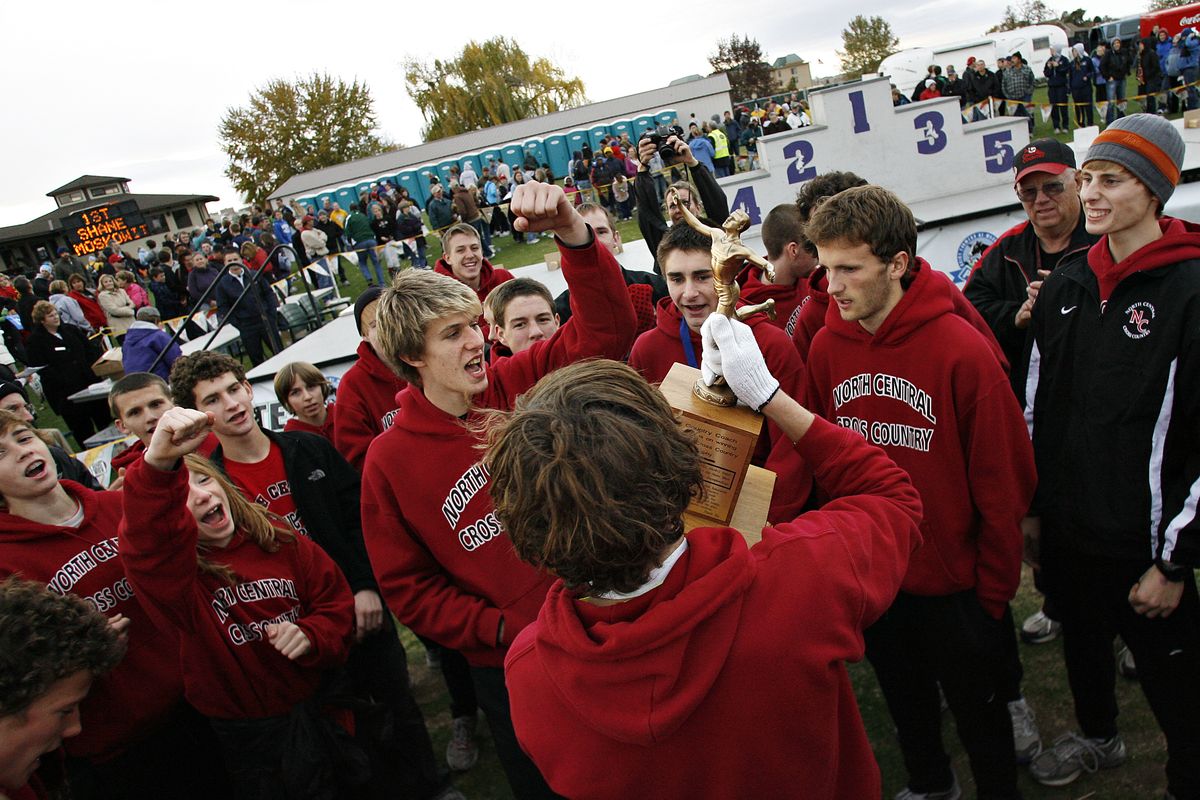 North Central's boys celebrate their fourth consecutive state cross country championship in Pasco. Tri-City Herald (Kai-Huei Yau Tri-City Herald / The Spokesman-Review)
PASCO – The legend of Spokane boys cross country lives on – emphatically.
Saturday afternoon at Sun Willows Golf Course, Ferris comfortably extended Greater Spokane League dominance of the State 4A meet with the league's 22nd straight team triumph, rendering prospects of a taut contest with Henry Jackson an afterthought.
One race earlier, North Central, with Ben Johnston becoming its first individual champion, won an unprecedented fourth straight State 3A race by a whopping 71 points, meaning that over those 22 years, the GSL has won 26 team championships as a whole.
•4A: Ferris coach Mike Hadway told his charges that if the two-plus decade streak of state titles ended, no one would let them back into Spokane.
"I told them they don't want it to be close like everyone says and come down to the sixth man," he said. " 'Guys, let's do a blow-out,' and it was."
The day's final race, under overcast skies and relative calm, was delayed for 15 minutes when a batch of runners went down following the initial 2:30 p.m. gun.
Following the re-start, Ferris set about defending league honor. Racing fairly conservatively, the Saxons spread themselves among the top 30 and for the most part kept in front of their counterparts from Jackson. Ferris' No. 4 and 5 scorers, Justin Zimmerman (24th overall) and Perry Domini (30th), finished well ahead of Jackson's.
The final score was 68-100, with Ferris' Adam Thorne placing third overall in 15 minutes, 31 seconds, 14 seconds faster than last year. Only 33 seconds separated the five teammates, including 10th-place Tim Colliton and Alex Kimsey (18th).
"Great, great, great," Hadway said of his Saxons' fifth state title in seven years. "It's always special. Like I told them, it's not about Jackson or other teams, but about you running your best."
The individual champion was Shane Moskowitz of Central Kitsap in 15:05. Hadway said Moskowitz was in a class of his own and Ferris decided to let him go and concentrate on team matters.
Lewis and Clark's Kenji Bierig placed fourth to Thorne in 15:32 and Mead freshman Andrew Gardner was eighth in 15:41. LC finished fifth as a team.
•3A: Johnston fulfilled a dream and fellow senior Alexander Avila became a member of three state titlists. Avila also completed his career with a personal-best fourth-place effort after struggling the previous two with health issues.
"This year was remarkable. I was not sick at all," Avila said. "You could definitely tell my performance was better."
Being part of the three-year experience was "amazing," Avila said.
Johnston went out with the leaders and stayed there, winning in a fast 15:15. Avila timed 15:29 and NC's Casey Adams 15:31 for sixth place overall. NC's Vince Hamilton (from 22nd in district junior varsity last year to 17th in state this year) clocked 16:01 and Andrew Wordell was the fifth scorer in 16:30. The Indians (47 points) routed the field as second-place Peninsula scored 118.
"It's always been my dream to win state," Johnston said. "It's been a lot of fun and definitely been a journey. This is second family to me."
Coach Jon Knight said he'd never had an individual cross country winner before. The one thing that stands out is how far this team came in securing a fourth team title, he said.
"They ran 5 seconds a man faster than Ferris," Knight said. "I'm just really proud to have them run so well."
•B: Republic came close in the team chase as Nik Michel and Jon Bennett ran third and fourth, respectively, in the race. But Northwest Christian-Lacey had the top two finishers and pulled out an 83-95 win on the strength of its No. 4 placer. "They had a good race," Republic coach Ed Forsman said. This was the Tigers' second trophy following two years without the sport because of budget cuts. Republic was third last year.
•1A: Lakeside (Nine Mile Falls) trophied again, this time fourth behind winner Nooksack Valley in the team race. Lakeside junior Colton Berry placed 10th overall.
•2A: Colville's Colton Hastings placed 12th for the highest Great Northern League finish. His Indians were seventh as a team. Sehome repeated as team champions, led by race winner Scott Carlyle (15:47).
Local journalism is essential.
Give directly to The Spokesman-Review's Northwest Passages community forums series -- which helps to offset the costs of several reporter and editor positions at the newspaper -- by using the easy options below. Gifts processed in this system are not tax deductible, but are predominately used to help meet the local financial requirements needed to receive national matching-grant funds.
Subscribe to the sports newsletter
Get the day's top sports headlines and breaking news delivered to your inbox by subscribing here.
---