News > Pacific NW
Hunt for suspect frustrates West Side police
Man was shot, perhaps seriously, according to the sheriff's office
Mon., Nov. 30, 2009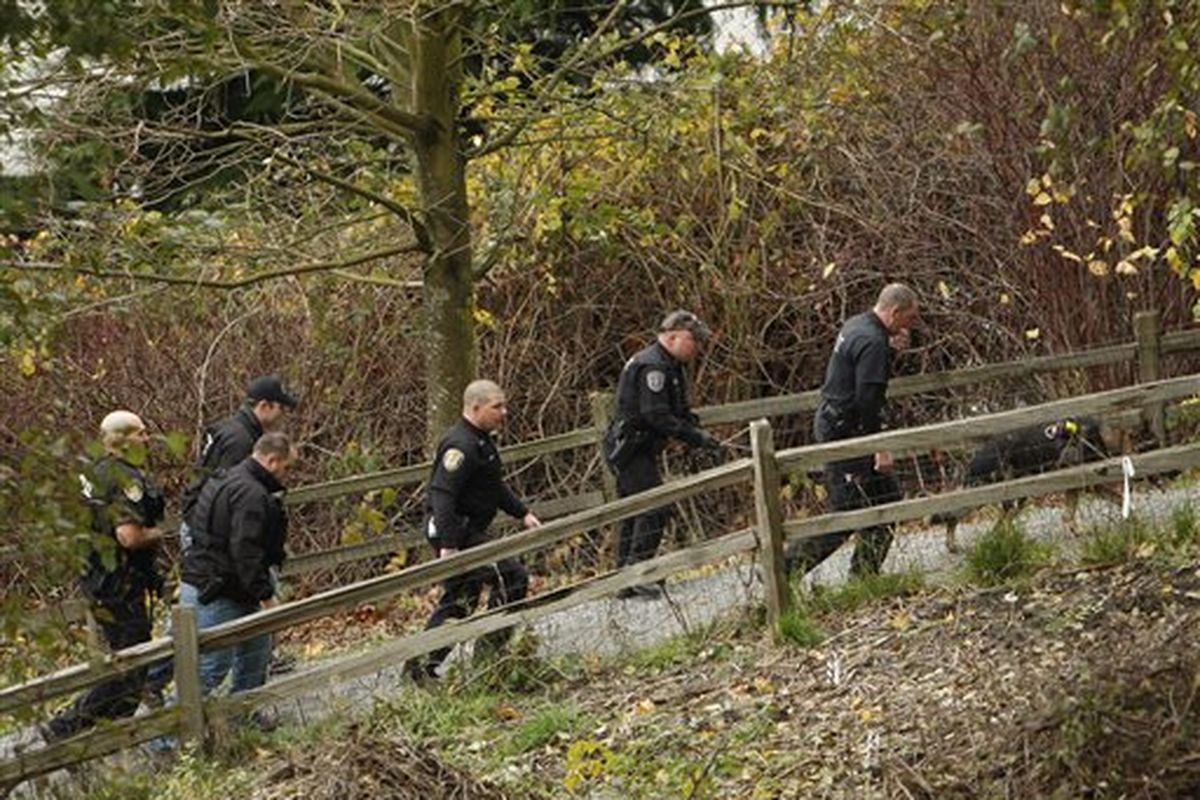 Members of the Seattle Police Department search Dr. Jose Rizal Park for the suspect in the killing of four police officers in Seattle, on Monday, Nov. 30, 2009. (Kevin Casey / Associated Press)
The hunt for suspected cop killer Maurice Clemmons has stretched deep into its second day, frustrating police as they chase lead after lead across two counties. A murder warrant has been issued for Clemmons, suspected of killing four Lakewood police officers Sunday in a Parkland coffee shop, Pierce County sheriff's spokesman Ed Troyer said. Officers thought they had Clemmons surrounded in a Leschi home late Sunday, but when a SWAT team finally went in at 7 a.m. today, the house was empty. Since then, officers have crisscrossed Seattle, chasing down alleged sightings and blood trails. Clemmons was shot and perhaps seriously wounded by one of the slain officers Sunday morning, Troyer said. Shortly after noon today, notice went out for officers to be on the lookout for a green 1997 Mazda Millenia with Washington license plate 208-SSX, registered to Clemmons' wife, Nicole Cheryleen Smith. They said the car might be headed toward Arkansas, where Maurice Clemmons once lived. Washington State Patrol trooper Cliff Pratt said every trooper patrolling the state's highways has been alerted to look for Clemmons car, especially those at all major portals from Oregon to the Canadian border. He said troopers are watching all major exits from the state and every officer has a picture of Clemmons in his car. He said they're also watching train and bus stations, and other transportation hubs. It wasn't immediately clear what caused police to focus on Smith and her car. A woman who answered the door at her Tacoma home this morning declined to speak to a Times reporter. About 1 p.m., six officers in SWAT gear pulled up to Smith's Tacoma home and four went inside, escorted by a young man who pulled up in a silver Honda. In Seattle, police have followed clues that led them to the University of Washington, Beacon Hill, Ravenna, the International District and Leschi. So far, none have panned out. "We're responding to citizen calls," Seattle police Sgt. Don Smith said. At 2 p.m., officers were just leaving Cowen Park in Ravenna, where a trail of fresh blood had been reported about noon. Not long before, officers had closed off a street and at least one building near Maynard Avenue South and South Dearborn Street, after bloody gauze was found in the street. Before that, officers had raced to Jose Rizal Park in Beacon Hill after someone reported seeing Clemmons there. By 10:30, officers had walked the park with police dogs and were confident Clemmons wasn't there. And earlier in the morning, police swarmed to the University of Washington after someone reported seeing Clemmons getting off a Metro bus at the campus. That search led officers to near the UW Medical Center and apparently into a classroom, but Clemmons wasn't there. There is a $125,000 reward for information leading to Clemmons' capture. Police know that Clemmons was wounded because they have detained other people — Troyer wouldn't say how many — who helped Clemmons after the shootings. Lt. Dave McDonald of the Puyallup Police Department said today detectives believe Clemmons was armed with more than one handgun during Sunday morning's attack. One handgun used in the shootings was recovered at the coffee shop where the four Lakewood officers were slain. Police think he dropped it during a fight with one of the officers. He was able to kill that officer, likely with a second handgun Troyer told the Tacoma News-Tribune that Clemmons "made comments the night before to people that he was going to shoot police and watch the news." Investigators have no indication that Clemmons had a motive aimed specifically at any of the particular officers who were gunned down, Troyer said. "He was upset about being incarcerated," Troyer said. "He was just targeting cops." SWAT teams and police negotiators had surrounded the house at East Yesler Way and 32nd Avenue South earlier on Sunday based on tips given to police. Police responded to the home around 8:44 p.m. Sunday. A woman who was leaving the home was stopped by officers and told them Clemmons was on the property and bleeding. The woman told police that someone had dropped Clemmons off at his aunt's home, on East Superior Street. The series of events leading up to the standoff at house in Leschi began more than 16 hours earlier at an upscale coffee shop in Parkland, Pierce County, a hangout for officers that became the scene of the deadliest attack on law enforcement in state history. Four officers were shot and killed at 8:15 a.m. as they worked on their laptops at Forza Coffee Company in Parkland. The first two officers were "flat-out executed," while the third tried to stop the gunman and the fourth fired at him, Pierce County sheriff's spokesman Ed Troyer said. Those killed were identified as Sgt. Mark Renninger, 39, and officers Ronald Owens, 37, Tina Griswold, 40, and Gregory Richards, 42. Lakewood Police Chief Bret Farrar held a news conference this morning. "We're a young department. They were good people and we'll miss them very much," he said. "We will get through this but it is a very, very tough time for us and the families of our fallen officers. I met with the families yesterday; it was the hardest thing I've ever done." Farrar said he has "no doubt this person will be brought to justice." A community prayer service is planned for 7 p.m. Wednesday at the Lakewood YMCA. Clemmons has a long criminal record in Arkansas and Washington. He was released from custody in Pierce County just a week ago, and was facing a charge of raping a child. Family members described him as being in a state of mental deterioration. Last spring, he was also accused of punching a sheriff's deputy in the face. Sunday's shootings came as officers from across the state were still coming to terms with last month's ambush-slaying of Seattle police Officer Timothy Brenton. The two incidents do not appear related, police said. The coffee shop, in a strip mall across the street from McChord Air Force Base, is favored by officers from several nearby jurisdictions. Troyer said the scruffy-looking gunman entered the shop, walked past the officers and three or four other customers, and approached the counter. A young barista asked the man if she could help him, according to Humberto Navarrete, 51, who lives nearby and later spoke to the barista. The man stared at the barista without saying a word and then opened his coat, revealing a handgun, Navarrete said. The barista and another female barista on duty ran out the back, according to Navarrete. The gunman turned and started shooting at the officers, he said, quoting the women. "This was a targeted, selective ambush," Troyer said. The officers, who made up one patrol unit, were regulars at the coffee shop. They were wearing bulletproof vests and were preparing to start their day shift, Troyer said. The first two officers apparently had no time to react. The third officer stood up and tried to go for the gunman before being shot, Troyer said. The fourth officer struggled with the gunman, wrestled him out the door and managed to fire off some shots before he, too, was killed, Troyer said. It's not clear if the gunman was injured by gunshots. "It's carnage out front everywhere," Troyer said, describing the front of the coffee shop. "It's like a bad horror movie, it's horrible." Navarrete, a financial manager who lives a block from the coffee shop, said he was in a nearby AM-PM minimart Sunday morning when the two baristas from the coffee shop ran into the store crying and upset. Brad Carpenter, CEO of Forza Coffee, met with the two young baristas after they were interviewed by police and said they were shaken up. The slain officers were "well-known to our staff," said Carpenter, a retired police officer from Oakland, Calif., and Gig Harbor. "It's supposed to be a safe haven for everybody," he said of the coffee shop. The shootings rank as the worst attack on law enforcement in state history. Three Seattle police were shot and killed by a gunman in January 1921. Carpenter, the Forza CEO, said donation boxes to help the families of the slain officers will be in place today at all 22 Forza stores in Washington and Colorado, and that information would be placed on the company Web site about making contributions. Several hundred mourners gathered at Champions Centre, a church in Tacoma, for a memorial service for the officers Sunday night. And a procession of vehicles accompanied two vehicles that transported the bodies from Parkland to the Pierce County Medical Examiner's Office in Tacoma.
Local journalism is essential.
Give directly to The Spokesman-Review's Northwest Passages community forums series -- which helps to offset the costs of several reporter and editor positions at the newspaper -- by using the easy options below. Gifts processed in this system are not tax deductible, but are predominately used to help meet the local financial requirements needed to receive national matching-grant funds.
Subscribe now to get breaking news alerts in your email inbox
Get breaking news delivered to your inbox as it happens.
---