News > Marijuana
Sophisticated pot fields a growing problem in Washington
Sun., Oct. 18, 2009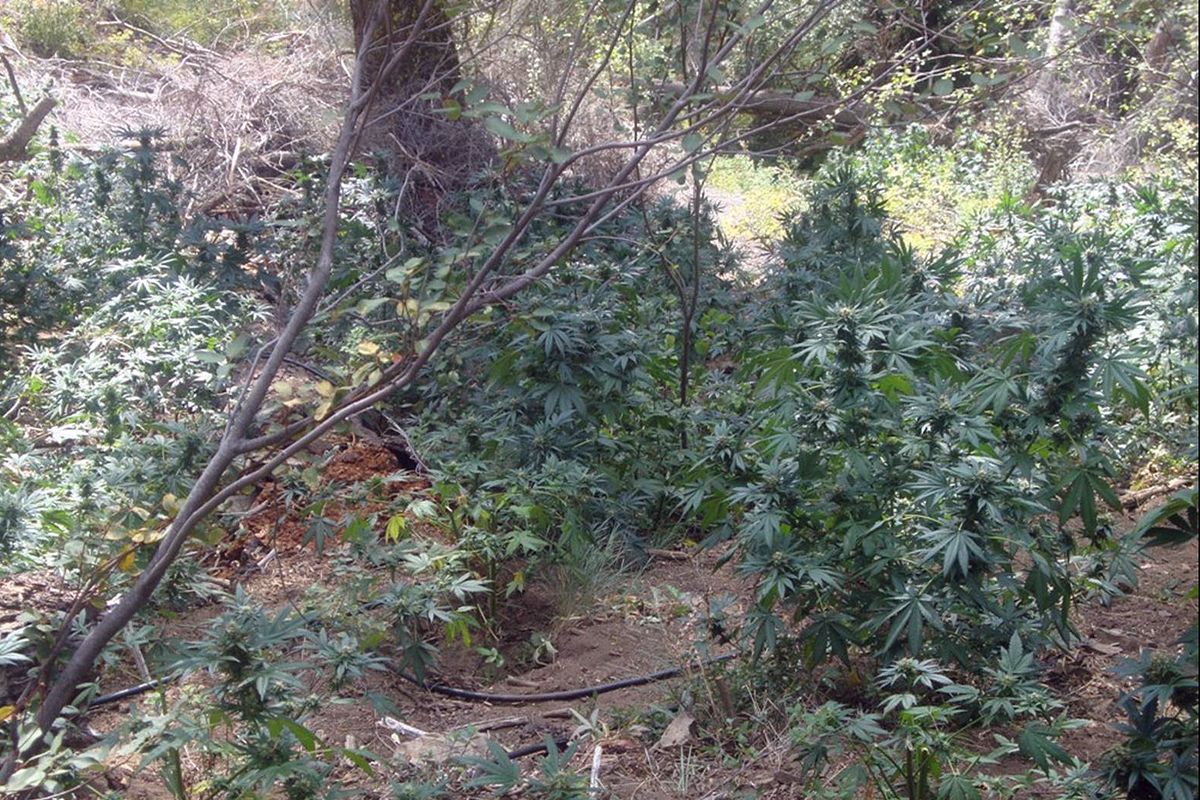 These marijuana plants were reaching maturity before being seized this year from the Okanogan National Forest. Courtesy of DEA (Courtesy of DEA / The Spokesman-Review)
NESPELEM, Wash. – Some of the most innovative farming techniques in the Northwest are being applied to a cash crop that isn't wheat, apples or grapes. It's a low-tech but high-stakes, high-risk venture damaging remote forest ecosystems, creating hazards for hikers and backpackers, recruiting illegal immigrants to tend the "fields" and taxing the resources of local, state and federal law enforcement.
The crop is marijuana. Just how big a cash crop it is, no one knows, but there's no doubt it is getting bigger and more sophisticated. In late August, a joint drug task force hit two Central Washington "marijuana grows" in 48 hours, the first in the Methow Valley, the second on the Colville Reservation. They seized 30,000 plants at the first, and eventually arrested four illegal immigrants who tended the crop. They seized 21,000 plants at the second, but the tenders, called "gardeners" by drug investigators, got away, even though the task force had a helicopter, a canine unit, horseback agents from the U.S. Border Patrol, officers on all-terrain vehicles, and specially trained trackers on loan from the Suquamish Tribe.
The second grow was much larger than agents expected when they stormed the hillside, but the two Okanogan County busts were only a fraction of the 589,000 plants discovered and uprooted this year in Washington state, according to new statistics from the joint drug task force. That's up from about 550,000 plants last year.
With each plant carrying an estimated value of $1,000 – the market value of the pound of marketable pot a plant produces – that would make the seized plants alone worth more than a half-billion dollars in each of the last two years. Viewed another way, pot was at least the sixth-most-valuable crop produced in Washington last year, behind apples, milk, wheat, potatoes and hay, but ahead of cattle, cherries and grapes.
And that's just the marijuana discovered and seized. Law enforcement officials won't estimate what percentage of the total pot being grown on state, federal, reservation and private lands throughout the state is found and destroyed.
"It's hard to visualize how big the problem is," said Matt Haney, tribal police chief on a reservation that covers 1.4 million acres with hundreds of miles of back roads. "I don't know what the percentage is, but I don't believe we're getting every plant."
Law enforcement officials believe the huge outdoor grows are operated by Mexican drug cartels that have moved into Washington and Oregon, where thousands of square miles of government-owned but lightly monitored forest and rangeland, orchards and vineyards provide almost endless opportunities for planting and harvesting.
Jim McDevitt, the U.S. attorney for Eastern Washington, said it's not just a law enforcement problem. The land is torn up, trees cut down, streams dammed or diverted, and fertilizers and herbicides dumped on the plants and introduced into the ecosystem. The workers are imported illegally from Mexico, live on the sites in makeshift shelters, and are often heavily armed.
No injuries or deaths have been connected with any of the state's outdoor grows yet, but it may just be a matter of time before hikers or hunters surprise growers who start shooting, McDevitt said. One of the grows was less than a mile from Sun Mountain Lodge in the Methow Valley, not far from hiking trails, he said.
"People say, 'Oh, it's just a little pot,' " he said. "It's not."
'Using their noggins'
On a hillside about 15 minutes outside Nespelem, agents found an operation much larger and more innovative than they ever expected: a series of cleared spaces in the pine forest with dozens or even hundreds of plants per plot, and an elaborate irrigation system.
About a mile uphill from the nearest road, marijuana growers had dammed a spring-fed creek just below its water source to create a reservoir, then used polyvinyl chloride pipes and hoses, along with gravity, to bring the water downhill to various plots and a tarp-lined catch pond. They then used a small gas-powered generator to pump the water about 200 vertical feet back up the hill to another catch pond, where more hoses and gravity brought water down the hill to more plots.
The system had no valves or regulators. When gardeners wanted to turn off the water flow to a plot, they'd crimp and tie off a feeder hose. To get water for the marijuana plants, they'd uncrimp it.
For some of the route, the hose was buried in hand-dug trenches covered with rocks, leaves or branches. In other places, it stuck out of the forest floor.
Most of the plants were female, which produce buds and yield marijuana. But in one area, the grow operation had its own "nursery," where male and female plants were close together and creating seeds, probably to plant next year, drug agents speculate.
"These guys were using their noggins," Dave Everett, a special investigator for the Colville Tribe, said as he showed off the system last month after all the plants had been pulled and stored in a warehouse for evidence. "If ordinary horticulturists had followed marijuana growers' path, we'd be growing 500-pound watermelons."
Based on the layers of dirt and forest debris on top of the pipes in some areas, part of the system had been in place at least three years.
'We miss a lot'
Discovering outdoor marijuana grows on remote forest or rangeland can take a combination of persistence and luck. This year's biggest bust, which yielded about 134,000 plants on an irrigated tree fiber farm in Walla Walla, was reported by the timber company after its workers discovered the irrigation system had been tapped and diverted. Growers had thinned trees in remote areas and planted marijuana in their place.
Last year, a large outdoor grow was found in a vineyard. McDevitt said neighbors became suspicious when the vineyard's grapes were dying but the owners had no trouble paying their bills.
Two years ago, a marijuana grow was discovered when hunters in the backcountry ran into well-armed "gardeners" hauling their harvest out, Okanogan County Sheriff Frank Rogers said. There was no confrontation, but the hunters reported the unusual meeting and the location to deputies, who put the area under surveillance for the following year.
Sometimes residents will report suspicious vehicles driving regularly on lightly used roads or stopping in open spaces at odd times. Or local police will get a tip or develop an informant, Haney said.
Okanogan County has seen a steady increase in the marijuana seized in outdoor grows, Rogers said. In the Methow bust, which took place in an area called Gobbler's Knob, they seized more than 400 pounds of processed marijuana along with the 30,000 plants. The harvest had already started; some plants were hanging to dry under tarp tents, and others had been cut and bundled to be packed out.
The regional drug task force does flyovers with airplanes and helicopters, but spotting marijuana from the air can be difficult. On the Colville Reservation grow, for example, some trees were cut down to provide planting areas, but others were left standing on the perimeter of the plots, with limbs removed from about 8 feet down. That camouflaged the marijuana from above but allowed diffused light to reach plants.
The year before, the task force found about 17,000 plants in Okanogan County at a place called Goat Peak. In 2007 it found and destroyed more than 8,700 on the Colville Reservation at a place called Moses Meadow. The drug task force has busted grows throughout Central Washington, Rogers said. But, he added, "I think we miss a lot of them."
A bigger payday
The outdoor grows in the Northwest are operated by Mexican drug cartels and follow a consistent pattern, said a federal Drug Enforcement Agent who agreed to explain the system but asked to remain anonymous.
A representative of the cartel known as the foreman hires the gardeners to live on the site through the growing season and tend the plants. The payments vary, but gardeners arrested at the Moses Meadow grow in 2007 reportedly were promised $60,000, federal court documents said – but only when they delivered the drugs at the end of the season. After they were arrested, the four illegal immigrants told federal drug agents that they never saw "El Indio," their foreman, again.
Most gardeners who have been arrested are illegal immigrants, from Mexico, Central America or South America, McDevitt said. Some are smuggled into the country, but others are already in the U.S. The payoff is much better than picking apples, cherries or vegetables, he said, but the risks are high. Federal drug laws carry a sentence of eight years in prison on a conviction of growing 1,000 marijuana plants. Sentences are served before deportation.
Every two or three weeks, gardeners receive supplies from a person on the next rung of the ladder, whom drug agents call the lunch man. At a predetermined time and location, the lunch man drops off food, water, propane and other supplies, which the gardeners carry back to the grow site.
Size and weight are a consideration for anything the gardeners receive. Agents were surprised to find a gasoline generator on the Colville grow site. The fuel had to be carried about a half-mile uphill in 5-gallon containers, which would weigh about 30 pounds each.
The gardeners don't have refrigeration, so meat and anything else perishable doesn't last long in summer. On this year's Colville Reservation grow, law enforcement agents found evidence that the gardeners at one point killed, butchered and ate a moose, Everett said.
Over the summer, the site gets littered with garbage from food, containers from chemicals put on the plants, and human waste.
'The perfect climate'
Since 2001, the number of plants seized each year in Washington has skyrocketed from about 6,500 to nearly 590,000, and more than 87 percent are in the state's central and eastern counties. Western counties have marijuana grows, too, but many are inside; in the east, they're almost all outside.
"It's the perfect climate," McDevitt said.
The plants are typically a Mexican strain that's relatively high in THC, the chemical that causes the marijuana "high," but nowhere near the potency of so-called BC Bud, the super-strength pot grown hydroponically in large indoor operations in Canada. That pot can sell for 2 1/2 times more per pound than the Mexican strain, but the outdoor pot is also less expensive to produce. As in all businesses, there are trade-offs, a DEA agent said.
The reason for the jump in statistics is threefold, McDevitt and other law enforcement officials say. The first is better intelligence and that a more aggressive eradication program is finding more pot. The task force combines county, city and state law enforcement agencies along with the U.S. Forest Service, the Border Patrol and Immigration and Customs Enforcement. Air support sometimes comes from the Washington National Guard.
Increases in the Border Patrol in recent years have particularly helped in some of Washington's rural counties, which have small sheriff's departments. "Everybody comes in to lend a hand," said Richard Graham Jr., agent in charge at the Border Patrol's Oroville office.
The second reason is a tighter U.S.-Mexican border after the Sept. 11, 2001, terrorist attacks, making it more difficult for drug cartels to smuggle the drugs into the country; they're switching their strategy to growing closer to the market.
The third is a crackdown in recent years on marijuana grows in Northern California – also operated by Mexican drug cartels – which encourages them to move north into Oregon and Washington.
Federal drug agents use the stiff penalties for growing large amounts of pot as leverage on gardeners and lunch men in attempts to move up the chain to the foremen and into the cartel. But it's a slow process, because the people arrested either don't know very much, are afraid to talk, or both.
"The guys that get caught are the ones that make mistakes," Everett, the Colville tribal investigator, said.
Every year, the drug task forces learn a little more, develop a few more sources and improve their tactics, McDevitt said.
But the drug cartels learn and change their tactics, too. They may have started using countersurveillance to watch for law enforcement watching them, Haney said. "They're getting smarter and smarter."
Local journalism is essential.
Give directly to The Spokesman-Review's Northwest Passages community forums series -- which helps to offset the costs of several reporter and editor positions at the newspaper -- by using the easy options below. Gifts processed in this system are not tax deductible, but are predominately used to help meet the local financial requirements needed to receive national matching-grant funds.
Subscribe now to get breaking news alerts in your email inbox
Get breaking news delivered to your inbox as it happens.
---