Sports
Sports in brief: American Oudin upsets Dementieva
Fri., Sept. 4, 2009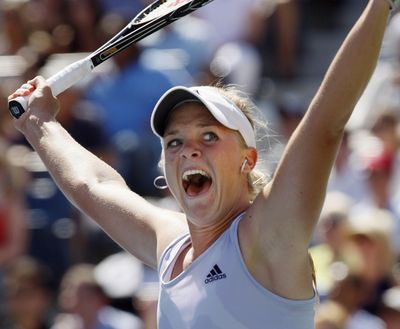 Tennis: It's not quite the case that 17-year-old Melanie Oudin and her family knew for sure she would get this far, this fast.
Still, there was Oudin at the U.S. Open on Thursday, ranked all of 70th, dealing with a painful leg and an overwhelming occasion on a supersized stage – and stunning No. 4-seeded Elena Dementieva 5-7, 6-4, 6-3 to set up a third-round match against 2006 champion Maria Sharapova.
Next comes what figures to be a stern test against three-time major champion Sharapova, who eliminated another 17-year-old American, Christina McHale of Englewood Cliffs, N.J., 6-2, 6-1 at night. The 381st-ranked McHale was a wild-card entry who didn't really challenge Sharapova.
Jelena Jankovic made another early departure from a Grand Slam event, losing to 55th-ranked Yaroslava Shvedova of Kazakhstan 6-3, 6-7 (4), 7-6 (6). Jankovic reached the U.S. Open final in 2008, and she was seeded No. 5 this year, but her head might not have been focused on the court on this day: Her grandmother died Wednesday night.
No. 1 Dinara Safina nearly joined the parade of surprising exits, turning in her second poor performance of the week before hanging on to edge 67th-ranked Kristina Barrois of Germany 6-7 (5), 6-2, 6-3.
No seeded men lost during the day, when the winners included 2007 runner-up Novak Djokovic and five Americans: No. 5 Andy Roddick, No. 21 James Blake, No. 22 Sam Querrey, 55th-ranked John Isner and 276th-ranked Jesse Witten.
Roddick, the 2003 U.S. Open champion and 2006 runner-up, beat Marc Gicquel of France 6-1, 6-4, 6-4 at night and now takes on the 6-foot-9 Isner.
French Open runner-up Robin Soderling advanced when his opponent, Marcel Granollers, quit during the third game with a back injury.
Currie leads Mystics past Storm
Basketball: Monique Currie scored 17 points, Matee Ajavon had 16 in her first start of the season and the Washington Mystics continued their playoff push with a 78-67 WNBA victory over the visiting Seattle Storm.
Crystal Langhorne had 12 points and 11 rebounds and Marissa Coleman scored 14 points for the Mystics (15-15), who won their second straight and inched into third place in the tightly contested Eastern Conference.
Currie scored 10 points as Washington pulled away with a dominant fourth quarter. Ajavon started in place of All-Star guard Alana Beard, who missed her first game of the season after spraining her left ankle late in the win against Minnesota on Sunday.
Sue Bird scored 17 points and Tanisha Wright added 13 for the Storm (19-12), who played without Lauren Jackson for the third straight game and had their season-high six-game winning streak end.
Tied at 57 early in the fourth quarter, Currie hit two free throws to give Washington the lead for good and they outscored the Storm 23-14 in the final quarter.
Swin Cash scored 12 points for the Storm.
Jackson, Seattle's leading scorer and rebounder, is sidelined with a stress fracture in her back. She did not travel with the team on its three-game trip that ends Saturday in Minnesota, and there is no timetable for her return.
•Attorney: Nowitzki's ex-fiancee not pregnant: Prison medical records show Dirk Nowitzki's former fiancee is not pregnant, the Dallas Mavericks forward's attorney said.
Cristal Taylor, 38, is serving a four-year prison sentence in Missouri following her May 6 arrest at Nowitzki's Dallas home on a probation violation.
Taylor had told The Dallas Morning News she was pregnant with Nowitzki's child. Taylor was arrested in May on a 2006 theft of services charge involving dental work. She had been on probation after pleading guilty in 1999 in Missouri to forgery and felony stealing.
Rawson fires 64 to take one-stroke lead
Miscellany: Anna Rawson shot a course-record 7-under-par 64 to take a one-stroke lead over Suzann Pettersen in the Canadian Women's Open.
Rawson, the 28-year-old Australian who has missed nine cuts in 13 starts this year, had nine birdies and two bogeys to break Dawn Coe-Jones' course mark by a shot.
Top-ranked Lorena Ochoa, the 2007 winner at Royal Mayfair in Edmonton, was two strokes back along with Amanda Blumenherst, while Michelle Wie opened with a 76.
Wendy Ward of Edwall, Wash., opened with a 70.
•Boxing champ recovers from fever: Champion boxer Nonito Donaire is recovering from a frightening bout of dengue fever that put him in the hospital with a 104-degree temperature.
Donaire, a Filipino-born fighter raised in California's Bay Area, fell ill Wednesday in the Philippines, where he has been living since defeating Rafael Concepcion for the WBA's interim 115-pound title last month in Las Vegas.
•Practice is issue in player death trial: Former coach David Jason Stinson put winning ahead of safety, a prosecutor said as trial opened for the Kentucky coach charged in a player's death following football practice, but Stinson's defense said the practice wasn't unusually hard.
Assistant Commonwealth Attorney Leland Hulbert said in opening statements that Stinson ran a brutal practice the day Max Gilpin collapsed, denying players water and using tactics that led to the sophomore's death three days later.
The former Pleasure Ridge Park High School coach, who is charged with reckless homicide and wanton endangerment, ran a tough practice, but wasn't responsible for the heat stroke that felled Gilpin and never denied him water, defense attorney Brian Butler said.
•U.S. team defeats Canada: Jenny Potter scored twice, and Molly Schaus made 27 saves to lead the United States to a 4-2 win over rival Canada in the final round-robin game of the Hockey Canada Cup at Vancouver, British Columbia.
Local journalism is essential.
Give directly to The Spokesman-Review's Northwest Passages community forums series -- which helps to offset the costs of several reporter and editor positions at the newspaper -- by using the easy options below. Gifts processed in this system are not tax deductible, but are predominately used to help meet the local financial requirements needed to receive national matching-grant funds.
Subscribe to the sports newsletter
Get the day's top sports headlines and breaking news delivered to your inbox by subscribing here.
---