Sports
Baseball notebook: Brewers turn triple play
Mon., Sept. 7, 2009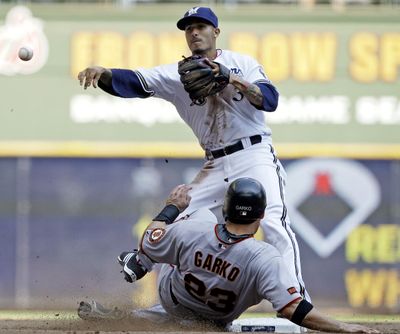 The Milwaukee Brewers turned their first triple play in 10 years, pulling it Sunday on a grounder by San Francisco's Aaron Rowand.
With Randy Winn on second and Ryan Garko on first in the sixth inning, Brewers third baseman Casey McGehee fielded a sharp grounder by Rowand right on the bag.
McGehee touched third and threw to second baseman Felipe Lopez for the force. Lopez's relay to Prince Fielder beat Rowand by a step for the triple play, and pitcher Braden Looper celebrated by pumping his fist in triumph.
It was the Brewers' first triple play since April 16, 1999, against the Cubs and fifth overall.
San Francisco last hit into a triple play on Aug. 5, 1998, when J.T. Snow did it against the Mets.
Milwaukee defeated visiting San Francisco 2-1 in 12 innings on Prince Fielder's solo home run.
Rivera ready
All-Star closer Mariano Rivera is ready to return to the New York Yankees after experiencing soreness in his left groin.
Manager Joe Girardi said he wasn't sure how he would work Rivera back into the mix. Rivera was available but did not pitch in New York's 14-8 loss at Toronto on Sunday.
Rivera, 39, hasn't pitched in a game since Tuesday. He first began to feel sore Aug. 15, but has pitched in five games since then and converted a personal-best 34 save opportunities in a row overall.
Rivera is 1-2 with a 1.78 ERA and 38 saves this season. He played catch in the outfield Thursday and Friday, then threw in the bullpen Saturday.
"It's a little different not having him down there," Girardi said. "You get spoiled having him down there. He's been here a long time so it's nice to know that he doesn't have a star by his name."
Peavy improves
Jake Peavy has tossed about 50 pitches in a bullpen session and says he still hopes to play for the White Sox this season.
Peavy was acquired from San Diego at the July 31 trade deadline. The right-hander has been on the disabled list since June 13 with a strained tendon in his right ankle and was struck on his pitching elbow during a minor league rehab assignment on Aug. 24.
The 2007 NY Cy Young Award winner says his sore elbow has improved but is not completely normal.
Local journalism is essential.
Give directly to The Spokesman-Review's Northwest Passages community forums series -- which helps to offset the costs of several reporter and editor positions at the newspaper -- by using the easy options below. Gifts processed in this system are not tax deductible, but are predominately used to help meet the local financial requirements needed to receive national matching-grant funds.
Subscribe to the sports newsletter
Get the day's top sports headlines and breaking news delivered to your inbox by subscribing here.
---