Sports
A long losing tradition
Tue., Sept. 8, 2009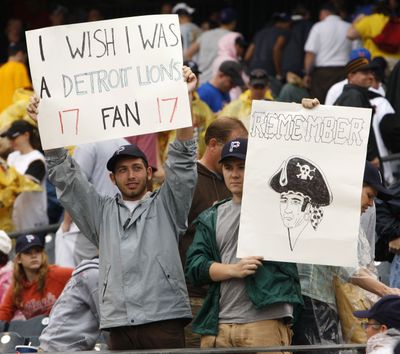 The Chicago Cubs assured the Pittsburgh Pirates of a record-breaking 17th consecutive losing season, getting two homers from Derrek Lee and an effective start from Ted Lilly while winning 4-2 on Monday.
By losing their 10th in 11 games, the Pirates will finish below .500, just as they have every season since 1993. The string of losing seasons is a major league record and the longest for any team in the four major North American pro team sports. Only the Phillies (1933-48) have had as many as 16 losing seasons in a row.
A franchise that won five World Series from 1909-79 and sent 13 players to the Hall of Fame did not mention the dubious record, and there were few eyewitnesses – 14,673 – on a drizzly Labor Day. The loss was the Pirates' 24th in their last 30 games against the Cubs, one of the majors' most disappointing teams this season.
At the end, there were more Cubs fans cheering in the sparse crowd than there were Pirates fans. The Pirates have the lowest attendance in the majors of any team that plays in a baseball-only stadium.
Guillen taking blame for ChiSox woes
White Sox manager Ozzie Guillen says he's to blame for a disappointing season that will likely end with the defending A.L. Central champs out of the playoffs.
Guillen said Chicago's struggles are his fault and not that of general manager Ken Williams, owner Jerry Reinsdorf or his players.
Guillen is under contract through 2012. He says if Williams and Reinsdorf aren't satisfied with the job he's done, they should make a change.
Clearing the bases
Tampa Bay slugger Carlos Pena broke two fingers when he was hit by a CC Sabathia pitch in the opener of the day-night doubleheader against the Yankees. Tampa Bay put Pena on the 60-day disabled list and purchased the contract of Chris Richard from Triple-A Durham. … Scott Schoeneweis returned to the Arizona Diamondbacks after spending four weeks on the disabled list because of depression following his wife's death. … Blue Jays second baseman Aaron Hill left the game against Minnesota after three innings upon learning that his wife, Elizabeth, had gone into labor with the couple's first child. … Cleveland has called up catcher Lou Marson from Triple-A Columbus and put him in the starting lineup against the Texas Rangers.
Local journalism is essential.
Give directly to The Spokesman-Review's Northwest Passages community forums series -- which helps to offset the costs of several reporter and editor positions at the newspaper -- by using the easy options below. Gifts processed in this system are not tax deductible, but are predominately used to help meet the local financial requirements needed to receive national matching-grant funds.
Subscribe to the sports newsletter
Get the day's top sports headlines and breaking news delivered to your inbox by subscribing here.
---