Sports
Odds high despite shorter seasons
Panhandle hunters bite bullet for future
Thu., Sept. 17, 2009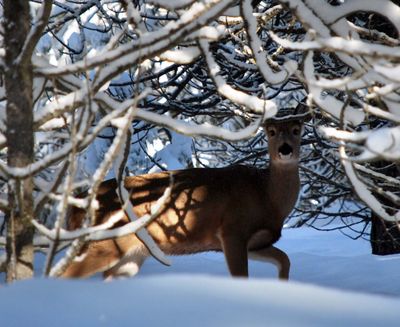 Deer and elk hunters can't procrastinate this year in the Idaho Panhandle.
Chances of filling a tag are still high, but they have a lot less time to do it.
As the second consecutive hard winter was taking its toll in January – especially on the number of fawns and calf elk – Idaho Fish and Game Department regional wildlife manager Jim Hayden crunched the numbers from his aerial game surveys and presented stiff recommendations to hunters.
"We need to leave more cows to produce more calves to recruit more elk until calf ratios return to replacement levels," Hayden said.
"And we must make sure we don't over-harvest bulls until calf ratios return to replacement levels."
Hunters agreed, and the most restrictive white-tailed deer and elk seasons in years were adopted for 2009.
"I do expect to see a decent harvest of adult bulls this fall based on last winter's aerial surveys, but there will be lower numbers of raghorns and spikes, especially in the southern part of the region," Hayden said. "These are the largest two age classes and do make up a significant part of the harvest.
"Overall, harvest will be down due to population characteristics and to our deliberate effort to bring more elk and deer through the season with shorter seasons."
Seasons have been reduced and pressure on antlerless deer and elk has been curbed.
The Panhandle's regular whitetail antlerless season – fabled for running from Nov. 1 to Dec. 1 in units 1-6 – will end on Nov. 9 this year.
Panhandle archery elk hunts started later and end earlier in September this year. For example, the archery A tag any-elk season ran Aug. 30-Sept. 30 last year. This year it runs Sept. 6-19.
Muzzleloaders lost 10 days off the front end of their antlered elk season, which runs Nov. 20-Dec. 1 this year.
"We do have a solid population of adult elk still, but if we don't act now on the low calf numbers, and act decisively, we'll pay for it a lot longer," Hayden said. "We need to face the calf issue squarely, not ignore it."
He noted this winter that a wolf hunting season would boost the number of elk calves that survive this winter, "but it still won't help create any new calves for the current year.
"We have calf problems in units with very few wolves as well," he added.
Sportsmen already had their wakeup call in 2008, when "deer hunter success rates per trip, dropped about 60 percent from 2007 at the Enaville and St. Maries check stations and about 50 percent at Priest River.
Local journalism is essential.
Give directly to The Spokesman-Review's Northwest Passages community forums series -- which helps to offset the costs of several reporter and editor positions at the newspaper -- by using the easy options below. Gifts processed in this system are not tax deductible, but are predominately used to help meet the local financial requirements needed to receive national matching-grant funds.
Subscribe to the sports newsletter
Get the day's top sports headlines and breaking news delivered to your inbox by subscribing here.
---