Sports
UW latest to throw wrench in USC's plans
Wed., Sept. 23, 2009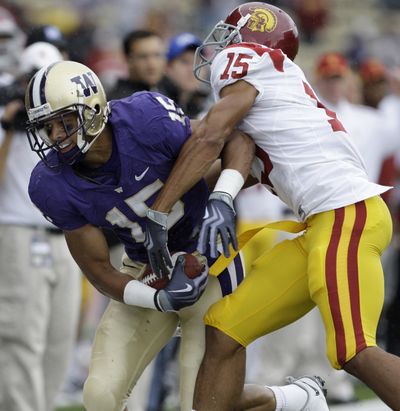 PULLMAN – It happened again.
For the fourth consecutive season, the USC Trojans, while ranked in the top three nationally, found a way to lose a conference game to a heavy underdog opponent.
And for the fourth consecutive year the story is the loss, not the win. The strength of the Pac-10 is not the main factor, it's that USC found another way to blow a winnable game.
Steve Sarkisian, USC's offensive coordinator when the Trojans lost the first three times and, as Washington's head coach, handed the Trojans their most recent defeat, thinks that's backward.
"First of all, we've got a very good conference, a physical conference," Sarkisian said Tuesday about Saturday's 16-13 upset at Washington. "One that knows how to run the football. One that plays very good defense.
"I think, too, a lot of the kids that are within this conference that aren't at SC are used to these kids, they know a lot of those kids at SC. They've played against them in high school.
"They're not in awe of them."
That's probably true, but this time at least, there's some truth to the gave-it-away argument.
"I would never think of taking anything away from people that we play," Trojans coach Pete Carroll said. "If they get us, they get us. It was a fine job by them. We did turn the ball over three times inside the 30 and that was the story of the game."
USC is good enough to turn the ball over, go 0 for 10 on third-down conversions and still be a play or two away from pulling out a victory.
That's against a Washington team that is intimately aware of the Trojans' personnel and schemes, thanks to Sarkisian and defensive coordinator Nick Holt, who held the same post at USC last season.
Then again, everyone in the conference is aware of their talent and strategy and hardly anyone can stop the Trojans, though everyone tries.
"I think that's a natural tendency," to not give the upsetting team enough credit, said Oregon State coach Mike Riley, who owns two of USC's four upset losses. "But I do think familiarity in the league is going to make it tough for SC. Everybody's going to give them a great shot. They've studied them and they've worked at it hard.
"The beautiful thing is, as good as (the Trojans) are, there are no givens. And that's why we play the games."
Local journalism is essential.
Give directly to The Spokesman-Review's Northwest Passages community forums series -- which helps to offset the costs of several reporter and editor positions at the newspaper -- by using the easy options below. Gifts processed in this system are not tax deductible, but are predominately used to help meet the local financial requirements needed to receive national matching-grant funds.
Subscribe to the sports newsletter
Get the day's top sports headlines and breaking news delivered to your inbox by subscribing here.
---
Subscribe and log in to the Spokesman-Review to read and comment on this story