Sports
Sports in brief: Pennington seeks second opinion
Tue., Sept. 29, 2009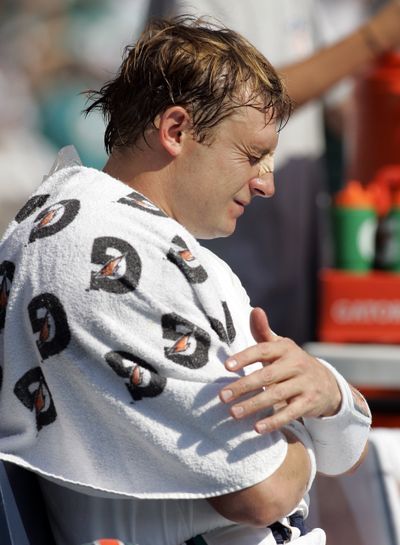 NFL: Chad Pennington may not be available to give his winless team a much-needed lift. The Miami Dolphins quarterback dislocated his right shoulder and may seek a second opinion to determine how long he'll be sidelined, a person familiar with his status said Monday.
The person insisted on anonymity because the Dolphins have said little about the injury. Teammates braced for a new quarterback, with backup Chad Henne expected to make his first NFL start in Sunday's home game against Buffalo.
Other media outlets reported Pennington had a torn capsule and was likely to miss the rest of the season.
"We don't have a comment, because the evaluation process is still ongoing," team spokesman Harvey Greene said.
Pennington hurt his shoulder Sunday in a 23-13 loss at San Diego, and he underwent tests Monday to determine the extent of the damage. An operation on the shoulder would be Pennington's third since 2005.
The quarterback shakeup comes with the Dolphins already reeling. They're 0-3 after Pennington led an improbable run to the AFC East title last season.
Henne, a second-round draft choice in 2008, has been considered Pennington's heir apparent for more than a year.
Pennington had surgery on the same shoulder to repair a torn rotator cuff twice in 2005. Coach Tony Sparano said he didn't know how long Pennington would be sidelined.
•Union, league set to meet: The NFL and the players union will hold a negotiating session today, with NFLPA executive director DeMaurice Smith hopeful of getting a formal proposal from the owners.
The NFL opted out of the collective bargaining agreement last year, although the contract won't expire until after the 2010 season. That season will not have a salary cap under the current CBA, and Smith says he is hopeful of having an agreement before then.
Team owners say the contract, negotiated in 2006 by former commissioner Paul Tagliabue and the late Gene Upshaw, then the union's chief, heavily favors the players.
•Gore to miss three weeks: San Francisco 49ers running back Frank Gore is expected to miss three weeks because of a right ankle strain.
The 49ers said that the strain was revealed during an MRI.
Gore injured the ankle on his only carry during Sunday's 27-24 loss to the Minnesota Vikings. He left the game after a four-yard gain and did not return.
Gore was taken to the locker room on a cart but X-rays revealed no broken bones.
•Rams injuries building: Quarterback Marc Bulger has a bruised rotator cuff on his throwing shoulder that probably will sideline him a few weeks, but that was the good news on the injury report.
Much more significant: leading wide receiver Laurent Robinson is out for the season with multiple injuries to his right leg and safety James Butler might miss a month with a sprained left knee. Also, linebacker David Vobora, a former University of Idaho standout, has a concussion that will be evaluated today.
•Bucs make QB change: The winless Tampa Bay Buccaneers benched starting quarterback Byron Leftwich and replaced him with second-year pro Josh Johnson, who takes over following one of the worst offensive performances in team history.
Coach Raheem Morris made the change a day after the Bucs fell to 0-3 while gaining just 86 yards in a 24-0 loss to the New York Giants. Leftwich completed 7 of 16 passes for 22 yards with one interception.
Trojans' Johnson suffers accident
College Football: Southern California tailback Stafon Johnson had emergency throat surgery after a weightlifting accident in Los Angeles.
The senior who scored the No. 7 Trojans' go-ahead touchdown against Ohio State two weeks ago was bench-pressing when the bar slipped from his right hand and fell onto his throat.
"It was an unfortunate accident, and Stafon is getting great care right now," coach Pete Carroll said in a statement. "We don't have a lot of information at this point, and we'll keep everyone updated, but our thoughts and prayers are with Stafon."
Johnson is the Trojans' second-leading rusher with 157 yards, and he leads USC (3-1, 1-1 Pac-10) with five touchdowns. He led USC in rushing last season with 705 yards and nine touchdowns, but has evolved into the Trojans' short-yardage specialist this season behind starter Joe McKnight.
Johnson is just one of six tailbacks who get regular practice time with the Trojans, who visit No. 24 California on Saturday.
The Trojans didn't immediately know how long Johnson would require to return from surgery.
Safina, Williams make early exits
Tennis: Defending champion Dinara Safina and Venus Williams were knocked out in the second round by qualifiers at the Toray Pan Pacific Open in Tokyo.
Chang Kai-chen, an 18-year-old from Taiwan, upset the top-ranked Safina 7-6 (5), 4-6, 7-5. Russian teenager Anastasia Pavlyuchenkova edged Williams 7-6 (6), 7-5 to reach the third round.
Andrea Petkovic also upset fifth-seeded Svetlana Kuznetsova 7-5, 4-6, 6-3.
Local journalism is essential.
Give directly to The Spokesman-Review's Northwest Passages community forums series -- which helps to offset the costs of several reporter and editor positions at the newspaper -- by using the easy options below. Gifts processed in this system are not tax deductible, but are predominately used to help meet the local financial requirements needed to receive national matching-grant funds.
Subscribe to the sports newsletter
Get the day's top sports headlines and breaking news delivered to your inbox by subscribing here.
---
Subscribe and log in to the Spokesman-Review to read and comment on this story