Sports
Then & Now: Ex-Knight, Coug tells stories for a living
Eric Johnson does it so well, he's won a second Murrow Award
Tue., Sept. 29, 2009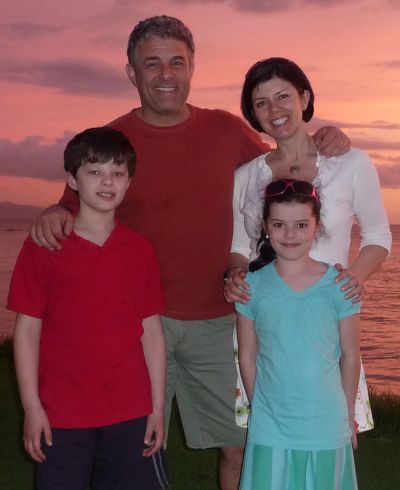 Eric Johnson remembers himself as a wild baseball pitcher in his youth, one who was "all over the place."
"There were literally games when I'd have 13 strikeouts and 13 walks," the former East Valley three-sport athlete recalled.
But how many left-handed former hurlers from Spokane can boast of winning two prestigious national Edward R. Murrow Awards for broadcast journalistic excellence?
Johnson, who serves in the unique dual role as news anchor and sports director at KOMO-TV in Seattle, will be in New York on Oct. 10 to accept his second national honor.
The first, in 2007, was for best feature story. It was an inspiring piece about Marin Morrison, a young swimmer with Olympic potential whose aspirations were dealt a blow when it was discovered in 2005 that she had brain cancer.
"It was a real emotional story," Johnson said.
Before her death early this year at age 18, and partially paralyzed following a stroke, Morrison participated in the 2008 World Paralympics in Beijing.
His followup about her trip to China was part of his latest honor, for overall best writing based on several topics. Another was about an Emu that mistook a tennis ball tossed into its pen for a green-colored egg.
"The Emu was sitting on it desperately hoping for it to hatch," Johnson said.
Johnson's career in broadcast journalism hatched at Washington State, where he pitched two years following his high school career.
The 1980 EV graduate was an all-conference football center for the state-playoff Knights, wrestled and pitched in baseball both for high school and American Legion playoff teams.
"(Pitching) came together my senior year," he recalled. "Up until then I was trying to figure out what the hell I wanted to do."
He did OK at WSU in two years as a Cougar, but knew what he really wanted to do. From the age of 10, he says he was enamored of television after watching Howard Cosell.
"Half the people in a room hated him, half loved him. I loved the effect he had," Johnson said.
At WSU, he did a 15-minute newscast on the university's cable network, and one night after anchoring a show, Glen Johnson, a communications professor, approached him.
"He pulled me aside and said, 'Eric, I think you can make a living in this business.' It was one of those moments you look upon as a turning point," Johnson said.
He told his dad, while golfing at Liberty Lake, that he was going to quit baseball and concentrate on broadcasting.
Johnson's career began in Boise. He spent two years at KREM working with Maureen O'Boyle and Charles Rowe.
"Those two years were the funnest thing ever," he said.
He then moved on to Portland for four years before arriving at KOMO in 1994.
Among his work is a popular and award-winning "Little Heroes" segment focusing on the efforts and accomplishments of youth athletes.
"I worry that kids are getting robbed of fun and are being told at age 11 or 12 they need to pick a sport," Johnson said. "Most won't get a college scholarship anyway and that's what 'Little Heroes' is about – back to remembering what fun's like."
A few years ago, he was approached to become a news anchor, refused, then was asked to re-visit the notion. Today he anchors the 5 p.m. broadcast and does sports at 6 and 11. He said he doesn't know of anyone else in that dual capacity.
"It was tough at first," he said. "The whole idea of sports is about smiling and injecting your opinion in there. News is a whole different animal."
He's been awarded numerous regional Emmy awards, including a documentary about a group of American youth who traveled to play baseball in Cuba. He said he's currently working on a documentary on Marin Morrison's inspirational life.
Feature writing, he said, is what he does best.
Johnson has been married for 14 years. He and wife Monique have a son, Jack, 10, and a daughter, Grace, 8.
Two years ago, Johnson came out of retirement, pitching for in a 40-and-over league in Seattle.
"It was fantastic. I felt like a kid again," he said. "I struck out 14 in one game and felt like Sandy Koufax."
Then, in a game, he heard a snap and let out a blood curdling scream. Johnson had broken his humerus bone.
"We get older, but we don't necessarily get smarter," he said.
Though he lives 300 mile away, Johnson still considers Spokane Valley his home.
"I loved living there, loved being raised there and there's nowhere I would have rather spent those years," he said. "Just say this, it's been a long road that's taken me to the big city in Seattle. But as my wife will tell you, this is where I live, but those are my people.
"I still get the boys together and we lie to each other about high school sports."
Local journalism is essential.
Give directly to The Spokesman-Review's Northwest Passages community forums series -- which helps to offset the costs of several reporter and editor positions at the newspaper -- by using the easy options below. Gifts processed in this system are not tax deductible, but are predominately used to help meet the local financial requirements needed to receive national matching-grant funds.
Subscribe to the sports newsletter
Get the day's top sports headlines and breaking news delivered to your inbox by subscribing here.
---
Subscribe and log in to the Spokesman-Review to read and comment on this story