News > Idaho
Elusive target
Idaho's wolf hunt leaves many tags, hopes unfulfilled
Wed., Feb. 17, 2010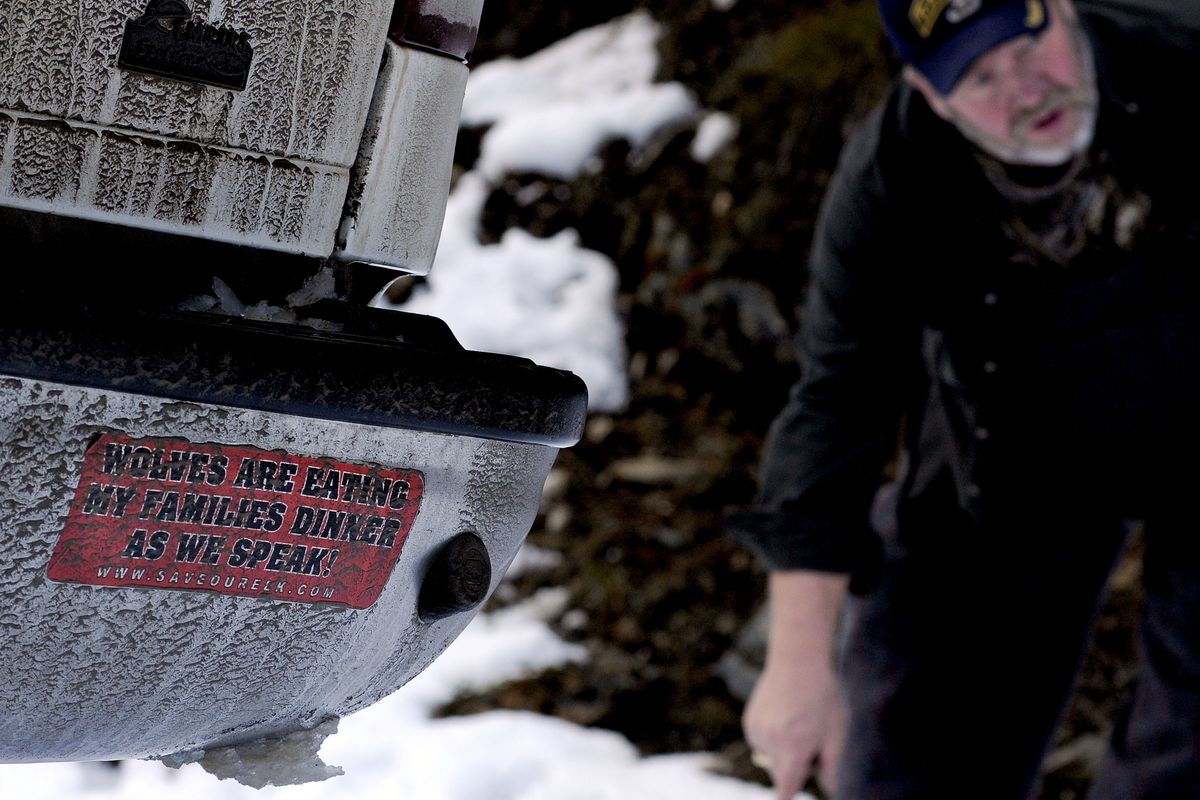 Milt Turley, who says he "fed three hungry boys" on elk he's bagged over the years, sees wolves as competition for his favorite game. (Kathy Plonka)
AVERY, Idaho – Milt Turley wants to shoot a wolf.
He and his wife, Kay, live in close proximity to the shaggy-haired predators. Wolf tracks have appeared on the couple's private beach along the St. Joe River, and their two Rottweilers growl when they hear wolves howling at night. Last fall, Turley shot at a young wolf that was prowling a hillside near their house, but it ran off.
Five months after buying an Idaho wolf tag, Turley's disappointed that it's still unfilled.
"We're finding out that it's damn difficult to kill a wolf," he said.
Only six weeks remain in Idaho's wolf hunt – the first in the state since wolves in the Northern Rockies came off the Endangered Species List. State officials say it's unlikely that the 220-wolf quota will be met by March 31. Through Tuesday, hunters had killed 155 wolves.
"This is all new territory for us – the first regulated wolf hunt in the Lower 48," said Jon Rachael, the Idaho Department of Fish and Game's state wildlife manger.
Some wolf-hunt opponents predicted that 220 wolves would be shot during the hunt's opening week. But wildlife managers knew it wouldn't be that easy, Rachael said.
"It's hard to target a wolf because they move around so much," said Jim Hayden, Fish and Game's regional wildlife manager for the Panhandle, where only 16 wolf tags have been filled. "I've talked to a number of hunters, all savvy outdoorsmen, who've heard them howl or seen one, but haven't been able to harvest one."
The mild winter also hampered hunters' success. During the previous two winters, deep snows concentrated prey – deer and elk – in the valley bottoms, making the wolves more visible, Hayden said.
Visible or not, wolves are definitely around. As Turley drove a pickup along the St. Joe River Road earlier this month, he and Kay watched the snow-covered road for tracks. For Turley, taking a wolf would fulfill a personal goal and make a political statement, too.
The retired couple said they signed petitions supporting wolves' reintroduction to Yellowstone National Park, but opposed the U.S. Fish and Wildlife Service's transplant of Canadian wolves into central Idaho during the mid-1990s.
Milt Turley said wolves compete against him for his favorite meat. The 65-year-old has bagged 72 elk in the mountains of Idaho and Montana, shooting his first elk at age 11 near Pine Creek in Shoshone County. When his sons were teenagers, Turley bought tags in both states so he could fill up the freezer.
"That's how I fed three hungry boys," said Turley, a welder who earned a master's degree and ran North Idaho College's welding program for 18 years.
Even now, the couple seldom buys beef. They say it's too fatty and lacks the flavor of wild game.
Milt Turley's views spilled over into activism. He's a member of "Save Our Elk," a group that advocates removing wolves from Idaho.
Kay Turley supports her husband's desire to take a wolf. "He's not sick and twisted. He's not evil and he's not a killer," she said.
Said Milt, "I'm just concerned that my grandkids won't have the opportunity to hunt elk because of the predation going on."
From the road, they spotted a wolf kill – the carcass of a cow elk lying on the ice covering the St. Joe River. Aside from one lung glistening in the snow, only the elk's ribs, backbone and head remained. A flurry of tracks indicated that at least two wolves had chased the animal down the hillside. The blood trail led about 500 feet along the road before it veered down to the river.
"That was one big-ass wolf," said Turley, studying a 7-inch wolf print.
Kay Turley is a retired operating room nurse, but she said that frequent sightings of blood and guts on the St. Joe River Road disgust her.
"Why do I have to see elk pulled apart every time I go up the St. Joe River?" she said. "I've got as much right to see an elk or a deer as they (environmentalists) have to see wolf scat or hear wolves howling."
Wolves are part of the Rocky Mountain's ecosystem, countered Andrew Wetzler, wildlife conservation director for the Natural Resources Defense Council, one of 13 environmental groups that tried to block wolf hunts in Idaho and Montana through federal court action. Re-establishing wolves in their historic range benefits other wildlife, he said.
In Yellowstone National Park, wolves keep elk herds on the move. Elk don't congregate for long stretches in stream bottoms, which has allowed willow and aspen to grow back, Wetzler said. Wolves also reduced coyote numbers by as much as 50 percent. That led to rebounding populations of rabbits, voles and other small mammals, providing more food for hawks, eagles and owls, he said.
Grizzlies and other scavengers also benefit by grabbing meals from wolf kills, Wetzler said.
"A top predator, like the wolf, has a cascading effect on the ecosystem," he said.
The first wolf pack in decades was documented in the St. Joe drainage in 1998. Since then, Turley said he's seen fewer elk in Idaho Fish and Game's Unit 7, a hunting area that extends up the St. Joe River from Avery.
Unit 7 used to be one of the Idaho's Panhandle's better-known elk-hunting areas, said Hayden, the regional wildlife manager. The unit still accounts for some of the highest hunter success rates in the Panhandle, but it's come down from "exceptional" to "good," he said.
Part of the change is habitat related. Over the past 50 years, lodgepole pines have overtaken meadows, reducing foraging areas for elk, Hayden said. In addition, the harshness of the past two winters took a toll on elk numbers.
"And wolves have had an impact over time; we can't ignore that," Hayden said.
But aerial counts seem to indicate that the unit's elk herd is holding its own. In 1998, when the first wolf pack was documented in the St. Joe, biologists counted 1,735 elk in the unit. Last February, they counted 2,145 elk.
The shadows were starting to lengthen in the St. Joe River Valley when Milt and Kay Turley returned from their afternoon wolf hunt. Although Milt tramped up and down forested draws into his 50s, a heart attack has made him rely more heavily on his ATVs and pickup to scout game.
"I've seen four or five wolves this year, but boy, are they quick," he said. "And, they're wary now."
As Milt put away his rifle, Kay went to her computer, recording where the couple saw the wolf kill and making notes on the size of the tracks. For dinner, she put an elk roast into the oven.
As darkness fell, Dart – their 118-pound Rottweiler – suddenly lifted his head and growled low in his throat.
"Do you hear a big, bad wolf?" Kay asked.
Milt Turley turned thoughtful, recalling the young wolf that got away up the hillside. It had silvery-gray fur.
"I would love to have a nice, light-colored skin," he said, "to hang in the front room."
Local journalism is essential.
Give directly to The Spokesman-Review's Northwest Passages community forums series -- which helps to offset the costs of several reporter and editor positions at the newspaper -- by using the easy options below. Gifts processed in this system are not tax deductible, but are predominately used to help meet the local financial requirements needed to receive national matching-grant funds.
Subscribe now to get breaking news alerts in your email inbox
Get breaking news delivered to your inbox as it happens.
---