Sports
Bradley returns with vigor
Fri., Jan. 15, 2010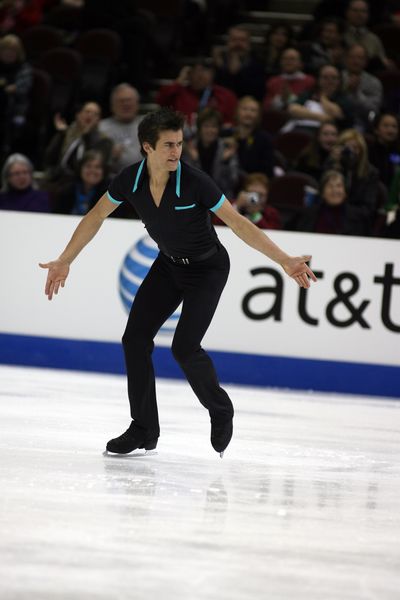 The last time Ryan Bradley passed through Spokane, he left local figuring skating fans with a memory to cherish.
That was in January of 2007, when he wowed an Arena crowd of more than 9,000 with a riveting free skate that vaulted him past Johnny Weir to the silver medal at the United States Figure Skating Championships.
Bradley then celebrated by returning to the ice and treating those in attendance to an appreciative wave – and a backflip – that restored the crowd's roar.
Now the 26-year-old resident of Colorado Springs, Colo., is back, hoping to create and share some new memories when the 2010 U.S. Figure Skating Championships kick off at the Arena on Friday.
"Obviously, going to a familiar venue is very comforting," said Bradley, a three-time U.S. Collegiate champion, who will be part of what promises to be a wildly entertaining and wide-open men's competition. Jeremy Abbott will be on hand to defend the U.S. title he won last year in Cleveland, where Bradley finished fourth.
"It makes it very easy to visualize and not have that freak-out moment when you get there. And having (my return) coming off a great competition the last time I was there definitely gives me more confidence. I can't help but be a little superstitious."
Bradley admitted to taking a look at the video of his 2007 free-skate performance in Spokane during the offseason when he was struggling.
"That was definitely a performance I put on to kind of remind myself why I'm doing this, and what great feelings really feel like," explained Bradley, who earned a free-skate score of 145.63 on the memorable night and finished second to reigning world champion Evan Lysacek.
"It's one of those things where I don't want to go back and duplicate what I did in Spokane. I want to create a new memory for myself. I feel like I'm a much better skater than I was the last time we were in Spokane, and I'm ready to show the world and show the country that."
Bradley is coming off another breathtaking free skate at 2009 Skate America in Lake Placid, N.Y., where he landed two quadruple jumps that helped lift him from eighth place after the short program to third in the final standings, behind Lysacek and Canada's Shawn Sawyer.
He plans to incorporate the two quads into his program this weekend, but knows he will need to land both jumps cleanly if he hopes to earn a medal and one of the three U.S. men's spots in the upcoming Winter Olympics in Vancouver, B.C.
"There's only three spots and, like, six or seven boys that could legitimately be on that team," Bradley said. "The last time (in Spokane), as great as everything went, there was still a lot of intensity and a lot of electricity, and it was a little difficult for me to wrap my brain around the first three days.
"But now I know what to expect, I'm well-trained and well-prepared for it – and I just can't wait to get back there and feel that excitement again."
Local journalism is essential.
Give directly to The Spokesman-Review's Northwest Passages community forums series -- which helps to offset the costs of several reporter and editor positions at the newspaper -- by using the easy options below. Gifts processed in this system are not tax deductible, but are predominately used to help meet the local financial requirements needed to receive national matching-grant funds.
Subscribe to the sports newsletter
Get the day's top sports headlines and breaking news delivered to your inbox by subscribing here.
---