News > Features
Crash & learn
Learning to ice skate requires courage and patience, as well as a willingness to absorb a few bumps, bruises and, in some instances, scrapes
Sun., Jan. 17, 2010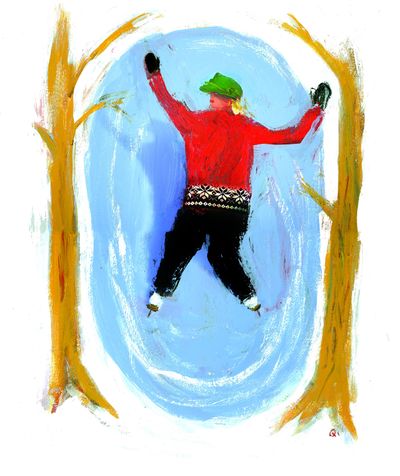 Propelled by unsmiling determination and a choppy leg motion, the freckled kid in the dark blue coat carved a wobbly path through the weekend thicket of skaters at the Riverfront Park Ice Palace.
When he fell, which happened more than once, he popped back up and continued wending his way around the rink.
This was 8-year-old Levi Brundage's second time ice skating. He was getting the hang of it. No question.
And he had some advice for other novices: "Keep practicing."
Maybe decades from now he'll recall learning to skate in downtown Spokane. Chances are, it will be a happy memory.
That isn't always the case. Ask people to recount their early experiences with skating and there's a chance you'll hear wince-inducing stories like Ben Stuckart's.
He was 12. A youth-group contingent from his church was going skating at Riverfront Park. Though he had never skated, he wanted to join in.
So when Stuckart's parents asked if there would be adults overseeing the group, he said yes. That wasn't true.
When he took to the ice he fell immediately and somehow managed to slice his wrist with his own skate blade.
"Blood everywhere," said Stuckart, executive director of Communities in Schools of Spokane County.
His folks had to come get him. "I learned a lesson about lying to my parents that day."
That remains his one and only attempt at ice skating. He has a scar to remember it by.
Others have fared better, of course.
Angela Hayes, a Spokane lawyer, grew up near Cannon Hill Park and skated there day after day until well after dark.
She loved it: "I had big dreams of one day being in the Ice Capades."
Jeri Hershberger, a retired airline employee, learned at the old Spokane Coliseum.
"We took lessons on Saturday afternoons," she said. "It was great."
Local physician Linda Partoll began skating as a little girl at a neighbor's backyard rink in northwestern Illinois.
"What I remember most is staying out so long that I would cry when I came in because my feet were so cold," she said. "For some idiotic reason, that happened repetitively."
For many skaters, it's difficult to think back and pinpoint the breakthrough when panicked shimmying turned into a more fluid, graceful stride. One moment, they couldn't really skate. Then, in the next, they could.
But lots of people can recall the atmospherics, whether it's rinkside bonfires, numb fingers and noses or scratched records being played over tinny speakers at indoor facilities.
Fred Tenisci, a retired railroad conductor up in Trail, B.C., remembers his dad, who couldn't skate, getting on the ice and trotting alongside him to offer support and encouragement.
Spokane bookkeeper Denise DeLeon received ice skates as a Christmas present when she was 11 back in rural Indiana. Her father shoveled an area on a frozen creek next to a corn field.
She went out once for 20 minutes and never skated again.
It's possible that little Livia Ressa, 3 1/2, could relate. After being helped around the Ice Palace skating surface a couple of times last weekend, she had one thing to say to her father, Tony, principal at Spokane's Wilson Elementary School: "Daddy, I'm exhausted."
Maybe she'll stick with it, though, and wind up being like Annie Zeck. The retired Spokane dog trainer started skating so young in her Minnesota childhood that she has no memory of learning.
"I'm sure that's the way to do it, when your tush is only a foot from the ice and you have no fear of falling down," she said.
Zeck would lace 'em up and glide out onto outdoor ice day after day.
This everyman's walking on water, it can be like learning boatless sailing while laughing at the physics of friction.
Sturdy skates that fit, offer ankle support and have reasonably sharp edges can make the experience more enjoyable. But that wasn't an absolute necessity when Owen Fullmer was a boy in Colorado, where he swooped and whirled on a frozen river.
"If our secondhand skates were too large, mom stuffed them with tissue paper," said the former millwright, who now operates an auto repair shop in Chewelah.
Spokane's Bill Mahaney, a retired college professor who grew up in a hockey-mad town in Massachusetts, remembers older kids laughing at his first clumsy attempts to stay upright and move forward. But he persevered and wound up being a decent defenseman and goalie.
Still, there's no getting around it. Learning to ice skate inevitably involves occasionally losing your balance and becoming acquainted with gravity and the punishing hardness of frozen water.
"The one thing I remember about learning to ice skate is that it hurt so badly every time I fell, I decided that it would just be easier and quite a bit more fun if I just stayed down on the ice sliding around on my knees," said Patrick Stagaman, a Western Washington University student from Spokane.
Intentionally stepping onto a super-slippery surface with skinny metal blades is, if not a full-blown leap of faith, at least a modest hop.
So some say having the right attitude is crucial. With that in mind, let's hear from experienced skater Connor Javorek, of Spokane. He started when he was 4.
Asked what advice he would give to beginning ice skaters, Javorek, who is now 7, had just one thing to say:
"Try not to be afraid."
And if you follow his lead, you'll wear a helmet.
Local journalism is essential.
Give directly to The Spokesman-Review's Northwest Passages community forums series -- which helps to offset the costs of several reporter and editor positions at the newspaper -- by using the easy options below. Gifts processed in this system are not tax deductible, but are predominately used to help meet the local financial requirements needed to receive national matching-grant funds.
Subscribe to the Coronavirus newsletter
Get the day's latest Coronavirus news delivered to your inbox by subscribing to our newsletter.
---