News > Features
Will Kitty get catty to Oprah?
Sat., Jan. 23, 2010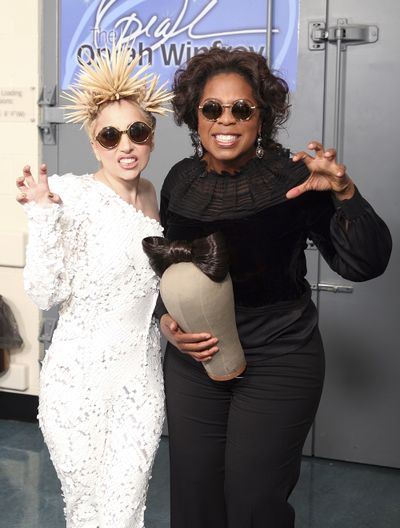 An Oprah Winfrey tell-all is coming in April from celebrity biographer Kitty Kelley.
Kelley's 544-page, unauthorized "Oprah: A Biography" will be released April 13. The first printing will be at least 500,000 copies.
Kelley is known for gossipy, unflattering but best-selling celebrity books, also has written about Frank Sinatra, Nancy Reagan and the Bush family.
She says she devoted the past three years to examining Winfrey's life and came away "full of admiration for her accomplishments and fascinated by her complexity."
Crown says Kelley conducted 850 interviews for the book.
But first, O. and Jay
Winfrey, meanwhile, said on her talk show Friday that she's going to Los Angeles for a "one-on-one" interview with Jay Leno to air next Thursday.
The interview comes as Conan O'Brien exits "The Tonight Show," allowing Leno to return to the late-night program he hosted for 17 years.
Simon says, 'I'll help'
Simon Cowell is planning a charity single to benefit victims of the earthquake in Haiti.
The "American Idol" and "The X-Factor" judge said he was asked by British Prime Minister Gordon Brown to help with the relief effort.
Performers have yet to be chosen, but may include British singers Susan Boyle, Leona Lewis and Cheryl Cole.
"I don't know who's available, but I will get a record out within seven to 10 days," Cowell said.
The birthday bunch
Actress Chita Rivera is 77. Actor Gil Gerard is 67. Actor Rutger Hauer is 66. Singer Anita Pointer (Pointer Sisters) is 62. Actor Richard Dean Anderson ("MacGyver") is 60. Singer-guitarist Robin Zander (Cheap Trick) is 57. Singer Anita Baker is 52. Actress Gail O'Grady is 47. Actress Mariska Hargitay is 46. Actress Tiffani Thiessen is 36.
Local journalism is essential.
Give directly to The Spokesman-Review's Northwest Passages community forums series -- which helps to offset the costs of several reporter and editor positions at the newspaper -- by using the easy options below. Gifts processed in this system are not tax deductible, but are predominately used to help meet the local financial requirements needed to receive national matching-grant funds.
Subscribe to the Coronavirus newsletter
Get the day's latest Coronavirus news delivered to your inbox by subscribing to our newsletter.
---