News > Spokane
Chaos close to home
As fewer volunteers help out police, activist says, crime is on rise again
Wed., July 14, 2010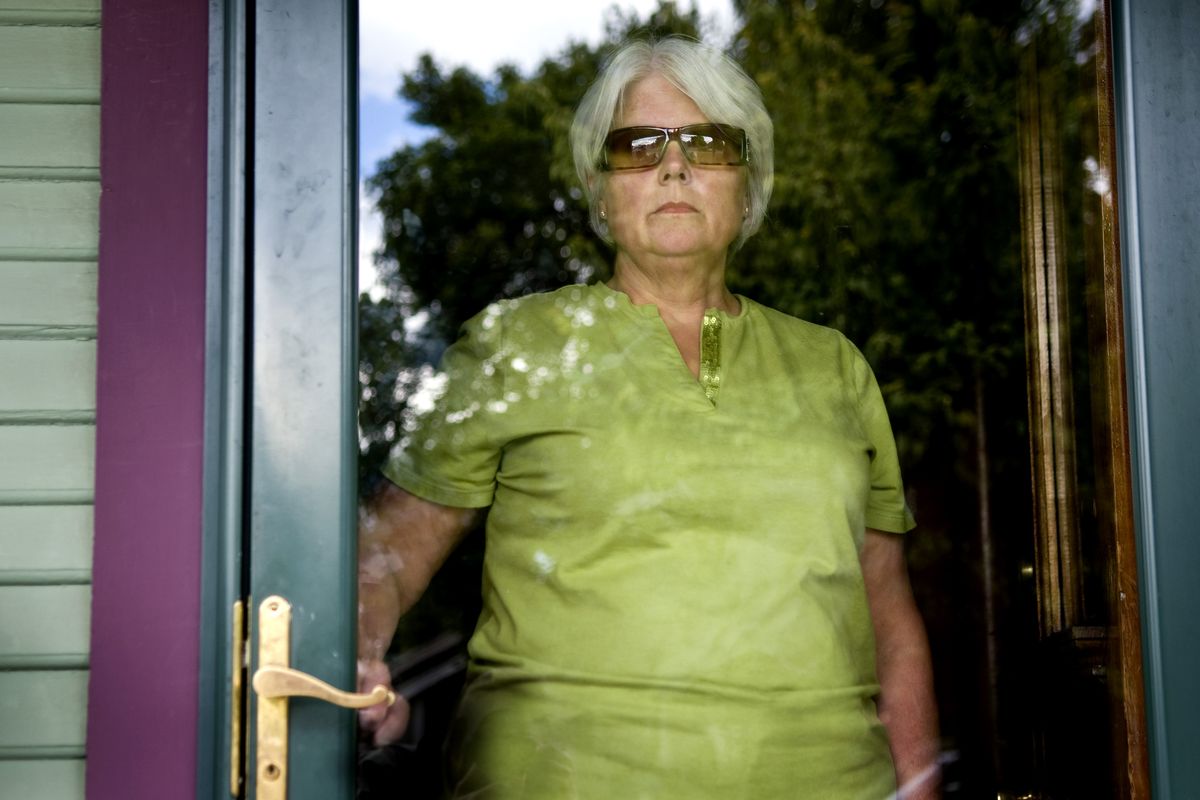 Cheryl Steele, a community activist who founded the city's first police substation, woke to the sound of gunfire Tuesday and a man dead on the ground next door. The homicide victim was described by authorities as a gang associate. (Colin Mulvany)
Gunfire awoke Spokane community activist Cheryl Steele just after midnight Tuesday.
The founder of the city's first police substation looked out a window of her home at 2105 W. Boone Ave. and saw a bleeding man lying near her neighbor's front yard.
Police later identified him as 29-year Nathan D. "Trigger" Gilstrap: the city of Spokane's third homicide victim this year.
No suspects have been identified.
Gilstrap's slaying comes after months of deteriorating conditions in the West Central neighborhood, Steele said. She started the first police substation in 1992 after two neighborhood girls were kidnapped and murdered. Crime dropped over the next 15 years, Steele said, but assaults, drug houses and gang graffiti are on the rise again as volunteers at the police stations decline.
Steele pointed to several gang-related graffiti tags on buildings in the last month, including a gang name spray-painted down an alley from where Gilstrap was shot.
"When we don't respond, it leads to incidents like the one we had last night," Steele said. "We need to get community members out and back into the cop shops."
Police released few details about Gilstrap's death.
Steele said she heard four gunshots, "then I heard the big shot, then I heard someone say 'Oh my … God,' " Steele said.
Gilstrap was dead on the lawn next door to Steele when police arrived. Police believe he was shot in front of Steele's home and ran several feet before collapsing. No information on how he was shot or possible suspects have been released.
Gilstrap is a gang associate with criminal convictions, including seven theft-related felonies, beginning in 1995. He'd been out of custody since June after being sentenced to 14 months for criminal impersonation and was a witness to a fatal stabbing last summer.
In that case, Gilstrap was with two suspects police say stabbed 24-year-old Vitaly M. Shevchuk to death on July 6, 2009.
Gilstrap had been drinking with Maggie M. Tyler and Matthew M. Nedeau when Tyler and Nedeau attacked Shevchuk after the victim yelled something at their passing car, according to court documents. Nedeau and Tyler are in jail on second-degree murder charges.
Gilstrap helped police identify the suspects and was not charged in the incident.
As with Gilstrap's homicide on Tuesday, police characterized the suspects in last summer's stabbing as gang affiliates.
But Steele bristles at that description.
"It's sort of like saying that life didn't count because it was gang related," Steele said. "It counts to somebody. Somebody gave birth to that life. Somebody loved that soul."
But so far, community outcry against gang violence in Spokane has been quiet.
"The community doesn't seem to want to rally around that," Steele said.
Spokane police spokeswoman Jennifer DeRuwe said budget cuts have left the police department with fewer resources for community programs. Next year, neighborhood resource officers will be eliminated.
"It will get worse until it gets better," DeRuwe said. "You have to take ownership in your neighborhood … and make an effort to let bad guys know what's not going to be allowed."
Local journalism is essential.
Give directly to The Spokesman-Review's Northwest Passages community forums series -- which helps to offset the costs of several reporter and editor positions at the newspaper -- by using the easy options below. Gifts processed in this system are not tax deductible, but are predominately used to help meet the local financial requirements needed to receive national matching-grant funds.
Subscribe now to get breaking news alerts in your email inbox
Get breaking news delivered to your inbox as it happens.
---