News > Spokane
Spokane officer won't have city attorneys in Zehm case
Conflicts had been alleged over representation
Thu., May 6, 2010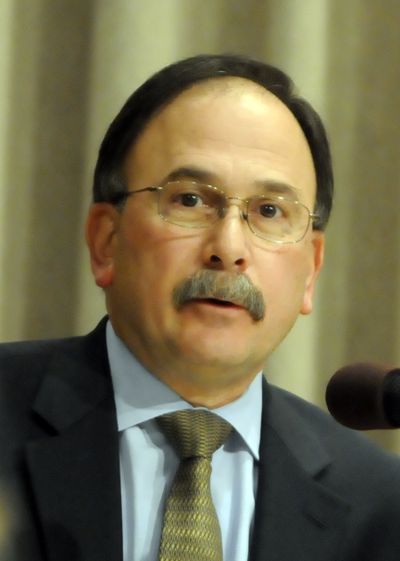 Attorneys employed by the city of Spokane will no longer represent Spokane police Officer Karl F. Thompson Jr. in the legal battles stemming from the 2006 death of Otto Zehm, according to a recent court filing.
Federal prosecutors have repeatedly raised the issue of conflicts of interest in the city's representation of Thompson at the same time city attorneys are representing other officers involved in the incident who are expected to testify against Thompson at an upcoming trial.
The city's move comes just days before a federal judge was scheduled to rule on whether the city attorney's office can represent both Thompson and the other officers in the civil suit brought by Zehm's mother against the city. That lawsuit has been put on hold until after the completion the federal criminal trial against Thompson, which is scheduled to begin June 2.
Assistant U.S. Attorney Timothy Durkin, in arguments filed last month, said the city's representation of Thompson created "obvious and apparent conflicts." That filing singled out Assistant City Attorney Rocky Treppiedi's role in the Zehm incident, in which the mentally ill janitor was beaten, shocked with a Taser and hogtied on the ground by police before dying in a hospital two days later.
But Treppiedi, in a phone interview, denied that the city's motion to withdraw from representing Thompson had anything to do with allegations raised by Durkin in court filings leading up to a May 17 hearing, where U.S. District Court Judge Fred Van Sickle was expected to rule on the matter.
"I don't care what Mr. Durkin puts in a filing," Treppiedi said. "We reviewed everything carefully and there are no conflicts of interest. Just because a lawyer on the other side of a case wants to create a conflict doesn't mean one exists. I'll leave it at that."
A request for an interview with City Attorney Howard Delaney was answered by city spokeswoman Marlene Feist, who wrote in an e-mail, "This decision was made to simplify case management for the City's lean Legal Department and could change as the civil case progresses."
She said that Thompson's defense by private attorney Carl Oreskovich is being paid for by the city and "Karl Thompson remains indemnified by the City in the civil case. We continue to have no identifiable conflicts between the defendants in the civil case or between Karl Thompson and the City," Feist wrote.
Durkin said he could not comment about any aspect of the case, and Oreskovich did not return two phone calls to his office.
Oreskovich has also been appointed by the court, at taxpayer expense, to defend Thompson against the felony charges that he used excessive force and lied to investigators about his confrontation with Zehm.
But Durkin, in a 74-page court filing in advance of Van Sickle's ruling on the conflict issue, detailed numerous concerns about Treppiedi's dual role in representing Thompson and the other police officers at the same time:
•From October 2008 through June 2009: "Treppiedi was briefing and preparing most of the Spokane Police Department and/or the City of Spokane witnesses called to testify before the grand jury. It was also learned that Treppiedi was debriefing (police department) witnesses who appeared before the grand jury."
• Feb. 3, 2009: "Durkin sends a letter to Oreskovich confirming the parties' previous conversations concerning Mr. Oreskovich's exclusive representation of Mr. Thompson and expressing concern over Treppiedi's reported disclosure of grand jury material, gleaned from other witnesses, to Thompson and Oreskovich."
• Feb. 18, 2009: "Treppiedi was now asserting (notwithstanding Oreskovich's independent retention at public expense) that Treppiedi and the City Attorney's Office also continued to represent Thompson's global 'interests' arising out of his non-lethal and lethal force on Otto Zehm."
In the same court filing, Durkin pointed out that Assistant Chief Jim Nicks first consulted with Treppiedi before giving a media interview on the night of the incident. During the interview, Nicks claimed Zehm "lunged at" and "attacked" Thompson, who used a "straight-handle baton as a defensive technique."
Five days later, Treppiedi and Nicks reviewed surveillance videos from the Zip Trip security cameras that showed "no 'lunge' or attack," Durkin wrote. But Nicks maintained for several months that Zehm lunged or attacked, until the videos were released publicly. Durkin also detailed a meeting between Treppiedi and Medical Examiner Dr. Sally Aiken on July 19, 2006, where Treppiedi showed up claiming to have an appointment.
"Dr. Aiken was uncomfortable meeting with Treppiedi, since he is not a prosecutor … and was not entitled to obtain any information from the ME relative to Mr. Zehm's autopsy," Durkin wrote. "Mr. Treppiedi claimed, however, that he was generally interested in soliciting Dr. Aiken's opinions relative to (Spokane Police Department) policies, not Zehm's autopsy."
Aiken agreed to meet with Treppiedi briefly, who asked if the medical examiner had been told by detectives about a mask that had been placed on Zehm's face before he stopped breathing.
"Treppiedi wanted to know what Dr. Aiken was going to do in response to the seemingly late disclosed 'non-rebreather' mask being involved in Zehm's detention," Durkin wrote. "Dr. Aiken declined any further conversation about the confidential Zehm autopsy."
Local journalism is essential.
Give directly to The Spokesman-Review's Northwest Passages community forums series -- which helps to offset the costs of several reporter and editor positions at the newspaper -- by using the easy options below. Gifts processed in this system are not tax deductible, but are predominately used to help meet the local financial requirements needed to receive national matching-grant funds.
Subscribe to the Coronavirus newsletter
Get the day's latest Coronavirus news delivered to your inbox by subscribing to our newsletter.
---