News > Spokane
Murder suspect fights return from Montana
Prosecutor seeks governor's warrant
Tue., Nov. 2, 2010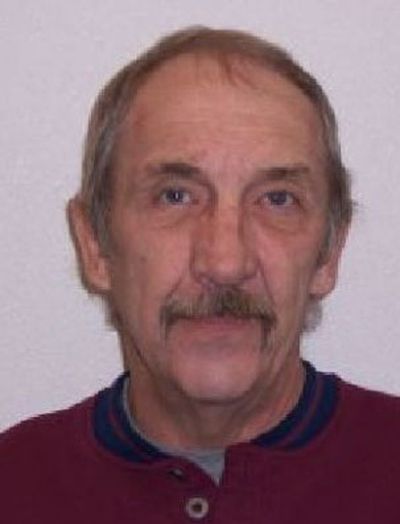 A murder suspect who is a person of interest in at least three other Spokane slayings in the mid-1980s is fighting extradition from Montana.
Gary L. Trimble, 62, is in jail in Teton County, Mont., charged in Spokane County with first-degree murder for the Dec. 24, 1986, strangulation of Dorothy E. Burdette.
The first-degree murder charge alleges Trimble killed Burdette while trying to rape her.
Spokane County Deputy Prosecutor Jack Driscoll said he's obtaining a governor's warrant for Trimble's arrest after the suspected killer refused extradition. A hearing will be held in Teton County.
As authorities await DNA tests in three other unsolved strangulation murders, public records portray Trimble as a longtime felon and alcoholic who spent several years in Washington prisons and has a misdemeanor warrant in Spokane County for allegedly stealing his daughter's car in 2005. Trimble has misdemeanor warrants in at least two other counties for drunken driving and trespassing.
He's lived throughout the Northwest, including a home in Pasco and an apartment at 419 S. Washington Ave., in Spokane – just two blocks from where police believe he met his victim 24 years ago.
Trimble was jailed on an alleged probation violation Oct. 22, more than year after court officials say he stopped checking in with his Montana Department of Corrections probation officer. He was placed on probation in 2007 for an intimidation conviction after his girlfriend told police he'd choked her in a fight over money.
Court documents detailing the incident said Trimble attacked the woman "by just pinching the jugular vein area of her throat."
Now Trimble is suspected of strangling a woman after meeting her at the Mayfair, 202 S. Washington, in downtown Spokane on Christmas Eve 1986.
DNA obtained after his felony conviction in Montana matched DNA found on Burdette's bra and on the blanket in which her body had been wrapped, according to a probable cause affidavit filed Oct. 28 in Spokane County Superior Court.
A regular at the Mayfair, Burdette, 62, left the bar with a man who employees told police they didn't recognize.
A 1986 police sketch of the suspect has "a striking resemblance" to a photo of Trimble from that time, according to the affidavit. Witnesses described the man as 5-foot-7 to 5-foot-8 with light brown hair. Trimble is about 5-foot-9 with brown hair.
Driscoll said authorities are awaiting DNA results that could link Trimble to other unsolved cases.
Trimble is considered a person of interest in the murders of 27-year-old Ruby Jean Doss, a suspected prostitute who was found strangled in a field near Fiske Street and Ferry Avenue on Jan. 30, 1986; 30-year-old Mary Ann Turner, another suspected prostitute found strangled Nov. 4, 1986, near a garage at 100 S. Ivory Street; and Kathleen D. Dehart, a 37-year-old former topless dancer who was found strangled in the basement of an apartment in the 900 block of South Hatch Street on July 5, 1987.
Trimble was in prison from 1966 to 1971 for robbery and car theft in King County. He returned to prison in 1989 for a robbery, kidnapping and burglary case in Clallam County. He was released in May 1995 and was on probation until 2000. He has drunken driving convictions in Benton and Whitman counties and was cited for trespassing in Pasco in 2004.
Trimble was living in Spokane in May 2005 when his daughter's minivan was stolen outside a motel. She'd traveled to Spokane from Moses Lake with her husband to visit Trimble, whom she described to police as an alcoholic and longtime drug addict, according to court records.
A Spokane County sheriff's deputy found the van a month later in High Bridge Park with stolen license plates. The deputy pointed his gun at Trimble and ordered him to step out with his hands up.
Trimble replied, "I'll stick that gun up your ass" and asked if the deputy wanted to fight, according to court documents. Trimble was charged with third-degree possession of stolen property and resisting arrest but never showed up for court. A warrant has been out for his arrest since March 29, 2006.
In September 2007, Trimble had been living with his girlfriend of about three weeks when he allegedly attacked her during a dispute over money. He pleaded guilty to felony intimidation in December 2008 and was given a five-year suspended prison sentence and was credited for 79 days served in jail pending resolution of his case. A warrant was issued in July 2009 after Trimble absconded in violation of probation, according to the Department of Corrections.
He was picked up on the probation violation at his girlfriend's home in Lincoln, Mont., Oct. 22 – the same day a Spokane County judge approved a $1 million warrant related to Burdette's murder.
Local journalism is essential.
Give directly to The Spokesman-Review's Northwest Passages community forums series -- which helps to offset the costs of several reporter and editor positions at the newspaper -- by using the easy options below. Gifts processed in this system are not tax deductible, but are predominately used to help meet the local financial requirements needed to receive national matching-grant funds.
Subscribe to the Coronavirus newsletter
Get the day's latest Coronavirus news delivered to your inbox by subscribing to our newsletter.
---