Sports
Idaho recreates last year's nightmare loss to Nevada
Sun., Nov. 7, 2010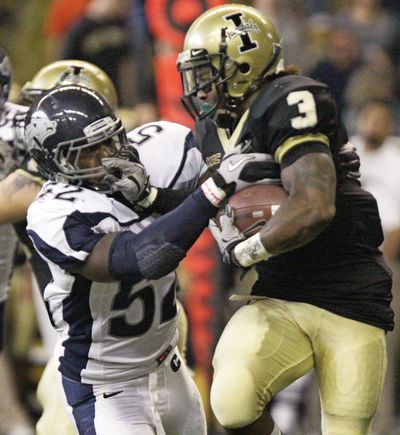 MOSCOW, Idaho – Early in the fourth quarter of another Idaho nightmare against Nevada, Kama Bailey wiggled away from the Wolf Pack's kickoff coverage and started galloping down the sideline. For once, the Vandals could see a ray of sunshine.
But, alas, the dazzling return – like much of Saturday's 63-17 loss to Nevada – ended in disaster.
UNR's Duke Williams caught up with Bailey inside the 10-yard line, popped the ball loose and the Wolf Pack recovered. It was one of three returns bobbled away by the Vandals – each one more puzzling than the last.
Idaho's mistakes on special teams only gave Nevada's lethal offense more opportunities to torment the UI defense in front of 11,247 at the Kibbie Dome. The 25th-ranked Wolf Pack breezed their way to a school-record 844 yards before easing up to close out the WAC contest.
Quarterback Colin Kaepernick, usually electric with his feet, threw for 320 yards and five touchdowns. He was complemented by three running backs, led by Lampford Mark, who surpassed 100 yards on the ground.
Vandals coach Robb Akey, asked by a TV reporter how it felt to give up that many yards, said, "Well, do you have a beep button on that camera? If you really want to hear what I think, it's going to be filled with a lot of words that shouldn't be put on the 6 o'clock news."
Earlier in his press conference, Akey grabbed a stat sheet on the table in front of him, crumpled it into a ball and tossed the paper behind his shoulder to the ground.
"I wadded up those stats," he said. "I'm not going to wad up the season."
Idaho (4-5, 1-3) dipped below .500 for the first time since 2008, Akey's second year with the then-beleaguered program. The Vandals must win three of their last four games to reach a bowl, and they have a short week to prepare for No. 2 Boise State.
The Broncos and Vandals meet Friday night in a nationally televised game in the Dome.
Playing without tight end and leading receiver Daniel Hardy – out for the remainder of regular season with a broken arm – Idaho never found a groove against Nevada. But it hardly mattered.
The Wolf Pack missed two short field goals in the first half and still led 28-3. They ended the half with a 96-yard touchdown drive that took 46 seconds. And they did it without Kaepernick escaping for meaty rushing gains.
The senior, whose longest run was 18 yards, instead focused on exploiting the Vandals' outmanned – and often confused – secondary.
Idaho was without starting safety Gary Walker, who apparently was suspended, and relied heavily on Kenneth Patten and Tracy Carter, two nickel-backs thrust into key roles.
Kaepernick's first touchdown pass came with no defensive back within 10 yards of receiver Shane Anderson. The botched play led safety Thaad Thompson to point a finger to one of his teammates in the secondary who was supposed to be covering Anderson.
"We weren't executing," safety Shiloh Keo said. "We just messed up. … The problem is we're making the same mistakes."
Idaho also lost four fumbles after four turnovers last week. One came on Bailey's 86-yard kickoff return and the last on Shawn Tucker's 62-yard return.
"Where in the world do you have two plays where you go for what, 155 yards, and the other team gets the ball on both of them," Akey said. "Those two kickoff returns – I mean, you've got to be kidding me."
Notes
Linebacker Tre'Shawn Robinson led UI with 16 tackles but left the game after taking a blow to the ribs. Deonte Jackson also left the game with an ankle injury. Fellow tailback Princeton McCarty (knee) didn't play.
Local journalism is essential.
Give directly to The Spokesman-Review's Northwest Passages community forums series -- which helps to offset the costs of several reporter and editor positions at the newspaper -- by using the easy options below. Gifts processed in this system are not tax deductible, but are predominately used to help meet the local financial requirements needed to receive national matching-grant funds.
Subscribe to the sports newsletter
Get the day's top sports headlines and breaking news delivered to your inbox by subscribing here.
---