Sports
Eastern's task: disarm Vikings' potent 'pistol'
Tue., Oct. 26, 2010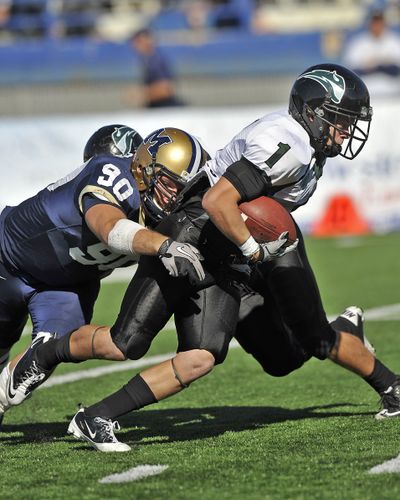 Another Saturday, another big challenge for the Eastern Washington University defense.
The Eagles, in a tie with Montana for first in Big Sky Conference football with a 5-1 mark, will be at Portland State on Saturday to face the pistol offense installed by new coach Nigel Burton.
Burton is a former defensive coordinator for Nevada, the team that popularized the pistol.
Last Saturday, the Vikings rushed for 322 yards and rolled up 600 yards of total offense in a 44-41 loss at Weber State. In 2008, when the Vikings ran the run-and-shoot offense, PSU had a total of 322 rushing yards the entire season. The Vikings lead the Big Sky in rushing with an average of 220 yards per game.
Against Weber State, running back Cory McCaffrey and quarterback Connor Kavanaugh each rushed for more than 100 yards – the third time in four games the two have accomplished the feat.
Eastern lost to Nevada 49-24 to open the season, but despite a familiarity with the pistol, Eagles coach Beau Baldwin is wary.
"It's never easy to play against," Baldwin said. "When they run as well as they have lately, it's a very tough offense to stop. Having played Nevada gives us a little bit of a leg up, but that was quite a while ago and we'll have to revisit that offense. But even if you know what's coming and you've played against it, it's a challenge to stop. They have good players running it."
Eastern's defense has been the driving force behind its 6-2 overall record – its best start since winning the Big Sky Conference title in 1997 as the Eagles were the last team other than Montana to win the league title outright.
"At the end of the day we're 5-1 in the conference and that's huge – we haven't been 5-1 in a long time," said Baldwin. "Our players seem to find a way at the end of games in the fourth quarter. I'm hoping that at some point, when we do get a halftime lead, we'll find a way to put teams away in the third quarter."
Big Sky honors
Eastern junior strong safety Matt Johnson was selected the Big Sky defensive player of the week for the second time this season and third time in his career following Eastern's 28-24 win over Sacramento State on the red turf in Cheney.
He finished with nine tackles, an interception (the 14th of his career) and had three passes broken up for the Eagles.
The interception and 42-yard return in the first quarter set up EWU's first score en route to a 21-0 lead.
Rankings
The Eagles remain ranked eighth in this week's Sports Network/Fathead.com Top 25 NCAA Football Championship Subdivision poll. They are also eighth in the coaches' poll.
It equals Eastern's highest ranking since finishing the 2007 season ranked eighth.
Montana remained seventh in both polls and Montana State jumped to 13th in both polls. NAU dropped to No. 25 in the Sports Network poll and dropped out of the coaches' poll.
Milestones
Eastern's win over Sacramento State was its 100th Big Sky Conference victory since becoming a member of the league in 1987. The Eagles are 100-81 (.552) in 24 seasons.
• Also, Michael Roos, for whom Roos Field on the EWU campus is named, started his 150th consecutive game Sunday in Tennessee's 37-19 win over Philadelphia. Since he became an offensive lineman as a sophomore at Eastern in 2002, Roos has started every football game he has played in eight-plus seasons as a collegian or professional. The starts include 35 at Eastern, 25 preseason NFL games, 87 regular season NFL games, two NFL playoff games and one NFL Pro Bowl.
| | | | | |
| --- | --- | --- | --- | --- |
| E. Washington | 5 | 1 | 6 | 2 |
| Montana | 5 | 1 | 6 | 2 |
| Montana St. | 4 | 1 | 6 | 2 |
| Weber St. | 3 | 2 | 4 | 3 |
| N. Arizona | 2 | 2 | 4 | 3 |
| Sacramento St. | 2 | 3 | 3 | 4 |
| Portland St. | 1 | 3 | 2 | 5 |
| N. Colorado | 1 | 5 | 2 | 6 |
| Idaho St. | 0 | 5 | 1 | 6 |
Local journalism is essential.
Give directly to The Spokesman-Review's Northwest Passages community forums series -- which helps to offset the costs of several reporter and editor positions at the newspaper -- by using the easy options below. Gifts processed in this system are not tax deductible, but are predominately used to help meet the local financial requirements needed to receive national matching-grant funds.
Subscribe to the sports newsletter
Get the day's top sports headlines and breaking news delivered to your inbox by subscribing here.
---
Subscribe and log in to the Spokesman-Review to read and comment on this story