News > Spokane
Deputy's approved vacation stalls interview about shooting
Sheriff: Forcing deputy to stay could have tainted investigation
Thu., Sept. 2, 2010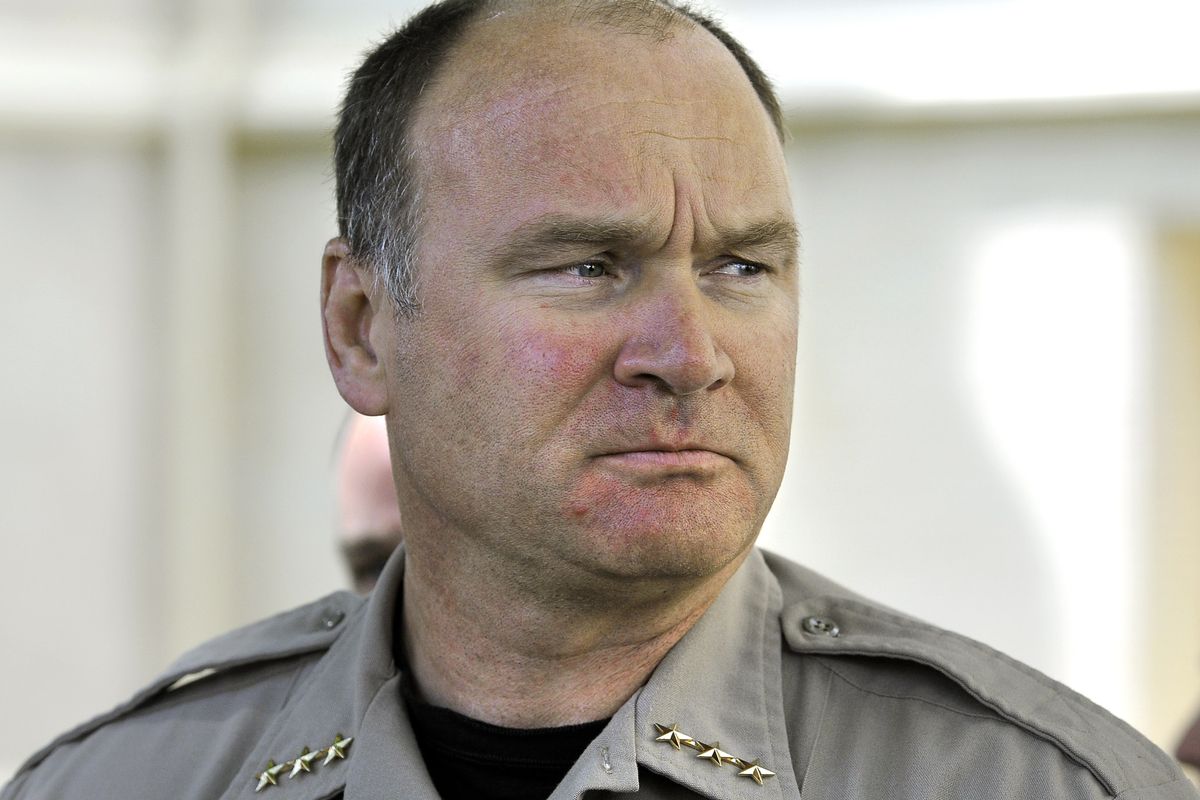 Knezovich
The interview that could explain why a deputy shot and killed a Spokane Valley pastor will come Friday morning – after the deputy returns from a weeklong vacation approved by Spokane County Sheriff Ozzie Knezovich.
Deputy Brian Hirzel left town the day after an Aug. 25 encounter with Wayne Scott Creach at his sprawling nursery business, the Plant Farm, 14208 E. Fourth Ave. Officials have only said that Hirzel and Creach had some sort of "confrontation" that ended when Hirzel shot Creach moments after the shirtless 74-year-old grabbed his pistol and went outside to investigate what he may have thought was a prowler.
Knezovich said at a Wednesday afternoon news conference that he approved Hirzel's vacation partly because the county would have been on the hook to pay for travel costs had Hirzel and his wife canceled. But the sheriff said his greatest concern was that he didn't want to "taint" the investigation by making it appear he was forcing Hirzel to submit to the interview.
"This case is more important" than a vacation, Knezovich said. "We have to ensure the integrity of this investigation, and I'm not about to do anything that looks coercive that would jeopardize this investigation."
Knezovich also for the first time revealed that Hirzel, an 18-year law enforcement veteran, made a radio call for "Code 6," which means he needed immediate assistance from other deputies after his initial encounter with Creach.
"Within 10 seconds, he stated 'Shots fired, need medics.' Those were the first words out of his mouth to ensure that medics were en route," Knezovich said.
On Tuesday, Creach's son, Alan Creach, said his mother heard a shout and what sounded like three shots. She called 911 and saw other officers driving up the street before she ended the emergency call. Creach said his mother put on some clothes, walked outside and saw her husband lying in the gravel parking near Hirzel's unmarked patrol car.
But a deputy kept Imogene Creach from approaching her husband, and she didn't see anyone providing medical aid, her son said.
Knezovich said Wednesday that deputies assigned to the Spokane Valley Police Department did try to save Creach.
"Medics were dispatched, and within six minutes … they were on scene assisting the deputies in their efforts to save Mr. Creach," he said. "Sadly, Mr. Creach was not able to be saved due to the injuries he received."
Knezovich said he could not provide any more details until investigators talk with Hirzel, 41. He spent the bulk of the news conference explaining why that interview has yet to take place.
Hirzel "is willing to and wants to do this interview. This should state that he wants everyone to know what happened that night," Knezovich said. "There is no attempt for him to make up any stories because, quite frankly, that is against policy."
Sheriff's spokesman Sgt. Dave Reagan said patrol deputies have to request vacation well in advance. In Hirzel's case, his week of vacation was scheduled some time in December or January.
Knezovich said the delay in interviewing Hirzel will allow Spokane Police Department detectives, who are handling the case under an agreement to investigate officer-involved shootings, the benefit of reviewing physical evidence gathered from the scene to determine if it fits with Hirzel's statement.
"We have to make sure this is a clean interview. We have to make sure this is a clean investigation," he said. "And I'm not willing to jeopardize this investigation by doing anything that can appear coercive."
But former Spokane County Prosecutor Don Brockett said he can't understand what Knezovich is worried about.
"I don't know why you would take the position that canceling their vacation would be coercive," Brockett said. "It may cost something, but I always thought the death of a person was the most important matter you handled. I would think you would want to handle it correctly."
Area police agencies have union-negotiated protocols that call for 48-hour delays before detectives interview officers involved in shootings. Knezovich also pointed out that even without the protocol Hirzel could exercise his constitutional right to not speak with detectives.
"I don't understand that 48-hour thing," said Brockett, who served as prosecutor from 1969 to 1994. "When I was there, law enforcement took the position that the reason they wanted to interrogate everybody immediately was to make sure they couldn't get their stories straight. Do the same thing you do when you interrogate private citizens. Find out what the story is right off the bat."
Canceling Hirzel's vacation "may be inconvenient," Brocket continued, "but I don't understand how (Knezovich) can interpret that as coercion. It doesn't seem to track."
Most Spokane Valley officials, including Mayor Tom Towey, reserved comment until the completion of the investigation. But Councilman Gary Schimmels said he would have thought Hirzel's interview was of "prime importance."
"It's kind of a surprise. There is uncertainty when (city residents) don't have answers," he said. "It would be nice to put the facts out. But I don't have control over that."
Jeffry Finer, a civil attorney representing the mother of Otto Zehm in a federal civil rights lawsuit against the Spokane Police Department, said detectives sometimes work around a witness's schedule.
"I don't think I have ever heard anyone say that delaying getting statements from witnesses improves the quality of the investigation," Finer said. "It's very rare that people's memory improves over time.
"So allowing time puts at risk the quality of information they are going to get," he said. "You have to balance that, I guess, with some refunded plane tickets."
Local journalism is essential.
Give directly to The Spokesman-Review's Northwest Passages community forums series -- which helps to offset the costs of several reporter and editor positions at the newspaper -- by using the easy options below. Gifts processed in this system are not tax deductible, but are predominately used to help meet the local financial requirements needed to receive national matching-grant funds.
Subscribe now to get breaking news alerts in your email inbox
Get breaking news delivered to your inbox as it happens.
---