Sports
Seahawks' Williams will be opening-day starter
Thu., Sept. 9, 2010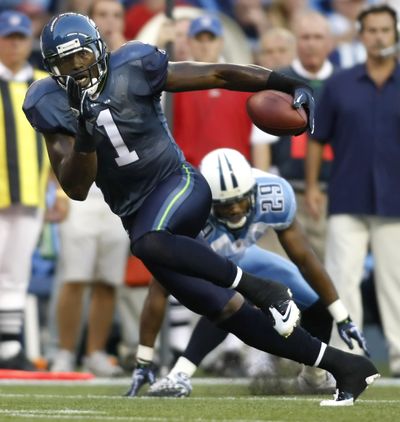 RENTON, Wash. – Entitlement is a tricky topic for Seattle's Mike Williams.
When he was young and brash, Williams felt a certain sense of it. He was, after all, taken with the 10th overall pick in the 2005 draft by the struggling Detroit Lions, expected to be the big play threat the Lions offense lacked after two standout seasons at Southern California.
And now that he's 26, spent the past two seasons out of the NFL and has his college coach to thank for a chance to resurrect his career, Williams is fighting another perception of entitlement – that the association with Pete Carroll is the only reason he's back in football.
"A lot of people think this is because of my relationship with Coach Carroll that the position was given to me, that was his old coach so of course it was going to work out this way," Williams said on Wednesday. "I just think the only thing I can take from it is how I've controlled my emotions, how I've handled the situation. Every day is a new day. Every day is an audition all over for me."
Williams' attempt at putting to rest his first three lackluster NFL seasons begins Sunday. He'll start for Seattle when the Seahawks open the season at home against San Francisco.
It'll be the first time in Williams' career he's an opening-day starter – and he understands the significance.
It's validation of the work he put in to get back into football after ballooning to 270 pounds.
It's affirmation of the chance Carroll and Seattle general manager John Schneider took in the spring to give Williams another opportunity.
"I'm here to prove that if given the opportunity you give me this is what you are going to get," Williams said.
"That was going to be the case with any team, whether that was coming to play for Coach Carroll or going to play for another coach. They were going to get the same because that's what I wanted to bring to the table."
What Williams brings is speed, size and youth. At 6-foot-5 and 235 pounds, Williams is instantly one of the largest receivers in the NFL, but with the speed to shed defenders and turn short passes into touchdowns.
He did just that in Seattle's preseason opener against Tennessee, taking a short hitch and turning it into a 51-yard touchdown.
Carroll and Schneider were so impressed with how Williams performed during the preseason, they felt comfortable cutting loose veteran T.J. Houshmandzadeh – eating more than $6 million in the process – and giving Williams the starting nod.
"He has been impeccably directed throughout this whole time. He has just been a tremendous competitor in every way that he could present himself," Carroll said.
Local journalism is essential.
Give directly to The Spokesman-Review's Northwest Passages community forums series -- which helps to offset the costs of several reporter and editor positions at the newspaper -- by using the easy options below. Gifts processed in this system are not tax deductible, but are predominately used to help meet the local financial requirements needed to receive national matching-grant funds.
Subscribe to the sports newsletter
Get the day's top sports headlines and breaking news delivered to your inbox by subscribing here.
---
Subscribe and log in to the Spokesman-Review to read and comment on this story