Sports
Notebook: Special play for Cougs
Sun., Sept. 19, 2010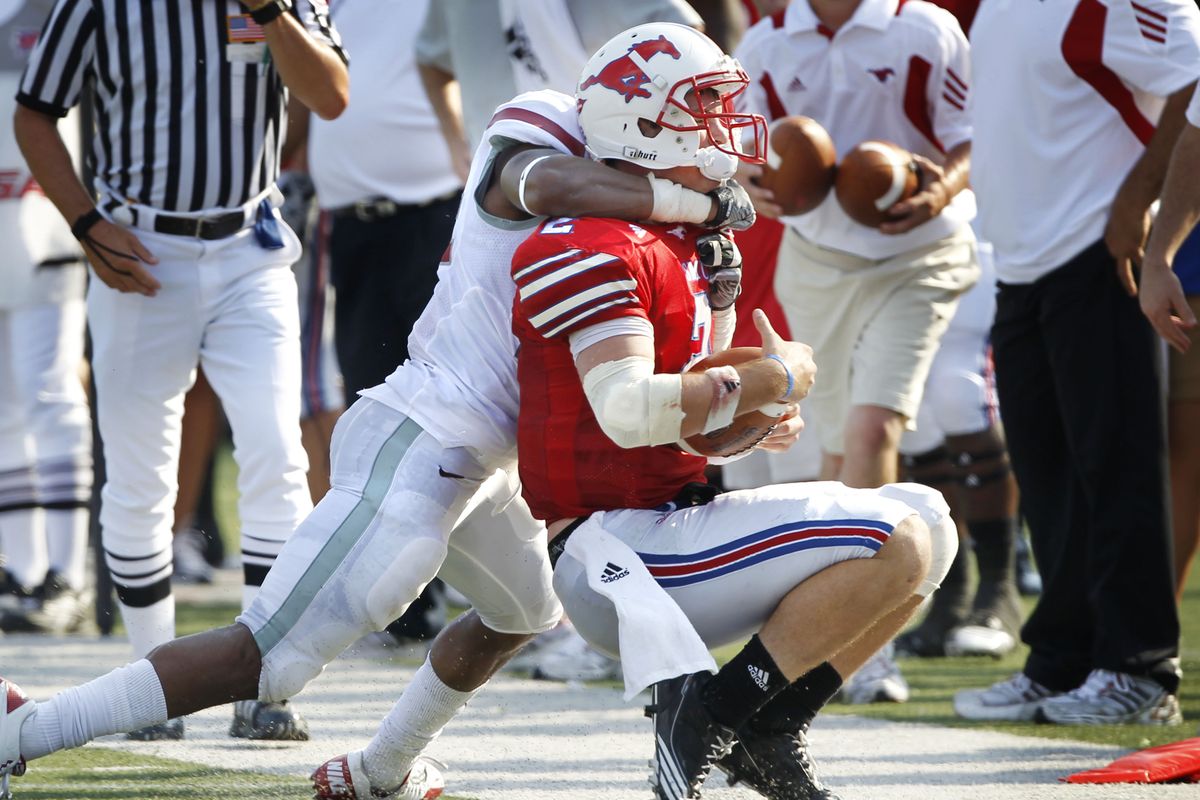 Washington State defensive back Daniel Simmons collars Southern Methodist quarterback Kyle Padron during the second half. (John F. Rhodes photos)
DALLAS – The last time Washington State University scored a special-teams touchdown was in 2005, when Michael Bumpus returned a punt 87 yards for a score against Nevada.
Saturday the touchdown came from a much less-heralded source.
Walk-on sophomore safety Kyle McCartney, who really is a special-teams mainstay, jumped on a muffed punt in the Southern Methodist end zone, pulling the Cougars into a tie at 14 in a game they would eventually lose 35-21.
The Cougars faced a fourth-and-4 at their 40. Reid Forrest, who averaged 47.9 yards on seven punts, lofted a high floater toward Darius Johnson.
Jamal Atofau, another special teams specialist, barreled downfield. SMU defensive back Robert Mojica tried to block Atofau but pushed him forward into Johnson, who fell as the ball hit him. It bounded toward the end zone, was batted forward and finally gathered up by McCartney, protected by Daniel Blackledge.
"Just running down the field and you see the ball pop out, just keep running," said McCartney, relating what was going through his head. "You just want to fall on it. The ball's loose you've got to get on it."
He did. Then he, and the Cougars, had to wait. A flag had been thrown for catch interference on Atofau. The officials huddled, decided the block caused the contact, and ruled it a touchdown.
Another delay ensued as it was reviewed and again called a touchdown.
Wilson opens eyes
Marquess Wilson is making an impression. The WSU freshman wide receiver eclipsed the 100-yard mark in receptions – he caught six for career-high 134 yards, including a 68-yard touchdown in the game's final 140 seconds.
In three games, the 6-foot-1 Wilson has three catches of more than 40 yards. He has two games of more than 100 yards – the first WSU freshman to do that since Philip Bobo did it three times in 1990.
He also had a 44-yard reception, in which he jumped over a defender, taken away by a holding call.
He not only leads WSU in receiving yards, but he's leading in superlatives.
"He's phenomenal in the field," said fellow frosh Deone Bucannon. "His routes are so smooth."
"We know, once we get him 1-on-1 with a guy, it's a really, really good deal for us because he's a special player," said quarterback Jeff Tuel, who has helped Wilson amass 13 catches for 281 yards (a 21.6 yard average).
"Marquess is a player, it is absolutely unreal the plays that he makes," Kevin Kooyman said.
Wilson, quiet and restrained, didn't want to talk about himself.
"Jeff did real well handling the pressure and getting the ball to us," Wilson said. "He was able to run around in the pocket and sling the ball around."
Heat plays a role
The heat, which reached the mid-90s, and the humidity, which was around 45 percent, took its toll on both teams, although only the Cougars had to get used to it.
"It's hot, humid," Kooyman said. "It's definitely not like Pullman. I would say the second half, it caught up with me a little bit."
No Cougars player, however, suffered a cramp.
"It wasn't as bad as I thought," it would be, said defensive end Travis Long. "The humidity kind of canceled out the heat because you were loose."
"We were a little sluggish," WSU coach Paul Wulff said, "but I can't say they weren't either."
The heat may have also been behind some confrontations between the teams, with the Cougars hit the hardest, with a 15-yard unsportsmanlike conduct penalty on senior center Zack Williams killing a promising third-quarter drive.
Williams was replaced for one series by Chris Prummer.
It was supposed to be a homecoming for Hallston Higgins and Chima Nwachukwu, two seniors from Texas.
But only Higgins got to play, as Nwachukwu, the senior strong safety, sat with a neck injury.
Higgins played much of the game at inside linebacker and made just one tackle.
"I don't feel like I showed who I was today," said Higgins, whose parents draped a large banner of support near the 20-yard line. "I'm a little disappointed. But I'm hardly ever satisfied."
Nwachukwu listened in on the headsets and talked with the defensive players on the sidelines – especially with Higgins.
"He helped a lot," Higgins said.
Local journalism is essential.
Give directly to The Spokesman-Review's Northwest Passages community forums series -- which helps to offset the costs of several reporter and editor positions at the newspaper -- by using the easy options below. Gifts processed in this system are not tax deductible, but are predominately used to help meet the local financial requirements needed to receive national matching-grant funds.
Subscribe to the sports newsletter
Get the day's top sports headlines and breaking news delivered to your inbox by subscribing here.
---