Sports
Happy on bench
And ex-Coug doesn't have to recruit
Tue., April 26, 2011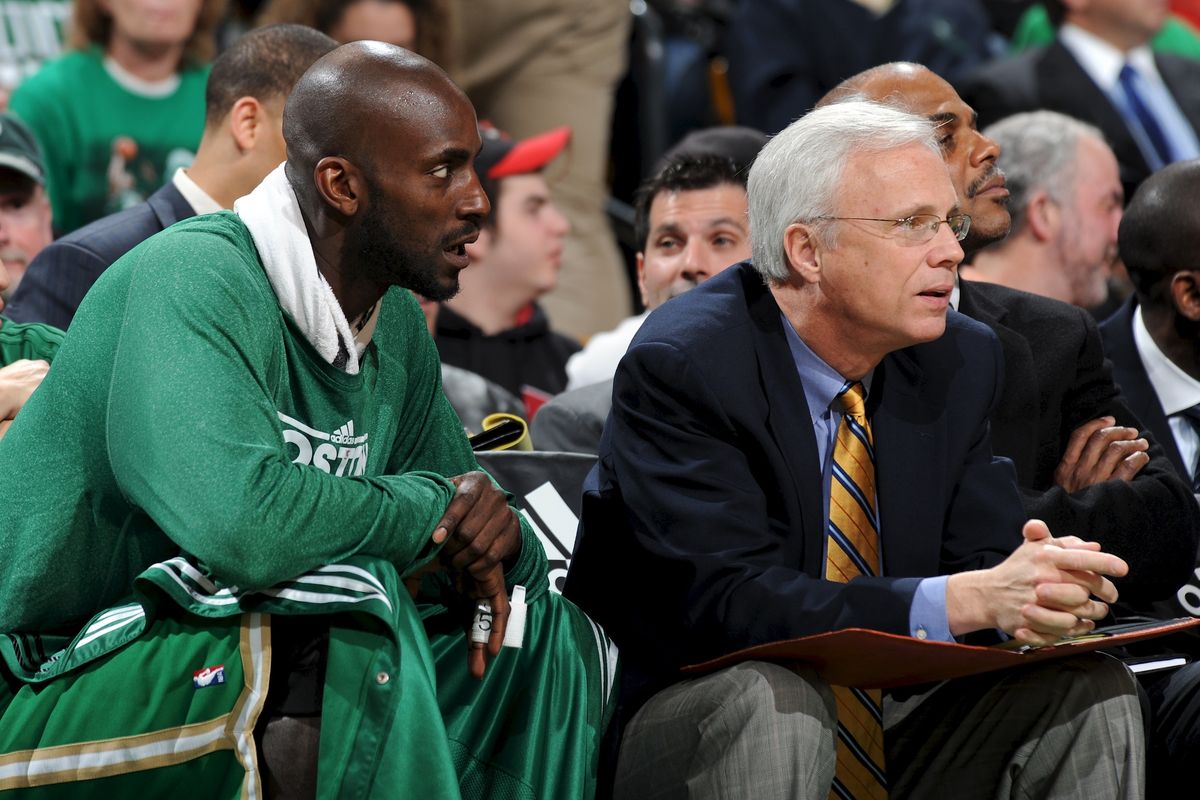 Now: Kevin Eastman provides input from his position on the bench for Boston Celtics, who have advanced to Eastern Conference semifinals.
As an assistant coach with the NBA's Boston Celtics, Kevin Eastman's typical work day consists of very little that is typical.
Long sessions in the film room, daily practices, game preparation, scouting and red-eye charter flights between NBA cities are all part of the drill for the former head men's basketball coach at Washington State University, who resigned following the 1998-99 season to pursue other basketball interests.
"It's definitely an odd-hours job, especially when you're on the road," Eastman said during a recent phone interview. "Every NBA team leaves right after a game, so you can get into the next city anywhere between 2 a.m. and 4:30. Typically, at 1 or 2 a.m., above some state, you're flying and watching film.
"The only thing you know for sure that is going to happen every day at this level is that you're going to be tired, you're going to be thinking about basketball and you're going to be watching film – and then, occasionally, you eat."
Still, Eastman isn't about to swap his current hectic lifestyle – which includes offseason motivational speaking engagements and a three-week stint as an instructor at the NIKE/Elite Hoops Camp each summer – for another college coaching position.
"Not really," he said, when asked if he misses coaching at the college level. "I enjoyed most of it, but the recruiting part was probably what I enjoyed the least. If I had a choice, I'd rather be watching film than calling some high school kid on the phone all night.
"I didn't mind meeting families and talking to them about WSU while I was there, but I wasn't into the sell, sell, sell mode."
Eastman, 56, spent five seasons in Pullman, taking the Cougars to the National Invitation Tournament each of his first two years. The 1994-95 team he inherited from his predecessor, Kelvin Sampson, finished 18-12 overall and 10-8 in the Pacific-10 Conference, and advanced to the quarterfinals of the NIT before losing on the road to Cansisius.
But following back-to-back 19-loss seasons in 1998 and 1999, he resigned and started his own Kevin Eastman Basketball Camp in Richmond, Va., where he and his wife, Wendy, both attended college and currently live, along with their son, Jake, a sophomore and two-year basketball letterwinner at Bradley University in Peoria, Ill.
Despite the struggles during his last two seasons at WSU and the middling 69-78 record he posted there, Eastman still looks back on his stay in Pullman with a great deal of fondness, and insists he left on good terms with then-athletic director Rick Dickson.
"Wendy and I actually really liked Pullman," he said. "We don't need a big city. And you couldn't ask for a better place to raise a family. But during discussions with Rick there at the end, I told him I thought staying was not best for the future of the program and its players."
Eastman first joined coach Doc Rivers' Celtics staff in 2004 after spending the 2002-03 school year as the athletic director at Randolph-Macon College in Ashland, Va. But he left after only one season in Boston to become Nike Basketball's National Director of Skills.
The idea, he explained, was to reduce his travel schedule so he could spend more time watching his son play.
"It turned out, my job with Nike put me on the road more than I was with the Celtics," Eastman recalled. "And Doc has always said, 'Hey, look, you've got a spot. If you want to come back, just let me know.' So I took him up on the offer."
Eastman rejoined Rivers' staff in September of 2006, and has been a staple on Boston's bench ever since, sharing the experience of the Celtics' run to the 2008 NBA Championship.
Among his current duties are individual player development, scouting, game preparation and "continuing to supply Doc with new ideas, or tweaks of old ones."
Rivers, in a testimonial on Eastman's website, kevineastman basketball.com, recalls seeing Eastman work with a team his own son was playing on.
"I was watching him, and I thought, 'Damn, this guy is good. He should be working for the Celtics,' " Rivers said.
Eastman, who also has a Twitter account on which he tweets motivational advice twice daily, finds players at the professional level easier to deal with than those in college.
"At this point in their careers, guys want to hear the truth, and they're willing to accept it, especially the best ones," he explained. "The best want the truth – 'If I'm screwing up, let me know. If I'm playing well, let me know. I want you to let me know how you can make me better.'
"But I think sometimes at the college level, because of where they are with their own maturation process, they're not as willing to accept criticism, because all through high school they've probably gotten very little; and through the recruiting process even less."
Eastman also likes the fact the Celtics, who beat the New York Knicks 101-89 on Sunday to complete a four-game sweep of their opening- round NBA playoff series and become the first team to advance to the Eastern Conference semifinals, are comprised of veteran players.
"Because we're a lot older than most teams, our guys are actually resting more during the offseason, rather than looking for us to work them out," he said. "I've been fortunate in that respect, too, because it gives me more time for corporate and motivational speaking.
"Just being around a championship team like ours gives you umpteen examples and stories you can relate to the corporate types I talk to. So it's been good all around."
But never typical.
Local journalism is essential.
Give directly to The Spokesman-Review's Northwest Passages community forums series -- which helps to offset the costs of several reporter and editor positions at the newspaper -- by using the easy options below. Gifts processed in this system are not tax deductible, but are predominately used to help meet the local financial requirements needed to receive national matching-grant funds.
Subscribe to the sports newsletter
Get the day's top sports headlines and breaking news delivered to your inbox by subscribing here.
---