A&E > Entertainment
County, cities review waste system plans
Utility tax sticky issue at garbage summit
Thu., Feb. 3, 2011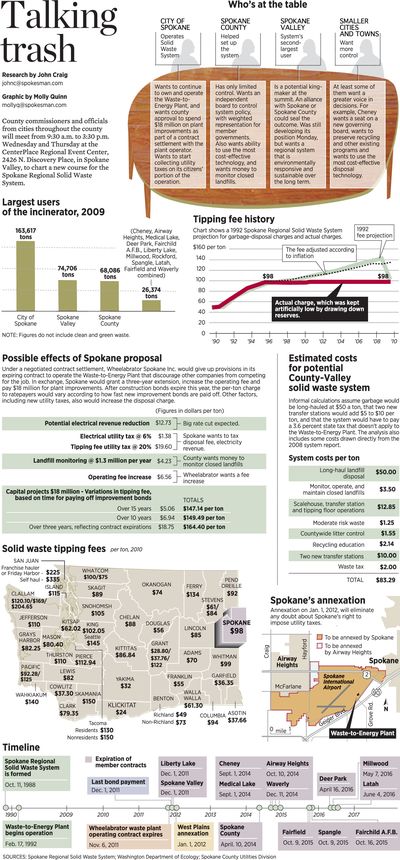 More than 50 people turned out Wednesday for the first day of a conference to form a new plan for garbage disposal in Spokane County.
Twenty-two officials from Spokane County and cities in the county reviewed the Spokane Regional Solid Waste System and their goals for reforming it.
About a dozen representatives of the garbage-disposal and electric-generation industries joined a couple of dozen municipal employees in the audience.
When the two-day Solid Waste Summit resumes today, officials hope to resolve differences over control of the regional garbage-disposal system or agree to form a new organization.
Spokane owns and operates the system, but Spokane County and smaller cities want an independent board of member governments to set policy in the future.
Spokane Mayor Mary Verner said the city supports a corporate-style board of directors, but wants to make sure Spokane isn't left holding the bag if members drop out.
One of the stickiest issues discussed Tuesday was Spokane's plan to impose a 20 percent utility tax on garbage disposal and a 6 percent tax on electricity generated at the Waste-to-Energy Plant.
Verner said city attorneys aren't yet in agreement that each member government can deal with the tax issue separately, as stated by a county-hired attorney who specializes in utility issues.
The alternative is to collect the Spokane tax on everyone's garbage and divide it among the member governments. Members who don't want to tax their citizens would have to find some way to refund the money.
Deer Park City Councilman Don Stevens got an "amen" from the audience when he said, "We don't want to be involved in the utility tax, and we don't want to be involved in rebates."
Verner called for a small committee to work out such "gnarly" issues.
Local journalism is essential.
Give directly to The Spokesman-Review's Northwest Passages community forums series -- which helps to offset the costs of several reporter and editor positions at the newspaper -- by using the easy options below. Gifts processed in this system are not tax deductible, but are predominately used to help meet the local financial requirements needed to receive national matching-grant funds.
Subscribe to the Spokane7 email newsletter
Get the day's top entertainment headlines delivered to your inbox every morning.
---