Sports
In brief: Melo leads Knicks over LeBron, Heat
Mon., Feb. 28, 2011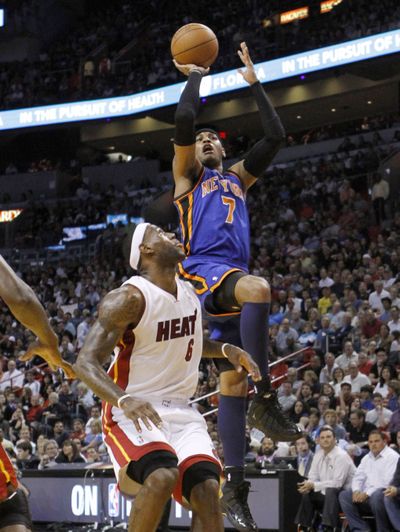 NBA: Carmelo Anthony scored 29 points, Amare Stoudemire added 16 points and a huge blocked shot against LeBron James with 7 seconds left, and the visiting New York Knicks stunned the Miami Heat 91-86 on Sunday night.
Chauncey Billups had 16 points, including the go-ahead 3-pointer with 1:01 left for New York, which rallied from a 15-point, first-half deficit. Stoudemire finished with 10 rebounds for the Knicks, who improved to 2-1 since the megatrade with Denver that dramatically changed their roster.
James scored 27 for Miami, which had won seven straight at home. Chris Bosh added 20 points and 12 rebounds, and Dwyane Wade finished with only 12 points for the Heat.
• Lakers edge Thunder 90-87: Pau Gasol had 18 points and 11 rebounds, Kobe Bryant scored 17 points and the visiting Los Angeles Lakers extended their cushion over Oklahoma City in the Western Conference standings by beating the Thunder 90-87.
Russell Westbrook led Oklahoma City with 22 points and Durant scored 21. The Thunder were held to a season-low 31 second-half points.
• Love has 37 and 23; T-Wolves beat Warriors: In Minneapolis, Kevin Love had 37 points and 23 rebounds to extend his NBA-leading double-double streak to 46 games, and the Minnesota Timberwolves snapped a seven-game skid with a 126-123 victory over the struggling Golden State Warriors.
• Crawford has 23 in Hawks' win over Blazers: Jamal Crawford had 23 points, including a key 3-pointer with 1:36 left, and the visiting Atlanta Hawks held off a late rally by the Portland Trail Blazers for a 90-83 victory.
Joe Johnson added 22 points and Atlanta led by as many as 23.
Andre Miller led the Blazers with 20 points, while LaMarcus Aldridge had 19.
• Cavs' Jamison breaks finger: Cleveland Cavaliers forward Antawn Jamison broke the little finger on his left hand in the third quarter against the Philadelphia 76ers.
Jamison was fouled while taking a shot Sunday. He immediately left the court and was taken to the locker room.
No. 16 Louisville edges No. 4 Pitt in OT
College Basketball: Kyle Kuric scored 12 points, including two big baskets in overtime, to lead No. 16 Louisville past visiting No. 4 Pittsburgh 62-59.
Kuric had a potential game-winning layup blocked at the end of regulation, but atoned by hitting a 3-pointer early in the extra session then adding the clinching dunk with less than a second on the clock.
• Johnson-led Purdue routs Michigan State: In East Lansing, Mich., JaJuan Johnson had 20 points, a career-high 17 rebounds and seven blocks, leading No. 8 Purdue to a 67-47 win over Michigan State.
The Boilermakers (24-5, 13-3 Big Ten) have won six straight to surge into contention for the conference title.
Kalin Lucas scored 15 of his 23 points in the first half for the Spartans.
• Thomas' spurt lifts No. 2 Buckeyes: In Columbus, Ohio, Deshaun Thomas, last year's Indiana Mr. Basketball, came out of a slump with 22 points to lead No. 2 Ohio State past Indiana 82-61.
Thomas scored all the points during a 14-3 first-half run that spanned 3:36 and turned the game into a rout. He had managed just 13 points in his last seven games.
• Sims has 37 points, 9 3s as Baylor beat Oklahoma: In Norman, Okla., Odyssey Sims matched a school record with nine 3-pointers and had 37 points, including the go-ahead basket in the closing seconds that helped third-ranked Baylor beat No. 16 Oklahoma 82-81.
Baylor called timeout after Sims scored on a floater in the lane with 8.3 seconds left. Danielle Robinson then went coast-to-coast for Oklahoma, getting away a shot over Baylor's 6-foot-8 Brittney Griner that hung on the rim before rolling off as the buzzer sounded.
Hainsey, Thrashers top Maple Leafs in OT
NHL: Ron Hainsey scored from the edge of the left circle in overtime and the Atlanta Thrashers beat Jean-Sebastien Giguere and the visiting Toronto Maple Leafs 3-2.
Chris Mason had 22 saves and Andrew Ladd and Tim Stapleton scored third-period goals as Atlanta rallied from a 2-0 deficit.
• Predators slip past Blue Jackets: In Nashville, Tenn., David Legwand capped Nashville's three-goal third period with the go-ahead score with 1:35 remaining to lead the Predators to a 3-2 win over the Columbus Blue Jackets.
Shea Weber and Jonathon Blum also scored for Nashville.
Rookie Matt Calvert and Kris Russell scored for Columbus.
• Toews leads surging Blackhawks over Coyotes in SO: Jonathan Toews scored twice in regulation and had the lone goal in the shootout to lead the Chicago Blackhawks over the visiting Phoenix Coyotes 4-3 for their fourth straight victory.
Marian Hossa also scored for Chicago, 6-1-2 in its last nine games.
Chicago's Corey Crawford made 26 saves, while Ilya Bryzgalov stopped 38 shots for Phoenix.
Matt wins men's World Cup slalom
Miscellany: In Bansko, Bulgaria, Austrian veteran Mario Matt protected his lead from the first run to win a men's slalom race for his first World Cup victory in nearly two years.
Matt held a narrow lead over Reinfried Herbst after the first leg and finished at 1 minute, 50.35 seconds to hold off his fellow Austrian by 0.04 seconds.
• Riesch wins women's World Cup super-G: In Are, Sweden, Maria Riesch of Germany beat Lindsey Vonn by one hundredth of a second to win a World Cup super-G race and extend her overall lead over her American rival.
Vonn watched at the bottom of the Olympia course in the Swedish resort of Are as Riesch flew over the final jump, then gave a wry smile as Riesch clinched victory.
• Del Potro wins first title since 2009 U.S. Open: In Delray Beach, Fla., Juan Martin del Potro won his first title in his first final since winning the 2009 U.S. Open, beating Serbia's Janko Tipsarevic 6-4, 6-4 at the Delray Beach championships.
• Ferrer beats Almagro in Mexican Open final: In Acapulco, Mexico, top-seeded David Ferrer of Spain defeated compatriot Nicolas Almagro 7-6 (5), 6-7 (2), 6-2 to defend his Mexican Open title.
It is Ferrer's 11th career title and extends his career head-to-head record to 6-0 against Almagro.
• Dolphins' Soliai signs franchise-tag: Miami Dolphins nose tackle Paul Soliai has signed a franchise-tag contract that guarantees him about $12.5 million for the 2011 season.
Local journalism is essential.
Give directly to The Spokesman-Review's Northwest Passages community forums series -- which helps to offset the costs of several reporter and editor positions at the newspaper -- by using the easy options below. Gifts processed in this system are not tax deductible, but are predominately used to help meet the local financial requirements needed to receive national matching-grant funds.
Subscribe to the sports newsletter
Get the day's top sports headlines and breaking news delivered to your inbox by subscribing here.
---