Sports
Former Yankees pitcher Irabu found dead
Fri., July 29, 2011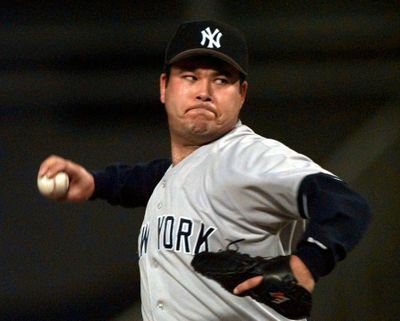 Hideki Irabu joined the New York Yankees 14 years ago in a swell of international excitement. The quirky, flamethrowing Japanese right-hander seemed destined to become a pioneering star for American baseball's marquee franchise.
Irabu never reached those enormous expectations, and his career spiraled. On Wednesday, the 42-year-old was found dead, an apparent suicide in a home in Rancho Palos Verdes, a wealthy Los Angeles suburb.
"He was a world-class pitcher," said former major league manager Bobby Valentine, who managed Irabu in Japan in 1995. "When Nolan Ryan saw him, he said he had never seen anything like it. There were just some days when he was as good a pitcher as I had ever seen."
Indians acquire Fukudome from Cubs
The Cleveland Indians have acquired outfielder Kosuke Fukudome from the Chicago Cubs to help their sagging offense.
The Indians dealt Triple-A right-hander Carlton Smith and Class-A outfielder Abner Abreu for Fukudome, a day after being no-hit by the Angels Ervin Santana.
Outfielder Travis Buck (Richland) was designated for assignment to clear roster room in Cleveland.
Jeter: 3,000-hit film for posterity, kids
Derek Jeter allowed cameras to follow him during his pursuit of 3,000 hits partly because "if and when" he has children, he'd like them to be able to see him as a player.
In the hour-long documentary that premiered Thursday night on HBO, the Yankees shortstop says he's jealous of teammates whose kids get to watch their dads while they're still playing.
New York's normally private captain wore an in-game microphone and did an interview at his home for the first time for "Derek Jeter 3K."
Clearing the bases
The Milwaukee Brewers placed second baseman Rickie Weeks on the 15-day disabled list before their game against the Cubs. Weeks beat out a throw in the second inning from Cubs shortstop Starlin Castro, but took a long stride, twisting the ankle awkwardly while touching the base. He stumbled to the ground. … Texas Rangers outfielder Craig Gentry was placed on major league baseball's new seven-day concussion disabled list. Gentry was injured last Sunday when his helmet came off as he slid headfirst and made contact with Toronto second baseman Aaron Hill's leg.
Local journalism is essential.
Give directly to The Spokesman-Review's Northwest Passages community forums series -- which helps to offset the costs of several reporter and editor positions at the newspaper -- by using the easy options below. Gifts processed in this system are not tax deductible, but are predominately used to help meet the local financial requirements needed to receive national matching-grant funds.
Subscribe to the sports newsletter
Get the day's top sports headlines and breaking news delivered to your inbox by subscribing here.
---