Ridpath Hotel's future still in doubt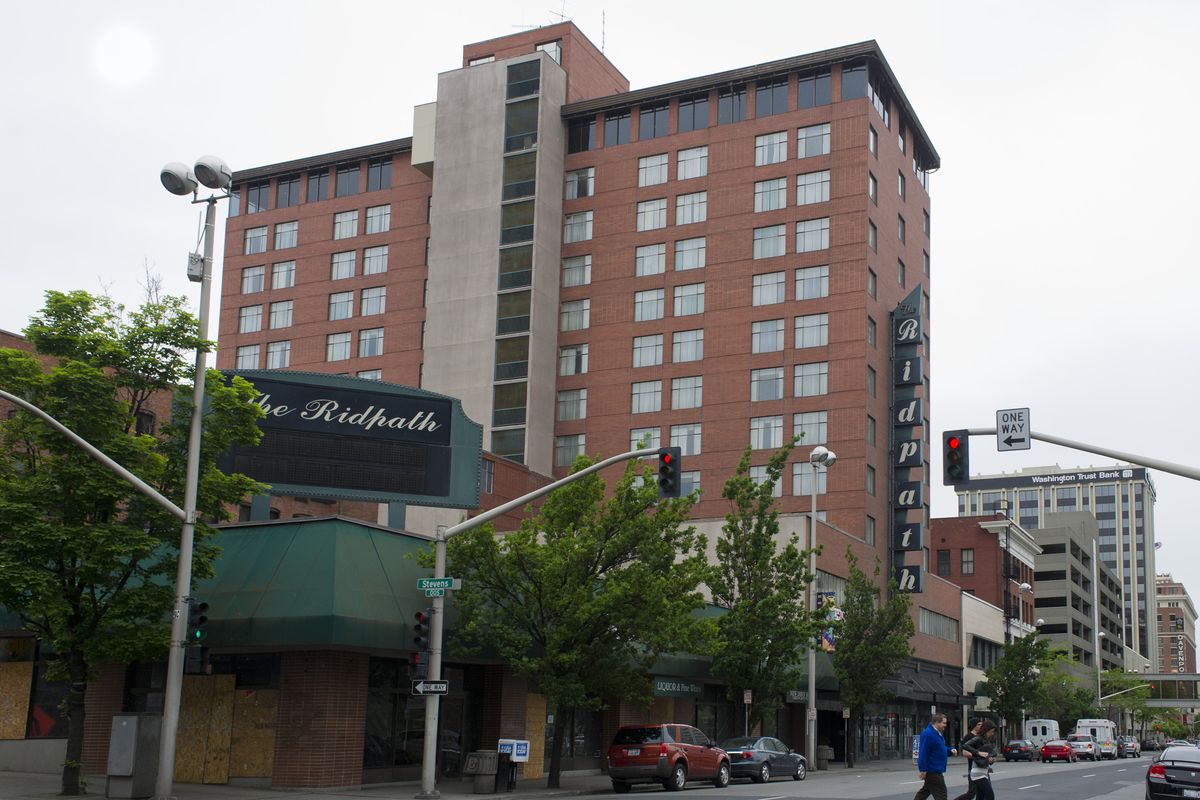 Two months after the city of Spokane cracked down on the owners of the decrepit Ridpath Hotel, cleanup efforts are slowly moving forward.    But even as plans for bringing the iconic downtown hotel back to life are being publicly aired, the obstacles remain daunting, from a wildly complicated ownership picture to a variety of legal entanglements and a weak economy.
Last week, city officials took the next step in their demand for a cleanup. Following two hearings, several inspections and weeks of limited progress, letters identifying specific code violations were sent to property owners. Owners have taken steps to better secure the building and performed some cleanup work, but many of the city's demands remain unmet – most urgent is the need for fire detection and suppression systems, officials say. Not one of the owners has provided a written plan for cleanup or a long-range plan for their property.
The biggest roadblock is the tangled and divided ownership of the main Ridpath tower and two neighboring buildings, with several parties holding some 29 pieces of the property. Some properties are under foreclosure or headed that way, and a recent bankruptcy has added to the problems. Several owners are locked in a legal battle over past sales. The mess is making it hard to get basic problems fixed, such as broken windows, building security and fire safety, and creating a nightmare over access to water, power and other utilities.
Now a central player in the hotel – a man at the crux of many of the piecemeal deals of recent years – faces legal problems that may further complicate the scenario. Greg Jeffreys is accused in a recent lawsuit of fraudulently taking $1.3 million owed to his lender and disbursing it to others, including his family and himself. He is also a key defendant in a lawsuit filed by several property owners at the Ridpath, who accuse him of misrepresenting property values, among other things.
"That building is in a financial avalanche right now," Lawrence "Mickey" Brown, who owns part of the property and is among those suing Jeffreys, said at a city hearing in late May. "It's in free fall, and its value is dropping by the second."
Brown told the city building official at the hearing that he has a vision for the Ridpath, complete with people willing to spend the money on a major project – but only once the legal situation is cleared up.
Another man, Stephen Antonietti, has put together a plan to consolidate ownership of the building and reopen it as a hotel. Antonietti, a local builder and investor, is making offers on behalf of an investment group on two major pieces of the hotel, acting as a contact person for several Ridpath owners, working on repairs, and meeting with city officials and bankers trying to move his plan forward, he said.
"I believe my long-range plan can come forth in the next six to nine months," he said.
But questions about Antonietti's background are surfacing – including a 2008 felony conviction for grand theft, a bankruptcy filing in 2002 and the fact that he's changed his name twice.
Antonietti says he's a serious player, with about half of the $25 million he needs to bring about an ambitious revitalization of the property. He says he's been the target of a gossip campaign, but he's been working on his proposal for nearly two years, negotiating with banks and others who wouldn't work with him if he weren't legitimate, he said.
"We're going to bring back a piece of history in this town," he said.
A long history
Until it closed in August 2008, the Ridpath was touted as Spokane's oldest continuously operated hotel. Construction began in 1899, and the hotel opened in 1900, owned by Col. William Ridpath and later his descendants.
If it was never quite the Davenport, its local history was rich. Fire destroyed the Ridpath twice – in 1902 and 1950. Famous politicians spoke there. Elvis and, reportedly, Michael Jackson stayed there. Scores of community balls, art shows and other events took place at the Ridpath, and its top-floor restaurants – first the Rooftop and later Ankeny's – were among the city's special-occasion restaurants and boasted the best city views around.
The original tower, built in the middle of the 500 block between West Sprague and First avenues, grew over the years to include buildings around it. In 1937, the Ridpath bought the YWCA building next door, at the corner of First and Stevens, and expanded into it. In 1963, the former Spokane Hotel – across First from the Ridpath – was purchased and turned into the Ridpath Motor Inn, connected by the city's first skywalk. Eight years later, the owners of the Ridpath purchased the building at Sprague and Stevens, the former Halliday Hotel.
The roots of the current division of ownership date to 2006, when Las Vegas hotelier Douglas Da Silva bought the property. Earlier that year, a local investment group had purchased the so-called Executive Court annex across the street. The hotel's luster had been diminishing for years, with the annex and Ankeny's having closed; Da Silva retained just 16 of the hotel's 56 employees at the time. In 2008, the hotel was shut down abruptly – much of the upstairs inside the tower still looks as it did the day the place was locked.
The ownership of the hotel had already begun breaking it into condominiums. Jeffreys purchased a lot of it, then made a variety of deals that divided the ownership further, selling the Halliday building and "units" in the Ridpath. Jeffreys owns most of the Y building and the top two floors of the Ridpath; various top-floor projects were floated but never came to pass. Other business ventures in the building failed, and acrimony developed among some property owners.
The result is a mind-bogglingly complex situation. Many people say the flawed execution of condo and easement agreements has created a situation in which some property owners have no access to water, power or other services.
"To me, it's a complete travesty what's gone on there, the way the ownership is broken up," said Tom Hammons, senior vice president of the Bank of Whitman, which owns some commercial spaces on the First Avenue side of the block as a result of a foreclosure.
Meanwhile, the floor-level spaces were demolished inside, much of that by Jeffreys. From the street, the hotel began to look worse and worse. Transients moved in and out – at one point, someone took bedding and lights from the upstairs hotel rooms and created a "bedroom" behind piles of debris in one of the ground-floor spaces, Antonietti said.
By early this year, the hotel had come to look blighted and filthy – broken windows, graffiti, litter and stench were the most notable features.
In April, the city gave property owners 45 days to respond to complaints and provide written plans for cleanup and their long-range goals for the property. At a hearing May 26, property owners and city officials discussed progress at the building. Some of the problems had been addressed, but many had not.
City Fire Marshal Lisa Jones said the need for adequate fire detection and suppression systems was urgent.
"I want to see those things get serviced immediately," Jones said. "My next steps are civil infractions, criminal summons and complaint-type activities and worse, which I don't want to even mention right now."
Building officials spent time during the hearing trying to determine whether some of the properties were too far gone to feasibly repair. In extreme cases, the city can declare a building "unfit" and order it demolished.
"It is not our intention to cause the building to be demolished at this time," said building official Dan Skindzier. "But that could be considered for various portions at some time in the future if warranted."
Letters to the property owners went out late last week outlining how well each has met, or has failed to meet, code requirements. The letters won't be made public until the owners have a chance to review them, but in at least one case the notice of violations came with a fine of several thousand dollars, Antonietti said.
The May 26 hearing and the current batch of letters don't include problems on the top two floors of the hotel. Jeffreys owns those floors – divided into 12 separate parcels – and the city has set a separate hearing for them.
Tangled web
One city requirement that no building owner has satisfied is a written plan on their long-range goals and how they'll address code violations.
One after another, the owners say the current mess essentially prevents any kind of reliable long-range planning.
"I have a big picture here for this place," Brown said, according to a recording of the hearing. "I've had it for a year. We have not neglected what is an icon here in the city of Spokane, OK? But I can't give it to you. And the reason why I can't give it to you is because we've got problems with ownership. … What has to happen is collaboration and cooperation; it's not happening right now because people got taken."
Brown did not return calls seeking comment for this story. But he's apparently referring to claims that he and several others have brought against Jeffreys and others over several transactions at the Ridpath. A lawsuit in Spokane County Superior Court alleges fraud and conspiracy to misrepresent the true value of properties in a series of transactions in 2007 and 2008. The suit was filed last year, and is set for trial in February.
A separate suit filed last year also alleges Jeffreys used inflated appraisals in a pair of land sales in Airway Heights.
More recently, Jeffreys was sued by Washington Trust Bank, which accuses him of breach of contract, fraud, misrepresentation, unjust enrichment and conversion – the civil counterpart of theft. That lawsuit arises from a military-recruit processing station one of Jeffreys' companies built on the West Plains last year, under contract from the federal government. As part of the security for financing, the bank was to receive a lease payment of $1.8 million owed to Jeffreys by the General Services Administration.
The payment was supposed to go directly to the bank, but the GSA mistakenly put the money into one of Jeffreys' LLCs. The bank says Jeffreys then moved the money into his checking account and disbursed it to others, while telling the bank he hadn't received it. Some $180,000 went to him and his family members, the bank says.
Jeffreys did not respond to requests for an interview in recent weeks. He says in court documents that he consulted with a bank official and got approval for what he did with the money, including making a partial payment to Washington Trust. The bank denies that, saying it would not allow him to simply take the money it was owed without any security, especially "given Mr. Jeffreys' history of non-payment."
"Mr. Jeffreys' assertions are false and could not be believed by any reasonable person," the bank said in court papers.
A grand plan
Antonietti, meanwhile, has spent 19 months on his plan to consolidate the ownership and reopen it as a hotel and entertainment complex. He's started a website detailing his plans.
He won't say much specifically about his backing, but says he's putting together an investment group to make the purchases. He is making an offer on the first 11 floors of the main Ridpath building through Bankruptcy Court, he said, and then will purchase the Halliday building. At that point, he said, he would try to buy the note on the top two floors and other properties held by Jeffreys.
"I've been told if I can purchase the bottom floors of that building, then (the bank) will sell me the note on the top two floors and I become the lender," he said. "Once I become the lender, then I can foreclose Mr. Jeffreys out."
Questions about Antonietti's past have become a subject of some discussion. A former partner in a California motorsports shop, he was charged in 1992 in Los Angeles with two counts of grand theft of property and one count of grand theft of a vehicle. Court documents accuse him of taking property from two people and a 1977 Datsun from a third.
He says he moved to Spokane without knowing of the charges or that a $50,000 arrest warrant had been issued for him and his wife at the time. He said the problems arose from a check his wife wrote, about which he had no knowledge. He said he learned of the warrant during divorce proceedings, and immediately returned to California, paid $20,000 in restitution and pleaded guilty to a single count of grand theft, for which he was sentenced to three years of probation. He's now applying to have that reduced to a misdemeanor.
"When I found out about it 16 years later – as soon as I found out something was wrong – I went down and took care of it," he said.
He argued in court records that the state failed its speedy-trial duty to him, because he was in Spokane since 1991, using the same Social Security number, and could easily have been found.
During that time, he legally changed his name from Stephen Tancraitor to Stephen Katterfeld to Stephen Antonietti. He said he took the name Katterfeld so his wife's family could carry on the family name, and then changed it to his grandparents' name when he remarried. He's now divorced and remarried again.
His vision for the Ridpath includes added floors atop the Halliday building, ballrooms, a nightclub, an outdoor concert space and an elaborate circular drive entrance with shops. The idea is modeled on tribal casinos – one-stop facilities for a wide range of recreation and amenities. He says the plan to restore the Ridpath, Halliday and Y properties would be about a $25 million project; eventually expanding across the street into the former motor court space would add another $5 million to $15 million to the price tag.
"Our plan is to make this a destination, rather than a hotel," Antonietti said.
But he knows that there's a lot of untangling to do before anything can happen.
"It's a giant mess, and that's why it's taken me so long to work through it," he said.
---