Sports
Thompson, Casto All-Pac-10
Mon., March 7, 2011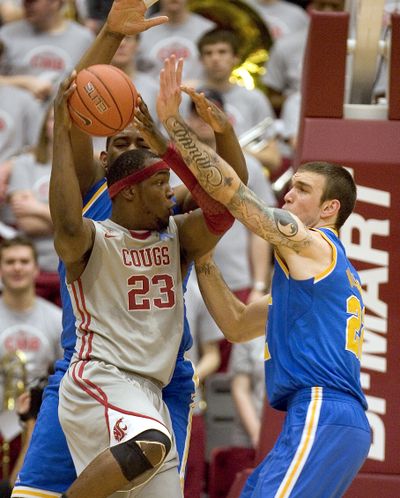 PULLMAN – Washington State wing Klay Thompson was named to the 10-man All-Pac-10 Conference first team Monday, the second consecutive year the junior earned the honor. Post DeAngelo Casto, the junior from Spokane's Ferris High, was a second-team selection and, for the second consecutive year, a first-team all-defensive team honoree, one of five players in both groups. "I would not have been shocked if DeAngelo made first team either," WSU coach Ken Bone said, adding he was not shocked by the selections. "He's had a great conference season. I am glad he was voted on the second team." Thompson, who is currently serving a suspension as a result of a Thursday night misdemeanor marijuana citation, leads the Pac-10 in scoring at 21.4 points per game (20.8 in conference play), while also leading WSU with four assists per contest. He is second on the team in rebounding, averaging 5.1 per game. Bone said Monday that Thompson's status for Thursday's Pac-10 tournament opener vs. Washington will be determined by Tuesday morning. Casto, who averages 12 points and 6.8 rebounds, is third in the Pac-10 in blocks, with 44, but may be first in charges taken, though no official statistic is kept. The 6-foot-8, 255-pound Casto consistently matches up against taller player as WSU's starting center and still is shooting 60 percent from the floor. "He's done a great job in conference play," Bone said. "Almost every game he's had a good game." Casto, who earned honorable mention All-Pac-10 honors last season, averaged 13.6 points, 7.3 rebounds and shot 62.7 percent from the floor in conference action. Derrick Williams of league champion Arizona, was named the player of the year, while his coach Sean Miller earned the coaching award. Williams was the only Wildcat on the first or second team. Washington's Matthew Bryan-Amaning, who, along with teammate Isaiah Thomas was named to the first team, was also honored as the most improved player. Cal's Allen Crabbe was the freshman of the year and Marcus Simmons of USC was picked as the defensive player.
Local journalism is essential.
Give directly to The Spokesman-Review's Northwest Passages community forums series -- which helps to offset the costs of several reporter and editor positions at the newspaper -- by using the easy options below. Gifts processed in this system are not tax deductible, but are predominately used to help meet the local financial requirements needed to receive national matching-grant funds.
Subscribe to the sports newsletter
Get the day's top sports headlines and breaking news delivered to your inbox by subscribing here.
---