News > Idaho
Edgar Steele guilty on all counts
Thu., May 5, 2011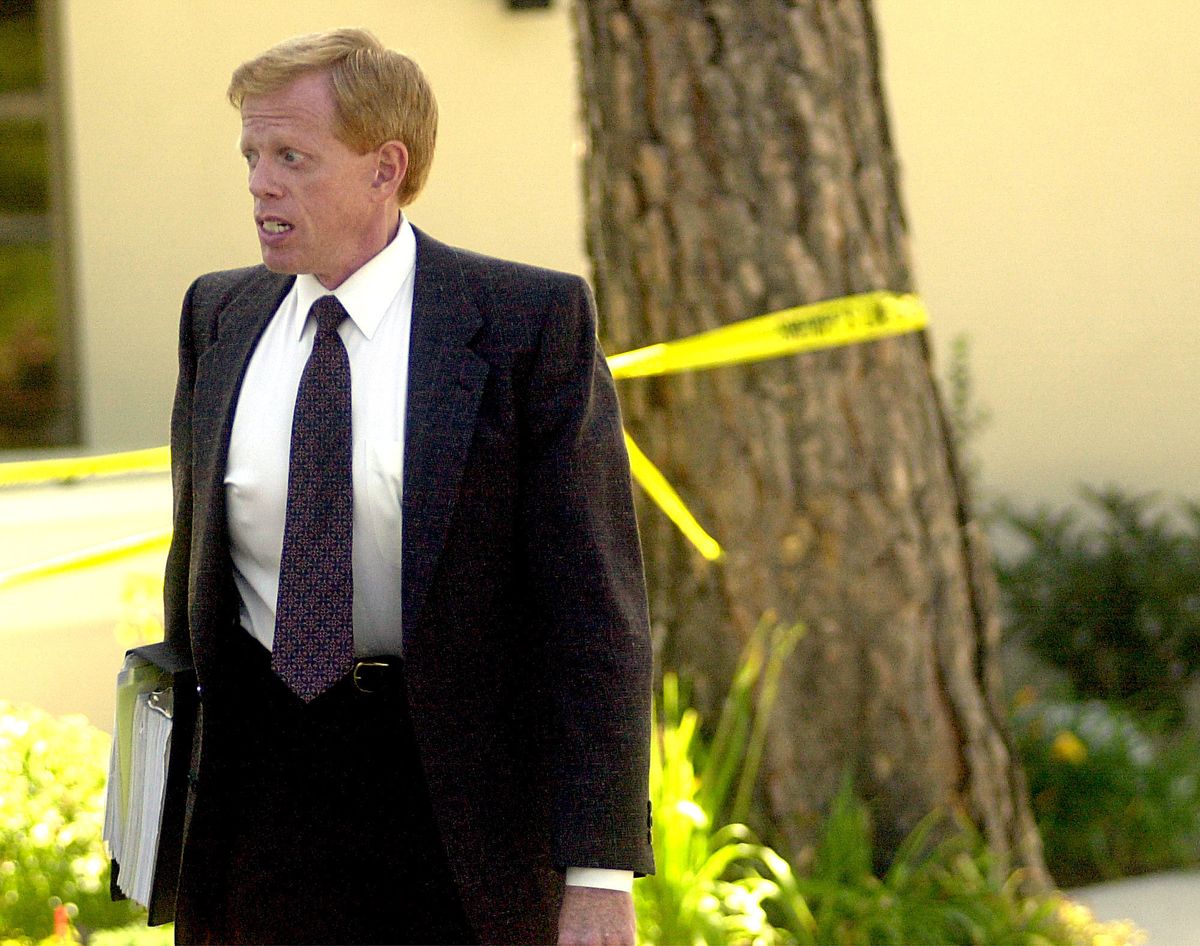 Edgar Steele, attorney for Richard Butler, leaves the Kootenai County Courthouse in August 2000. (Kathy Plonka / The Spokesman-Review)
BOISE — A North Idaho lawyer accused of plotting to to kill his wife and mother-in-law failed to convince a federal jury Thursday that he was the victim of a government conspiracy to silence him. The jury of 11 women and 1 man convicted Edgar Steele on all four counts, which alleged he'd hired a hitman-turned-FBI-informant to kill his wife, Cyndi Steele, and mother-in-law. Federal agents foiled the plan, though a pipe bomb later was found attached to Cyndi Steele's sport utility vehicle. Cyndi Steele, however, stood by her husband throughout the case. "He's innocent," an emotional Cyndi Steele said after the verdict was read. "He did not do this, and we have the proof, which was denied in the courtroom." Edgar Steele, 65, a self-described "attorney for the damned" who gained notoriety in 2000 for his defense of the Aryan Nations against a civil lawsuit that bankrupted the racist group, is to be sentenced Aug. 22 in Coeur d'Alene. He faces at least 30 years in prison. The Steeles contend secret FBI recordings of Edgar Steele plotting the would-be murder with the family's handyman, Larry Fairfax, were fabricated. But an audio expert that Steele had hired to question the authenticity of the recordings was unavailable to testify because he reportedly was vacationing in Bora Bora. Defense lawyer Robert McAllister said he expects Steele will appeal. Jurors began deliberating Wednesday afternoon following a week and a half of testimony. Cyndi Steele said Thursday that her husband believes everyone is entitled to legal representation and had agreed to represent the Aryan Nations' founder, Richard Butler, against the lawsuit, not the racist group itself. She said her husband disagreed with some of Butler's positions but supported his right to legal representation, and has paid a heavy price over the years for that commitment. Edgar Steele also had hosted a webcast that was popular among white supremacists, and is regularly cited on racist Internet message boards. From the beginning, Steele and his supporters accused the government of targeting him because of his willingness to provide legal representation for unpopular individuals. But U.S. Attorney Wendy Olson said Thursday that before being advised by Larry Fairfax last year that he'd been hired to kill Cyndi Steele, none of the agents or prosecutors assigned to the case had even heard of Steele. "Edgar Steele chose to target himself when he offered money to Larry Fairfax for the murder of his wife," Olson said outside the courtroom. The case was moved to Boise after the trial was delayed March 7 at the last minute in Coeur d'Alene. Steele's supporters are critical of prosecutors for going easy on Fairfax, who failed to tell agents he'd already planted a pipe bomb on Cyndi Steele's vehicle when he advised them of the murder-for-hire plot. Fairfax was arrested June 15 after Coeur d'Alene auto shop workers found the pipe bomb under Cyndi Steele's car. Fairfax pleaded guilty last October to two federal weapons charges and is to be sentenced after Steele's trial. Prosecutors say Steele wanted his wife killed so he could pursue a relationship with a 25-year-old Ukrainian woman. Steele sent more than 14,000 messages to the woman and others whom he met through an online dating website. His wife and other supporters said the communication was part of his research into Russian mail order brides. In the secret FBI recordings, Steele discussed planned alibis for the day his wife is to be killed. Before his arrest, investigators told Steele his wife was dead to observe his reaction and see if he brought up the proposed alibis. Police described Steele's reaction as flat and forced until they told him he was under arrest for murder for hire and a fecal odor filled the air. "I would submit that his body reacted and told more truth than his mouth did," Assistant U.S. Attorney Marc Haws said in his closing argument Wednesday.
Watch for continuing updates at spokesman.com and for complete coverage in Friday's edition of The Spokesman-Review.
Local journalism is essential.
Give directly to The Spokesman-Review's Northwest Passages community forums series -- which helps to offset the costs of several reporter and editor positions at the newspaper -- by using the easy options below. Gifts processed in this system are not tax deductible, but are predominately used to help meet the local financial requirements needed to receive national matching-grant funds.
Subscribe now to get breaking news alerts in your email inbox
Get breaking news delivered to your inbox as it happens.
---