News > Spokane
Ex-city economic director to lead Condon transition
Verner concedes, discusses departure plan
Wed., Nov. 16, 2011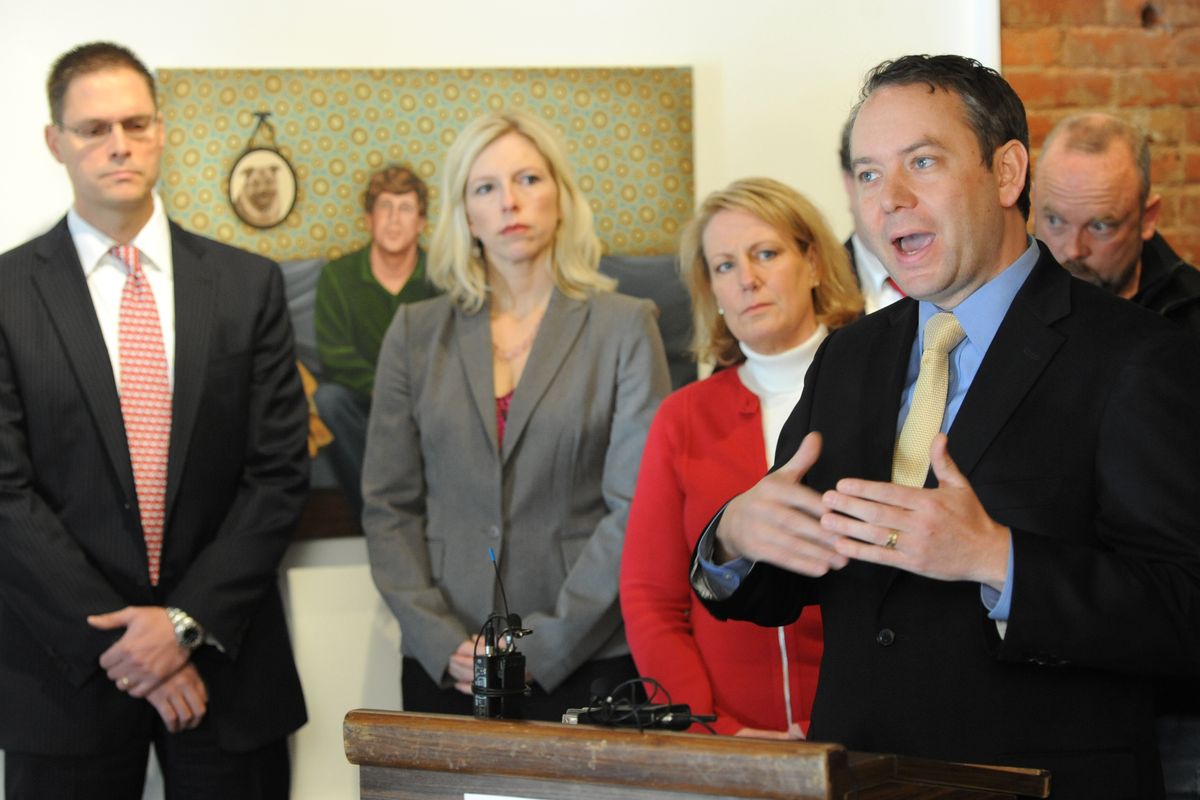 Spokane Mayor-elect David Condon, right, speaks to the media about his transition team Tuesday at Second Space Gallery. He named three of his transition team members, including, from left, Ezra Eckhardt, Katy Bruya, and Theresa Sanders. (Jesse Tinsley)
Spokane Mayor-elect David Condon on Tuesday announced that his transition will be led by the city's former economic development director, and he promised to oversee an open government.
"Obviously, I am very humbled, very, very humbled at the outpouring of support that the voters have shown. I do think that it is a true honor to serve and to be expected to serve as their mayor," Condon said at a news conference Tuesday at the Second Space Gallery in downtown Spokane. "I'm dedicated to living up to the trust the voters have put within me. The voters clearly want a City Hall that's open, accountable and responsive."
Theresa Sanders, who served as the city's economic development director from 2007 until 2009, will oversee five task forces that will focus on public safety, growing jobs, the city budget, meeting "infrastructure needs without drastic increases in our utility rates," and enhancing quality of life. Each committee will prepare recommendations for Condon's transition to mayor of Washington's second-largest city, as well as recruit new administrators.
"The role of the transition committee over the next several weeks is to help me find talented people that are willing to help me as the mayor serve the people of Spokane and help me to prepare the city to work effectively from day one," Condon said.
Spokane Mayor Mary Verner conceded the race on Tuesday, and said she waited this long because she owed it to her supporters to make sure voters had their say.
"I have only a few days left in this year to make sure that I leave the city in good condition," Verner said at her Steam Plant Square campaign headquarters in downtown Spokane. "We used to go camping when I was a kid and I was always taught that you leave your site better than when you found it, and that's what I'm trying to do with the city." Condon said his top goals will be working to fix the economy and getting the city's "costs under control."
"We need to get our economy back. How does Spokane become a jobs magnet?" Condon said. "How do we make it a great place to locate a business, and also how do we grow businesses locally?"
He said he will accept recommendations from the public for his transition at condontransition.org.
As mayor, Condon will have the authority to dismiss most department directors and assistant directors without cause. He said he plans to meet with all of them in the coming weeks.
During the campaign he only pinpointed one City Hall employee who was likely to lose his job, Assistant City Attorney Rocky Treppiedi. Treppiedi has led much of the city's response to a lawsuit it faces from the family of Otto Zehm, who died after a police confrontation in 2006. Assistant city attorneys serve at the pleasure of the city attorney, who serves at the pleasure of the mayor.
On Tuesday, Condon said Treppiedi's status, like all at-will employees, will be reviewed in the coming weeks.
"What I've been privy to is, I would have a lack of confidence in … the legal opinions of Rocky at this point, but we'll make those decisions as we get into City Hall," Condon said.
Standing in the audience at the news conference was Treppiedi's boss, City Attorney Howard Delaney. Afterward, Delaney said he attended the news conference because he's "looking forward to working on the transition and preparing the city for a new mayor."
Asked about his future with the city, Delaney said he believes his tenure leading the city attorney's office "has been a positive one." Delaney said it would be inappropriate to comment about Treppiedi's future "until I've had a chance to talk with the mayor-elect."
Sanders, who was active in Condon's campaign, was hired at City Hall by former Mayor Dennis Hession but quit after two years, citing an inability to "change the culture."
Condon said that he will have 40 to 50 people on his transition team. The co-leaders of the team will be Ezra Eckhardt, president and chief operating officer of Sterling Savings Bank, and Katy Bruya, senior vice president of human resources at Washington Trust Bank. The only other member Condon announced Tuesday was City Council President-elect Ben Stuckart, who attended the news conference.
Condon said that he had not yet heard from Verner and scheduled the news conference Tuesday because he believed that Verner would concede Monday night.
"The reality is we've got a lot of work ahead of us," Condon said. "There's six weeks and a couple of major holidays, so we need to get to business."
Verner said she will move forward on working to restructure the city's water rates. Last year's change to lowered rates for those who use less water and higher rates for those who use more was criticized by Condon on the campaign trail, and Verner said in September that the rates should be revisited. She has submitted two rate proposals for the City Council to consider next month.
"It will be good for the city if we revisit those water rates and have a different rate structure in place before Jan. 1," Verner said.
Condon said unless the council goes back to the old rate structure, it should wait until next year with new leadership in place to determine rates.
Verner posted two messages on her Facebook page Tuesday morning. One was a typical concession statement that thanked the voters for allowing her to serve on the City Council and as mayor. The other criticized the Condon campaign for a "partisan domination strategy with out-of-town consultants, push polls, and shrewd positioning of issues in collaboration with media mouthpieces."
Verner said she plans to remain in Spokane and did not rule out running for office again.
"I will continue to serve this community in some other capacity," Verner said. "I am a single mom and I will of course have to have a paycheck and I will be looking for a job."
On Monday, Verner announced that she will request that the U.S. Department of Justice open an investigation into the city's Police Department. Some of her supporters speculated that had she announced the decision earlier, she might still be in office, but Verner said doing so before the completion of the criminal trial of Officer Karl F. Thompson Jr., who was convicted less than a week before the election, could have jeopardized Thompson's right to a fair trial.
"Had I done those for political purposes I would have abandoned my commitment to make the decisions that are always in the best long-term interests of the city of Spokane," Verner said. "So, I certainly reached a point where I had to weigh Mary Verner's interest versus the city of Spokane's interest. Ultimately, I certainly regret losing the election, but I will never regret putting the city of Spokane first."
Local journalism is essential.
Give directly to The Spokesman-Review's Northwest Passages community forums series -- which helps to offset the costs of several reporter and editor positions at the newspaper -- by using the easy options below. Gifts processed in this system are not tax deductible, but are predominately used to help meet the local financial requirements needed to receive national matching-grant funds.
Subscribe now to get breaking news alerts in your email inbox
Get breaking news delivered to your inbox as it happens.
---