News > Pacific NW
Protests shut down special hearing on budget
Nov. 28, 2011 Updated Mon., Nov. 28, 2011 at 8:23 p.m.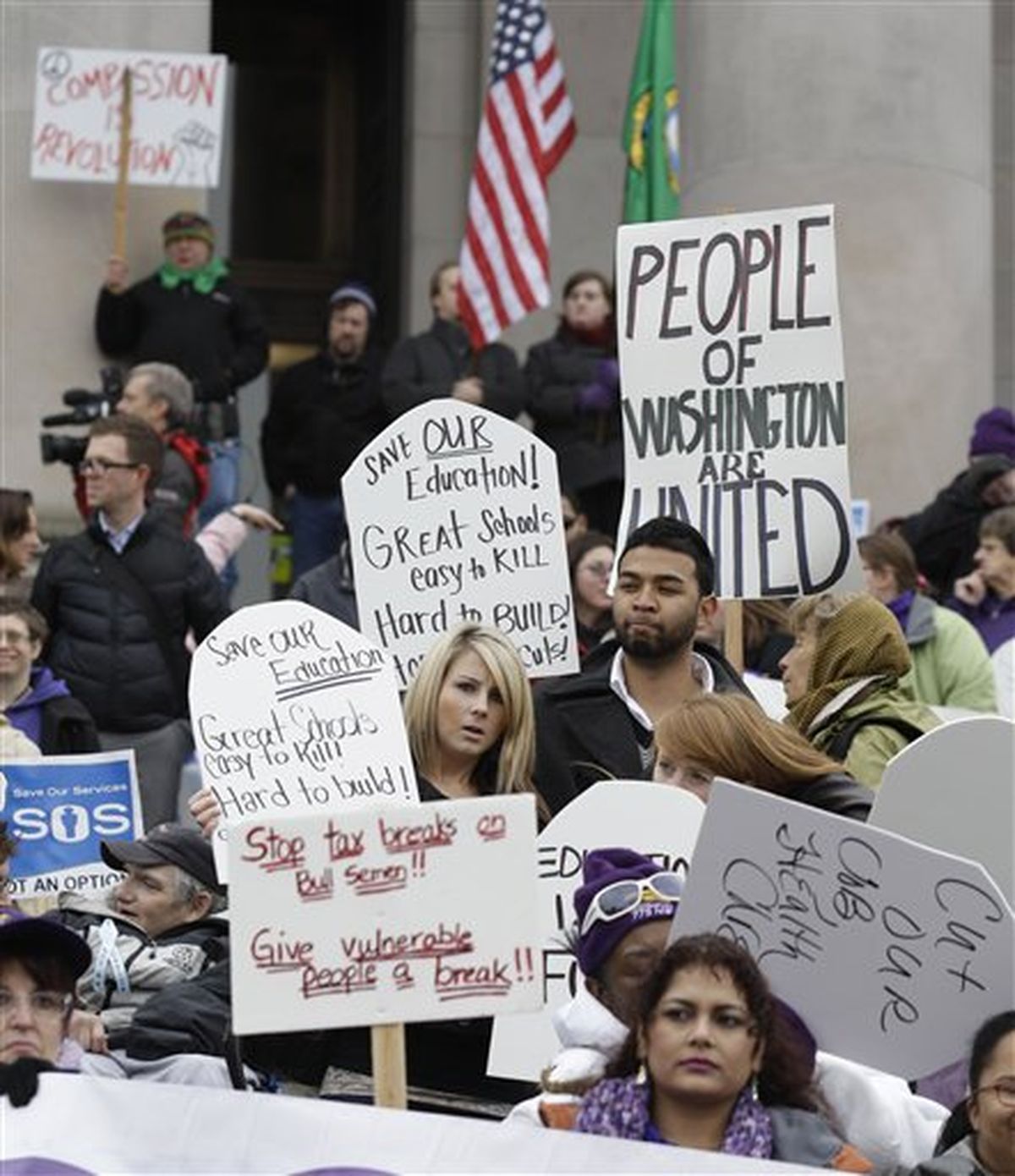 Protesters demonstrate against budget cuts outside the Capitol in Olympia on Monday, on the first day of a special 30-day session of the Washington state Legislature focused on addressing the state's $1.4 billion shortfall. (Ted S. Warren / a)
OLYMPIA – Fasten your seatbelts, to paraphrase Bette Davis. It's going to be a bumpy month. Amid chants in the hallways and rallies on the Capitol steps, the Legislature began its 30-day emergency session to close a $1.4 billion gap in its operating budget. Social service agencies and teachers journeyed to Olympia to ask legislators to close some of the gap with new taxes rather than cuts. State aid recipients offered touching and sometimes tearful testimony about how program cuts would affect them. Four protesters were arrested and booked into jail Monday evening for refusing to leave the Capitol, while 30 others were cited for trespassing but released with warnings that they would be taken into custody if they return to the capitol campus over the next 30 days, authorities said. Four more protesters were shocked with Tasers when troopers intercepted them trying to force their way into the building after it was closed to the public around 5:30 pm. After repeated warnings from the Washington State Patrol, demonstrators who linked arms around or near the Christmas tree in the Rotunda were carried one at a time down marble steps by four or five troopers and cited for trespass. "We respect your right to free speech and protest. We ask you to do it within the building's hours," Lt. Mark Arras, the acting captain of the Capitol Campus unit, told them before troopers moved in. "This is not a protest, this is an occupation," one demonstrator shouted back. Asked if he was prepared to have troopers clear the building every evening during the session, Batiste replied: "If we have to, yes." Earlier in the day, some 200 members of "Occupy" demonstrations from Puget Sound communities shouted "We are the 99 percent" from the gallery above an empty Senate chamber: "Let's not go home…We can stay all week, maybe next week until our message is clear." Other protesters caused a temporary halt to a hearing of the House Ways and Means Committee hearing that was set up to take testimony on budget cuts. Over the course of the day, some 3,000 protesters made an appearance on the Capitol campus, State Patrol Chief John Batiste estimated. The demonstrators were far from unified in their message. Some supported the temporary half-cent increase in the state sales tax Gov. Chris Gregoire has proposed to restore about $500 million in programs from her basic spending plan that closes the budget gap by cuts. Gregoire said last week she isn't expecting the Legislature go find the two-thirds majority needed to raise the taxes on its own; instead she's hoping a simple majority in both houses will approve legislation to put the idea before voters in a special statewide election in March. "It's not the best tax. But it would help some," said Debbie Rose, a Mead School District teacher who came to Olympia Monday to join other teachers protesting proposed cuts to public schools. Putting the tax proposal before voters makes sense because it's unlikely a super majority of the Legislature would approve it, Rose and other Spokane area teachers agreed. "But you hear more talk about revenue than ever before," Bev Schaefer, a teacher from East Valley said. In an interview just before the formal start of the session, Senate Majority Leader Lisa Brown said most Senate Democrats oppose a plan that closes the state's $1.4 billion budget gap solely with cuts, but there's no agreement at this point on where to find more tax revenue. "It's going to take a little while to figure this out," Brown, D-Spokane, said meeting with her caucus. "Some level of reduction is inevitable." They haven't yet discussed Gov. Chris Gregoire's proposal to raise the state sales tax by one-half cent per $1 for three years, Brown said. She added that she couldn't speculate on whether there would be agreement that the governor's proposal would contain the proper amount, time or programs to be restored.
Local journalism is essential.
Give directly to The Spokesman-Review's Northwest Passages community forums series -- which helps to offset the costs of several reporter and editor positions at the newspaper -- by using the easy options below. Gifts processed in this system are not tax deductible, but are predominately used to help meet the local financial requirements needed to receive national matching-grant funds.
Subscribe now to get breaking news alerts in your email inbox
Get breaking news delivered to your inbox as it happens.
---