Sports
Report: Ex-Coug Harrison has brain tumor
Thu., Oct. 20, 2011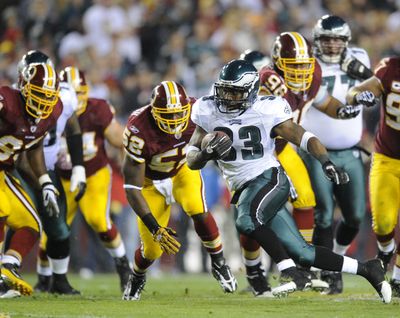 PHILADELPHIA — Jerome Harrison thought a trade to the Eagles would bring a new career opportunity. The deal fell through, but it may have saved his life. Eagles doctors found a brain tumor when they examined Harrison, according to an NFL source. The outlook for his recovery and playing career are both good, though he probably won't play again this year, ESPN reported. The story brought immediate recognition of the chain of events that led to the crucial diagnosis. Had the former Washington State University standout not left the Eagles as a free agent last summer; and had he not signed with Detroit, where he got few carries; and had the Lions not needed a new running back because of an injury to starter Jahvid Best; and had the Eagles' Ronnie Brown not tried an ill-advised pass Oct. 2, leading the Birds to trade him in a deal that would have brought Harrison back to Philadelphia; and had the two teams not pulled the move together just before the NFL trading deadline Tuesday, then Harrison would not have had the physical Wednesday that revealed the tumor. Instead, doctors found the problem. And while the trade was voided, the much bigger picture is that Harrison learned about a serious ailment that can be treated. The Eagles declined to comment on Harrison on Thursday since he is again a Lion. His agent did not return a call seeking comment. Harrison, 28, did not practice Thursday. The Lions injury report listed him as out with an "illness." Lions head coach Jim Schwartz would not discuss the player's health. "It's a privacy issue, and I'm not going to comment on it," Schwartz said, according to the Detroit Free Press. "He's back on our 53-man roster." There were few details about the tumor — crucially, no public reports said whether it is benign or malignant — but brain tumors can often be treated. Depending on the type of tumor, surgery, radiation or chemotherapy could be used. If it can be treated with only surgery, "the success rate is very high, especially if it is benign," said Rodwan Rajjoub, medical director of neurosurgery at Susquehanna Health Systems in Williamsport. "Usually the effect from surgery is very minimal." Malignant tumors can also be treated, though the prognosis depends on the exact type. Brain tumors, even benign ones, can develop into adulthood and may go undetected for years, Rajjoub said. They are often found after a patient exhibits symptoms such as weakness or headaches. Harrison, 28, played in Philadelphia last season but was allowed to leave as a free agent. He had few opportunities to play in Detroit, though, and was happy when the Eagles moved to re-acquire him Tuesday. "I'm excited to be back," Harrison said in comments released by the Eagles after the trade. The Lions, whose starting running back, Best, is dealing with a concussion, worked out former Eagles running back Eldra Buckley, according to reports from Detroit.
Local journalism is essential.
Give directly to The Spokesman-Review's Northwest Passages community forums series -- which helps to offset the costs of several reporter and editor positions at the newspaper -- by using the easy options below. Gifts processed in this system are not tax deductible, but are predominately used to help meet the local financial requirements needed to receive national matching-grant funds.
Subscribe to the sports newsletter
Get the day's top sports headlines and breaking news delivered to your inbox by subscribing here.
---