Sports
WSU's secondary takes on challenge with enthusiasm
Sun., Aug. 19, 2012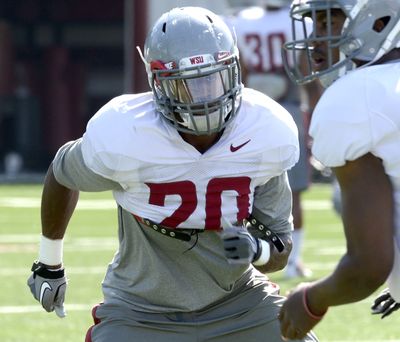 This is the sixth of eight position previews of Washington State University's 2012 football team. Monday: special teams.
PULLMAN – There is more pressure this season on Nolan Washington, on Damante Horton, on all of Washington State's cornerbacks than they are used to.
And Washington wouldn't have it any other way.
"That means we've got to rise our game up," Washington said after practice Friday. "And that's what we've been doing this fall."
It's a work in progress, says defensive coordinator Mike Breske, whose scheme – while multiple in its formations and coverages – often calls for cornerbacks to play 1-on-1 man coverage, "on an island," as some call it.
"We're getting better," Breske said. "I think we have the athleticism to do it, we've just got to be more consistent in our technique. But we also get help from our safeties, too.
"Based on our coverages, we'll still be a fire-zone team, that type of deal. We've just got to mix up our coverages, which we have the capability of doing."
Members of WSU's secondary say they enjoy this defense because it allows them to perform duties that come naturally. Corners are relied heavily upon to lock down receivers in 1-on-1 situations. Safeties, while still needed in run support, are more concerned with helping out over the top on passing plays than in years past – especially when corners blitz, which they're likely to do more this season under Breske.
"I feel like with our last defense, they wanted our safeties to come down and be in the run game a lot as well," said junior safety Deone Bucannon. "But now I feel like I'm playing more of a safety role in this defense, more than anything."
Breske, who works primarily with the safeties, has at his disposal the most experienced position group on the team. Bucannon started 19 games his first two seasons. So did Washington. Horton started 11 of 12 games last year, and fellow cornerback Daniel Simmons – the only senior corner on the roster – has 16 starts to his name.
Add in safeties Tyree Toomer (24 starts), Anthony Carpenter and Casey Locker, and WSU's defensive backfield appears one of the most experienced in the Pac-12.
So the hope is that Breske's system will improve their performance.
WSU finished 111th in passing efficiency defense last season, an area that has been deficient dating back to the Bill Doba era.
Bucannon and Horton appear to have their starting positions sealed, though there is plenty to be decided otherwise. Washington and Simmons have both seen time with the No. 1 defense at the other cornerback position during practice, and Toomer, Carpenter and freshman Taylor Taliulu – who has seen most of the starting reps recently – are battling for the starting safety spot opposite Bucannon.
A depth chart, Breske said, should be determined soon.
"We'll probably wait until our mock week until next Thursday, give it the week and make a final decision going into game week," he said.
By then, WSU hopes to be up to speed.
"As a competitor, you want that 1-on-1 matchup, and that's one thing that coach (Mike) Leach preaches – you have to win your 1-on-1 battles," Washington said. "So if they want me to guard their best receiver or whatever, I feel like I can do that because I prepared all training camp for it and all summer."
Local journalism is essential.
Give directly to The Spokesman-Review's Northwest Passages community forums series -- which helps to offset the costs of several reporter and editor positions at the newspaper -- by using the easy options below. Gifts processed in this system are not tax deductible, but are predominately used to help meet the local financial requirements needed to receive national matching-grant funds.
Subscribe to the sports newsletter
Get the day's top sports headlines and breaking news delivered to your inbox by subscribing here.
---