Sports
Tuel seems right for job
Senior quarterback will likely start the opener
Tue., Aug. 21, 2012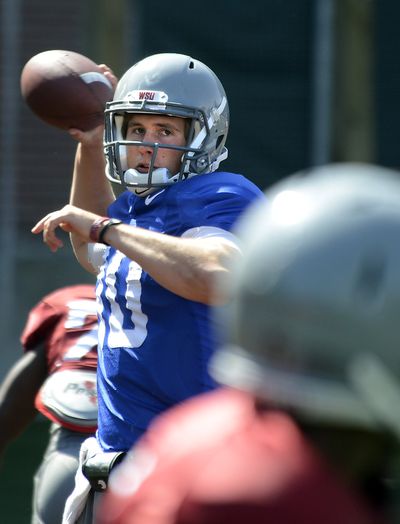 This is the last of eight position previews for the Washington State football team.
PULLMAN – Mike Leach won't come right out and say it, but the Washington State coach has drawn plenty of lines to read between when it comes to his team's quarterback competition.
The battle – if you can call it that – between senior Jeff Tuel and redshirt sophomore Connor Halliday was supposed to be staged during the spring, but Halliday's liver injury kept him out of 11-on-11 sessions and Tuel took every snap with the No. 1 offense.
Halliday returned healthy for camp, but Tuel has continued to take the majority of the No. 1 reps.
And Leach said this after practice on Sunday: "We've shifted reps on players. We're putting more reps on the players we expect to play with more."
Those words seem to suggest, then, that Tuel is most likely to be WSU's starter when the Cougars travel to face Brigham Young on Aug. 30, even if Leach doesn't officially name him as such.
Tuel again took most of the reps during WSU's practice on Monday, which was also the first day of classes.
Players are unavailable to be interviewed until after the BYU game, though Tuel was asked last week about his qualifications for the starting job.
"I'm going to be a senior this year," he said. "I've got a lot of experience. I've played in a lot of games. So I mean, (I'm) maybe cooler under certain circumstances. I don't know. I don't think about it too much."
Said Halliday after WSU's scrimmage on Aug. 11: "I've been real excited about this camp. I came out and competed well. I've thrown the ball really well."
Past performance by both players has inspired confidence that either could get the job done. Tuel was a highly-touted prospect who started toward the end of his true freshman season, and showed promise as a sophomore before having his junior year cut short by a barrage of injuries.
Halliday broke a couple of different freshman passing records by throwing for 494 yards and four touchdowns in his first extensive playing time against Arizona State last season, then had his liver lacerated in the next week's loss to Utah, a setback that affected him into the summer.
Both quarterbacks were good enough upon evaluation, Leach said, that WSU didn't feel the need to bring in anybody else to compete with them this season.
"I think they're both good. No matter who you have you work, you develop, you rep it over and over," Leach said. "But I think they're both good. They're good to the point where we didn't chase any of the transfers, and there was a bunch of quality transfers. But we felt like the guys we had on campus were better."
Leach will ask Tuel – or whomever – to be even better this season. Tuel has completed 60 percent of his passes in 21 career games, averaging 183.1 yards per game to go along with 25 touchdowns and 17 interceptions.
An ideal completion percentage in Leach's offense, he says, is 65 percent and above.
And the total yards need to be distributed evenly among the skill positions. He wants 1,400 or more from his running backs and 1,000 or more from each of his receiver positions, and those are numbers that can't be accomplished without an accurate quarterback.
"I think Jeff's a little ahead right now," Leach said Monday, "but I think Connor plays well."
Local journalism is essential.
Give directly to The Spokesman-Review's Northwest Passages community forums series -- which helps to offset the costs of several reporter and editor positions at the newspaper -- by using the easy options below. Gifts processed in this system are not tax deductible, but are predominately used to help meet the local financial requirements needed to receive national matching-grant funds.
Subscribe to the sports newsletter
Get the day's top sports headlines and breaking news delivered to your inbox by subscribing here.
---