News > Features
One-man show offers revealing look at assisted living
Thu., Aug. 23, 2012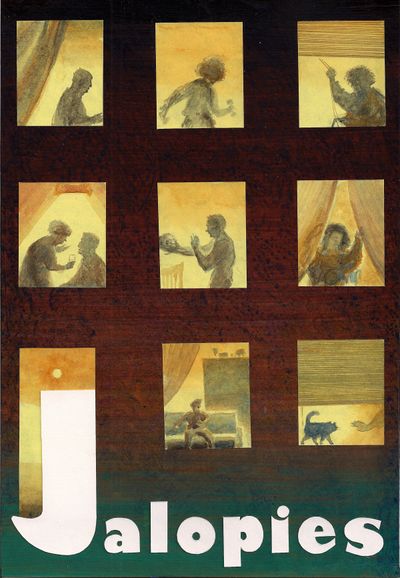 Setting a play in a nursing home is an artistic risk.
In real life, many people avoid nursing homes – now more commonly known as assisted living residences. So watching assisted living life unfold on stage? Forget it.
That attitude didn't intimidate actor, playwright and social worker Mark Cherniack of Port Townsend, Wash. His one-man show "Jalopies" is coming to Interplayers Professional Theatre on Friday and Saturday.
Cherniack plays a dozen characters, most of them seniors, who live together in an assisted living facility. It's funny. It's sad. And it's pretty true to life, because Cherniack worked in assisted living residences in the Seattle area for more than 15 years, as a certified nursing assistant and activities director.
"The play is about misconceptions (people) have about these facilities," Cherniack said in a recent phone interview.
The self-described "shy" 52-year-old didn't want to elaborate on the misconceptions. They are explained in the play, he said.
And the name of the play – "Jalopies" – what's up with that?
"The reason for it is in the play," Cherniack said.
He was more forthcoming about how his experiences with older people inspired him and changed his life.
Cherniack, who has a master's degree in theater from the University of California San Diego, wrote what would eventually become "Jalopies" while working with older people. He staged it in the assisted living residence where he worked at the time.
"Several of the residents were in it, including people who had never acted before who were in their 80s," he said.
His work among older people led to a career change. He was accepted into the University of Washington's social work master's degree program, and he finished the degree in 2004.
He's now a mental health therapist in Port Townsend and spends his spare time writing. He's retooled "Jalopies" several times, adding and subtracting characters, and shortening it from two acts to one.
In 2011, the play won semi-finalist honors at the Eugene O'Neill Theater Center in Connecticut.
After Spokane, Cherniack is headed to Vancouver, B.C., to stage "Jalopies" during the International Fringe Festival, a 10-day alternative theater event.
Reed McColm, artistic director of Interplayers, said the play is coming first to Spokane because "Mark was in an Interplayers show about 15 years ago, and he's familiar with the stage. He's a man with a sense of humor and good theatrical sense."
After each performance, audience members are invited to discuss the play's social implications at the theater's bistro. McColm is hoping assisted living residents, and their baby boomer children, will join in on the discussion. He's confident the topic will resonate here.
McColm said, "Retirement communities are flourishing in Spokane, because they are needed, and because people think this is a good place to retire." 
Local journalism is essential.
Give directly to The Spokesman-Review's Northwest Passages community forums series -- which helps to offset the costs of several reporter and editor positions at the newspaper -- by using the easy options below. Gifts processed in this system are not tax deductible, but are predominately used to help meet the local financial requirements needed to receive national matching-grant funds.
Subscribe to the Coronavirus newsletter
Get the day's latest Coronavirus news delivered to your inbox by subscribing to our newsletter.
---
Subscribe and log in to the Spokesman-Review to read and comment on this story